There's nothing better than stretching out on the beach in a swimsuit with a cocktail in hand.
Summer is right around the corner, so it's time to start planning fun summer adventures with your friends! At the top of your summer adventure list should be "throwing a beach party"!
However, there are so many things to do at the beach. You may need some pointers on the best beach activities.
Here are nine of the best beach party ideas you should try this summer.
1. Beach House Cocktail Party
There's no better way to enjoy the beach than from a beach house! Renting a beach house will allow you to spend a few days at the beach and drink without worrying about getting home. It's all the convenience of your home with the luxury of the beach!
A fun twist on a beach house party, have everyone bring something for cocktails, whether it be fruit, mixers, or alcohol. Then, see what kinds of fun drinks you can come up with! Some good alcohol options that can easily be turned into a variety of beachy cocktails include Tequila, vodka, and rum.
2. Sand Sculpture Contest
You've likely seen those works of art as you've strolled along the beach. From mermaids to animals to cartoon characters, some sand sculptors really know how to draw in a crowd.
You don't have to be an artist to try your hand at sand sculpting! Grab a few friends and see what you can come up with!
Consider making awards your friends can compete for. Titles like "Most Original," "Most Enthusiastic," and "Most Creative" can ensure that the competition stays friendly regardless of artistic ability!
3. Most Interesting Find
If you're spending all day at the beach with friends, you'll likely see people wandering off at some point. Make a game out of it and see which person or group of people can find the most interesting object, whether it be a critter, something that washed up on the shore, or food!
To keep things easy, simply take a picture of your most interesting find, reconvene at the end of the day, and vote for whoever found the most interesting object.
4. Get Active
If you and your friends are into sports, there's no better place to play than on the beach. An afternoon of beach volleyball is made even better when followed up with a swim!
If you're feeling adventurous, you can even give aquatic sports a try! Even your friends who don't have good hand-eye coordination can participate in these kinds of activities. Surfing, snorkeling, and boating are all excellent ways to spend an afternoon.
If sports aren't your thing, simply walking along the beach is a great way to be active.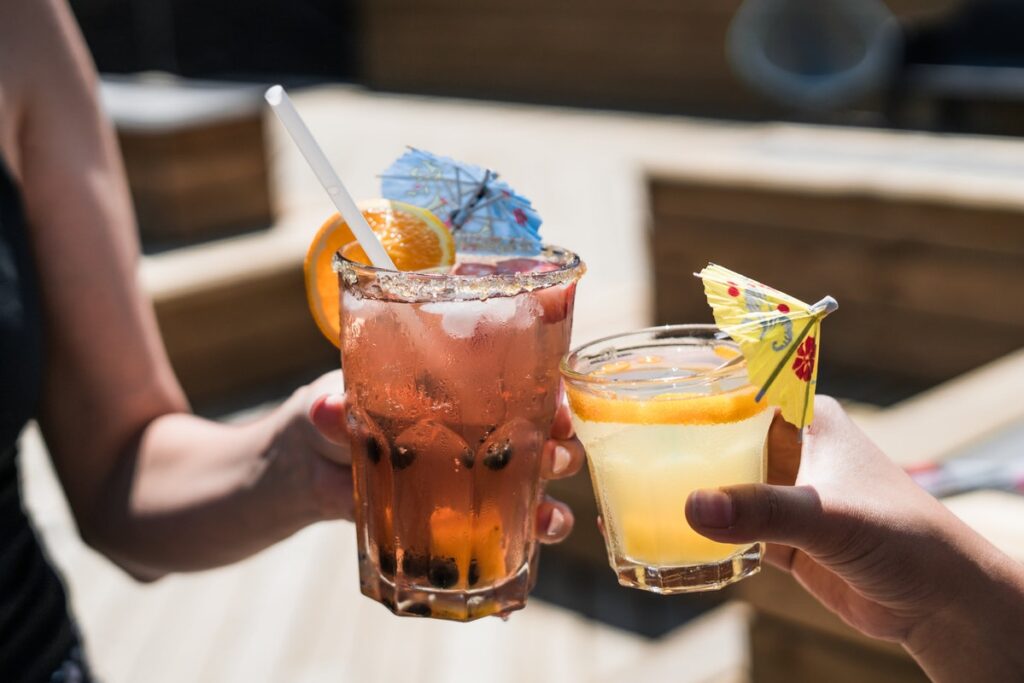 5. Beach Cookout
When planning a beach party with guests, a cookout is a safe and simple idea that everyone will enjoy. To plan this kind of beach party, you'll have to consider food and drink options. Be sure to include them on your beach party checklist!
Even if you can't grill on the beach, a beach potluck where everyone brings something is a great way to bring you and your friends closer together.
The perfect way to end the cookout is with dessert on the beach! If you can, make a bonfire for roasting marshmallows.
6. Beachy Birthday
If you or someone you know has a summer birthday, celebrate at the beach! Colorful decorations like lanterns and beach towels can decorate your stretch of the beach and and finger foods are easy to keep sand-free.
If there are children to entertain, plan simple activities like building sandcastles or beach sack races! You could even hang up a fun jellyfish-shaped piñata!
7. Boat Party
If you're not a big fan of the beach, but still want to enjoy the ocean, have your group of friends all chip in for a boat rental! Boating allows you to enjoy the ocean without worrying about getting sand in your food. You can still have fun in the sun on a boat!
Renting a boat also allows you to have a party out on the ocean without worrying about disturbing other people. So crank the music and go for a swim!
8. Metal Detector Competition
Ever wonder what's under all that sand at the beach? Now's the time to find out!
Grab some friends and make a game of finding all the treasure that lurks under the surface. Either purchase or rent some metal detectors and see who can find the most treasure! To save money, rent one metal detector, pair up, and let each pair wander off in a different direction in search of loot!
At the end of the day, get together to compare your treasures!
9. Get Crafty
From jewelry to decorations, there are many crafts you can make out of things you find at the beach. If your friend group is artistic and in the mood to create something, plan a beach day to hunt for crafting materials!
It doesn't take much to create a beautiful beachy centerpiece! Colorful seashells and sand can allow you to take the beach home with you.
Unforgettable Beach Party Ideas
Now that you have the a list of beach party ideas, it's time to start planning for one! Try combining some of these ideas to come up with a party that will perfectly suit your friend group! Get ready for a memory-filled summer no one will forget.
Be sure to check back regularly for more fun lifestyle advice!