You can bring the beach to your home with this sand slime recipe. It's so much fun for kids to make slime, but sand slime is even better. This sand slime allows your kids to mold their finished project into sand castles and other fun statues they would enjoy making at the beach. This is the perfect rainy day project at home to encourage creativity, laughter, and teamwork with siblings. Gather up the ingredients, follow the instructions and enjoy this sand slime today!
Ingredients:
1 5 oz bottle of clear glue
½ cup water
½ tsp baking soda
1 tbsp contact solution
Sand (I used a mix of 3 different colors of craft sand, but you can use play sand too. Just if it has rocks, sift through it to get the rocks and pebbles out.)
Small bowl
Pretend sand castle (I found mine at the dollar store – you can look also in the fish tank supplies!)
Instructions:
In a bowl, pour the entire 5 oz bottle of clear glue.
Add in ½ cup of water.
Add in ½ tsp baking soda and stir.
Pour in some sand. You can always add more later!
Add 1 tbsp contact solution. It will instantly begin to form.
It will be STICKY! Don't panic! Mix the solution in the bowl until it starts to form.
Knead the slime until it is no longer sticky.
Continue to add the sand until you get a look that you are going for.
Store in an airtight container.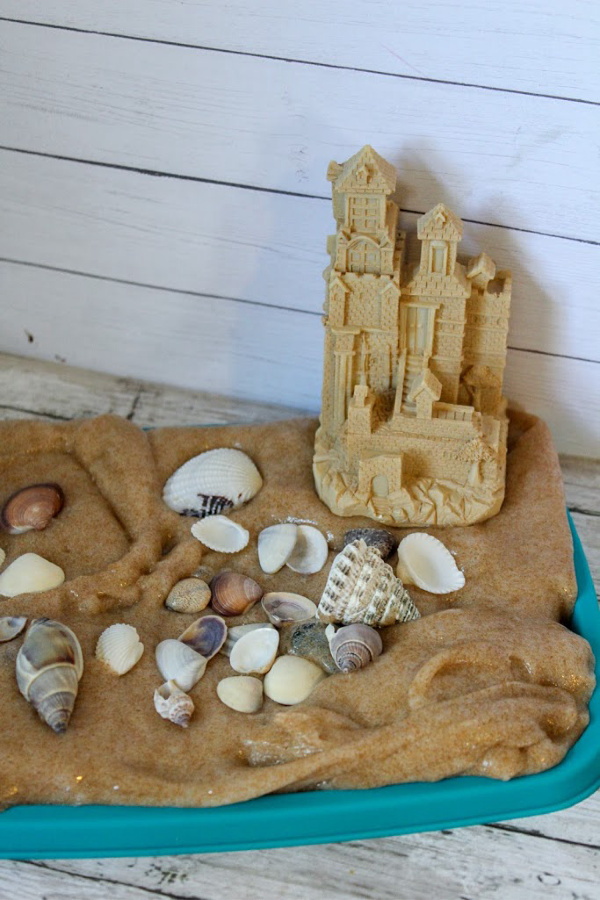 Make your own Sand Slime Sandcastle Kit
If you are making a sandcastle kit – put your sand slime into a large container. Fill the other half with seashells and top with a sand castle. Some other fun things to include are sand dollars, starfish or even a second container of blue ocean slime! This kit is a fun gift or a great way sensory activity to go with an ocean or beach themed book.
Whether you're looking to make this sand slime as a fun activity to do with the kids or give away as a kit for a birthday gift, this is a great way to use some science at home during school break. Making slime has become wildly popular, I personally love this switch up to have sand slime instead of regular slime.