There is nothing like a last minute road trip to ease the mind and spirit. Recently I was given the 2017 Mitsubishi Outlander SEL to test drive and decided we were going to take a short road trip to Beaufort, SC. I want to say this, I have always driven other makes and models, and this was my very first time driving a Mitsubishi, and I absolutely loved it! We are a family that loves to drive SUV's, and this crossover was unbelievable!
When you are taking a road trip, you want to make sure you are comfortable while driving. It is not like that in other cars, but while I was driving the 2017 Mitsubishi Outlander SEL, I was surrounded by comfort. It made the 2.5-hour drive, feel like nothing. The 2017 Mitsubishi Outlander SEL in Labrador Black Pearl is a real beauty. No matter where I drove it, people were checking it out. It has a beautiful sleek design and the handling on 2017 Mitsubishi Outlander SEL is great!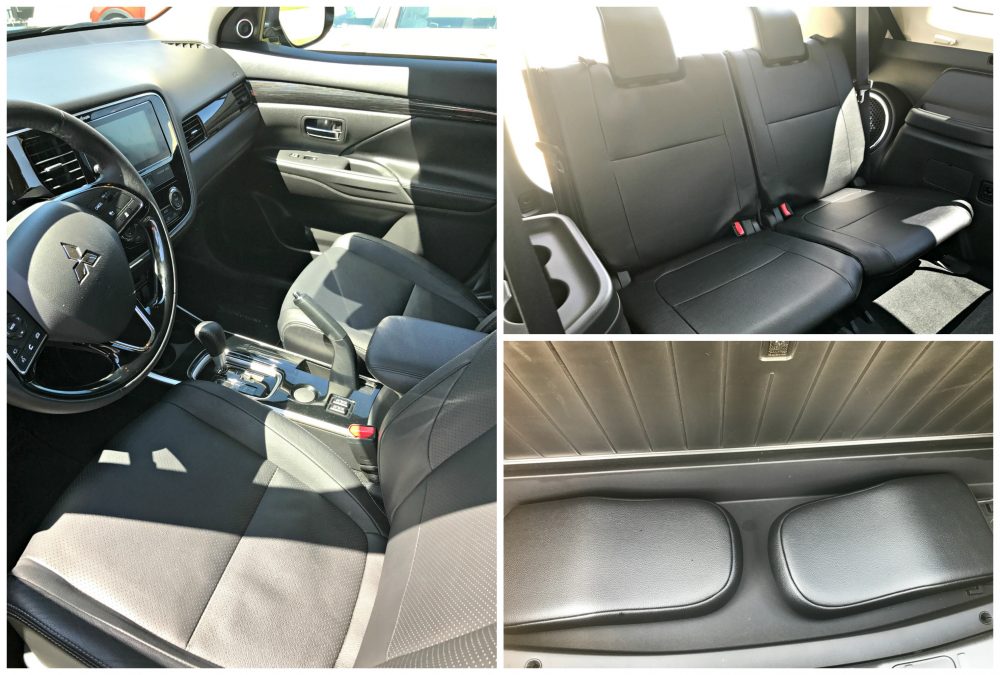 Plenty Of Room and Comfort
I am 5'3, and usually I don't have any problems when it comes to room in a car, but my husband is about 6 feet, and with his long legs, he sometimes does not have enough room in the front, so he pushes the seat all the way back, and that leaves no room for the back seat passenger. Not in this case, when Ronnie pushed his seat into a comfortable position, there was more than enough room for my son behind him. The seats are extra comfortable, and one feature we loved was the heated seats. Yeah, I know it is summer, but having that option in the fall and winter is a plus.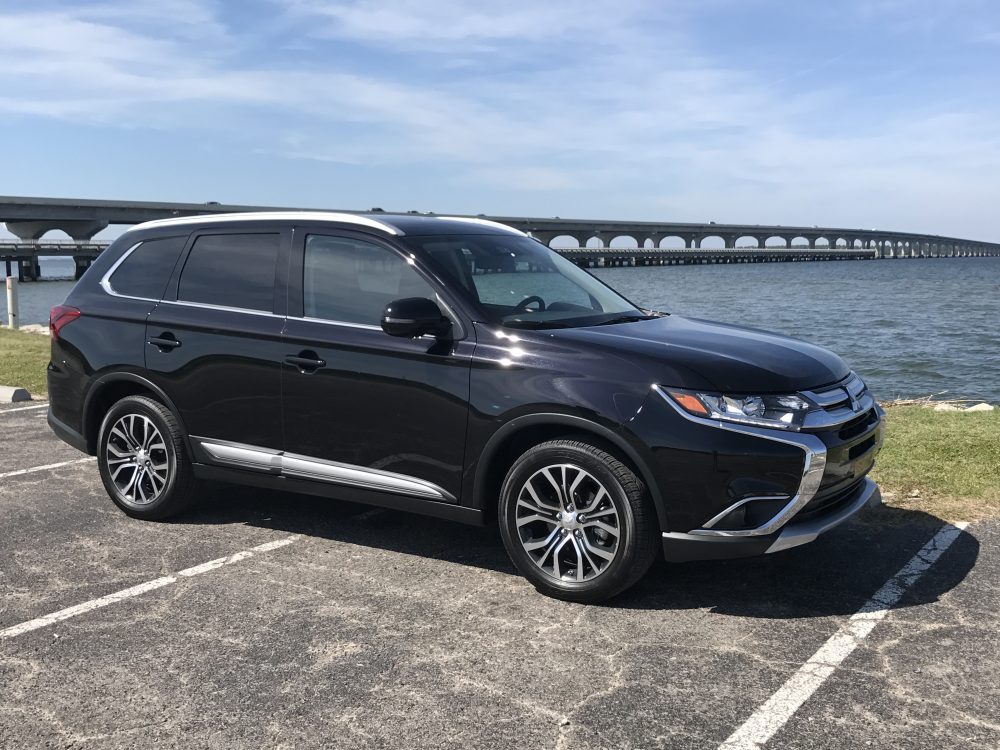 Now the seats are leather, and I honestly in the past was not a fan of leather seats, for the obvious reason of getting stuck to the seats during the hot summers here in the south. But with the 2017 Mitsubishi Outlander SEL, the seats honestly did not bother me at all. They were really comfortable and soft. It also has another great feature, the front dual-zone automatic climate control. This works perfect for the people in the front, I tend to like it a little colder than my husband, so he was able to control the passenger side, and I was able to leave my side a little colder.
Features That Are Hard To Resist
The 2017 Mitsubishi Outlander SEL has a seating compacity of up to 7. It has a standard third row. Now if you are tall, sitting in the third row is not a good idea. Now I did get in the third row, and it wasn't that bad for me. You can also quickly change the seating configuration to meet your needs with the quick-folding 60/40 split second row and 50/50 split third-row seats. That gives you plenty of room for packages, suitcases and just about anything you need to pack into it. The trunk space is really big and roomy.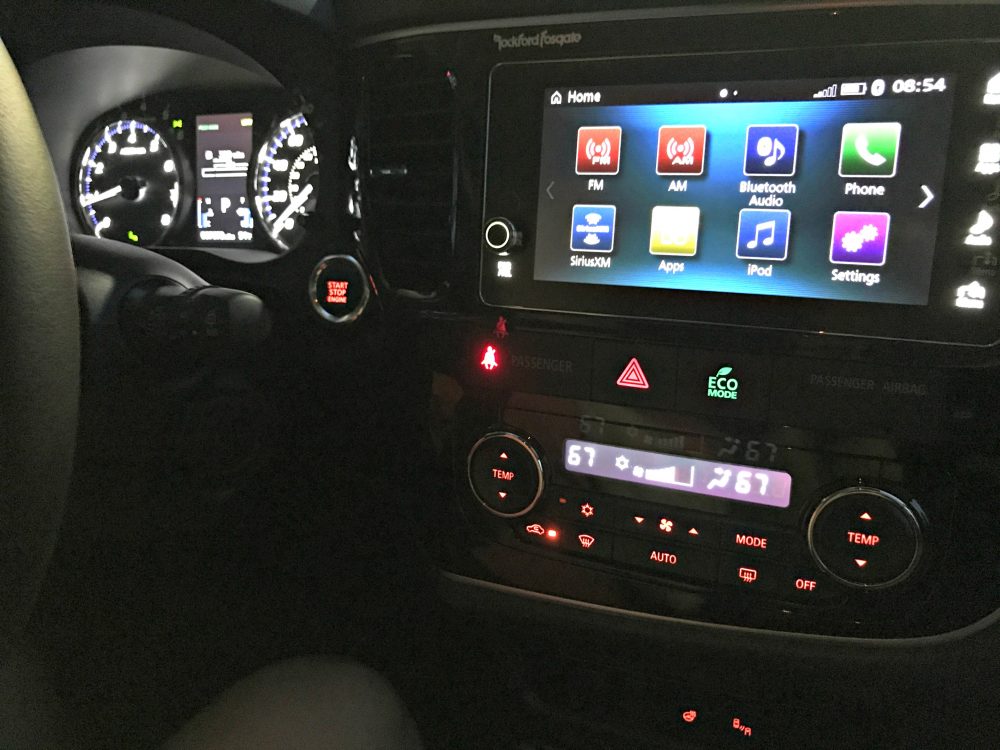 Now the display on the 2017 Mitsubishi Outlander SEL is phenomenal! With its smartphone link display, you can use Apple car play or android auto. The Smartphone link offers a smarter and safer way to use your phone in your car. With the Apple Carplay, I was able to access my music, maps, make phone calls and send messages, all using my voice with Siri. If you are a passenger, you can also use the touchscreen to access everything. I loved the hands free Bluetooth features and the really easy to use 7-inch touchscreen display.
More Car For The Money
The 2017 Mitsubishi Outlander SEL has a 2.4L MIVEC SOHC 16 valve 4 cylinder engine with front wheel drive. I will say, this crossover has a lot of power for a 4 cylinder. I love the auto on and off headlights, and the fog lights with the chrome accents make the 2017 Mitsubishi Outlander SEL look outstanding. Below are some of the great features this 2017 Mitsubishi Outlander SEL has.
Another feature I love is that you can open the back trunk door at a push of a button. From the remote and the front of the car. You no longer have to put packages or fumble with the children to open the trunk. Just push the button to open and close.
Power Folding Side Mirrors
18 inch two tone alloy wheels
Front windshield rain sensing wiper
Roof rails
Front curtsey floor lights
8-way power adjusted driver's seat with seat back pocket
Rear heater floor ducts
Leather wrapped steering wheel
Sunroof
Eco Mode
Rearview Camera
One touch start/stop engine switch
Lane Departure Warning
Forward Collision Mitigation
Adaptive Cruise Control
Lane Change Assist
710w Rockford Fosgate Premium Audio System
Driving That Is Out Of This World
Driving the 2017 Mitsubishi Outlander SEL was awesome. The fuel economy was out of this world. The MPG is 25 City and 30 Highway with a combined 27 miles per gallon. On a full tank of gas using Eco Mode, we went to our destination and more and only had to fill up one time after 2 days of driving constantly. I have driven many different cars, and I will say this is one of the best when it comes to mileage!
The 2017 Mitsubishi Outlander SEL is the perfect vehicle for couples, families, people that like to travel. With the room and comfort, you will be simply amazed by it. There are so many features that the 2017 Mitsubishi Outlander SEL has, I only named a few, but it has a lot of car for the price. With a starting price of around $25,500, it has so many options available at a fraction of the cost of other cars.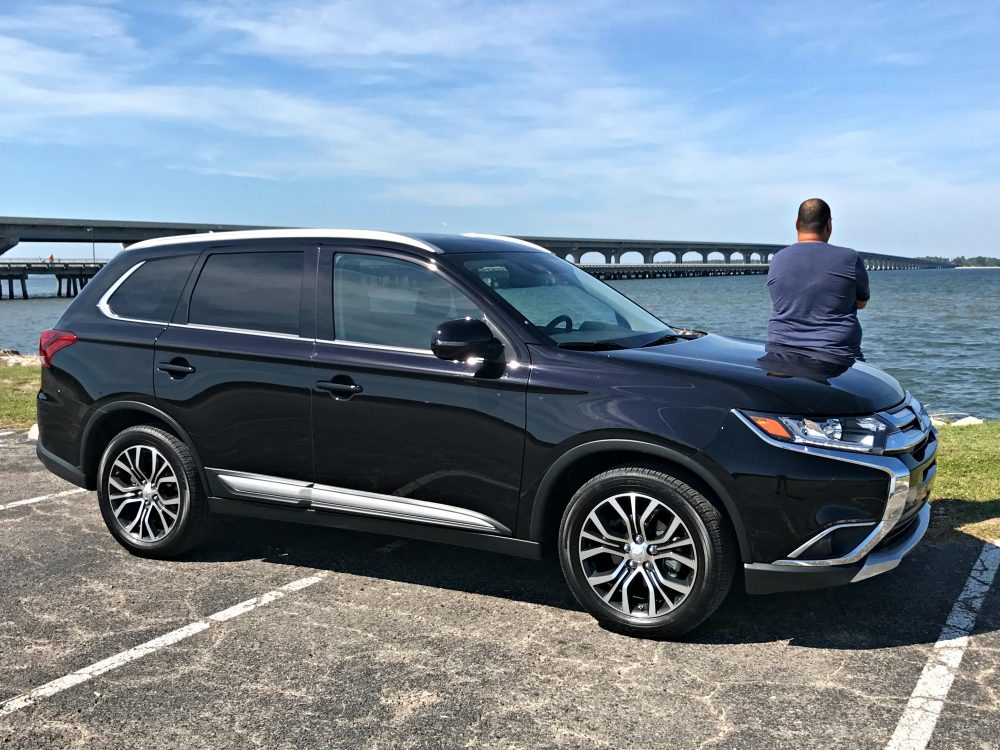 Take the 2017 Mitsubishi Outlander SEL on your next shopping trip or destination. You will not be sorry!