With just a couple of months to go before the holidays, now would be a great time to start gathering ideas.
Getting things done ahead of time has been proven to be a beneficial move.
The trick is to gather as many ideas as impossible.
After all, the more ideas you have to work with the more possiblities you'll have too.
Below you'll find number of things to take into consideration. You even find something for yourself too!
CatSpring Youpon
What is Yaupon? The only caffeinated plant native to North America.
Consumed for millennia by many indigenous people groups, yaupon has been largely forgotten for the last few centuries.
CatSpring sustainably wild harvests this incredible, left behind resource in Cat Spring, Texas.
Already featured on NPR, in Southern Living and Texas Monthly, this brand is taking off quick.
Blake's Seed Based
Seed + Fruit Snack Bars that are allergy-friendly, so almost everyone can enjoy them.
The founder Blake has a deathly nut allergy, so started making bars from seeds in his kitchen, and quickly found people with and without allergies loved them.
They are free from nuts, dairy, gluten, eggs, and soy, and come in great flavors like Raspberry, Pineapple, Blueberry Lemon, and S'mores.
Basic Revolution
Give the gift of socks and sustainability!
Basic Revolution's sock box is great for your sustainability-minded friends and family.
Send a box of sustainably made socks (7 or 15 pairs, organic cotton, and bamboo options) then the giftee can send back any hole-y undonateable clothing that will fit in the box back to be recycled with the shipping label included with their socks.
Wear. Recycle. Repeat.
A Bar Above
High-quality bar essentials.
The website also provides classes and hosts a popular Facebook group that talks about and whips-up fantastic craft cocktail creations.
A husband-wife team dedicated to helping bartenders make great drinks and grow their careers in the world of hospitality.
They offer classes, bar supplies and consulting services.
Janie Bakes
Janie's Life-Changing Baked Goods was founded after Janie spent years struggling with addiction and homelessness in her early 20's.
Janie's was born out of an act of self-care, baking, as Janie was reconstructing her life and trying to stay sober.
Working in Hot Bread Kitchen's Culinary Incubator, Janie's specializes in Pie Crust Cookies, her own invention, which have been featured in Gothamist, Fox 5 News, AM New York, Business Insider and Edible Manhattan.
Curious Elixirs
Curious Elixirs are booze-free craft cocktails for everyone.
Handcrafted in the Hudson River Valley, they use only the best ingredients and nothing artificial.
Curious Elixir cocktails combine ONLY organic juices, spices, herbs, roots, barks, and botanicals.
Each selection is lightly carbonated to make your mouth dance.
And, each flavor is a collaboration between a team of world-class bartenders, herbalists, and food scientists.
Maryiza Honey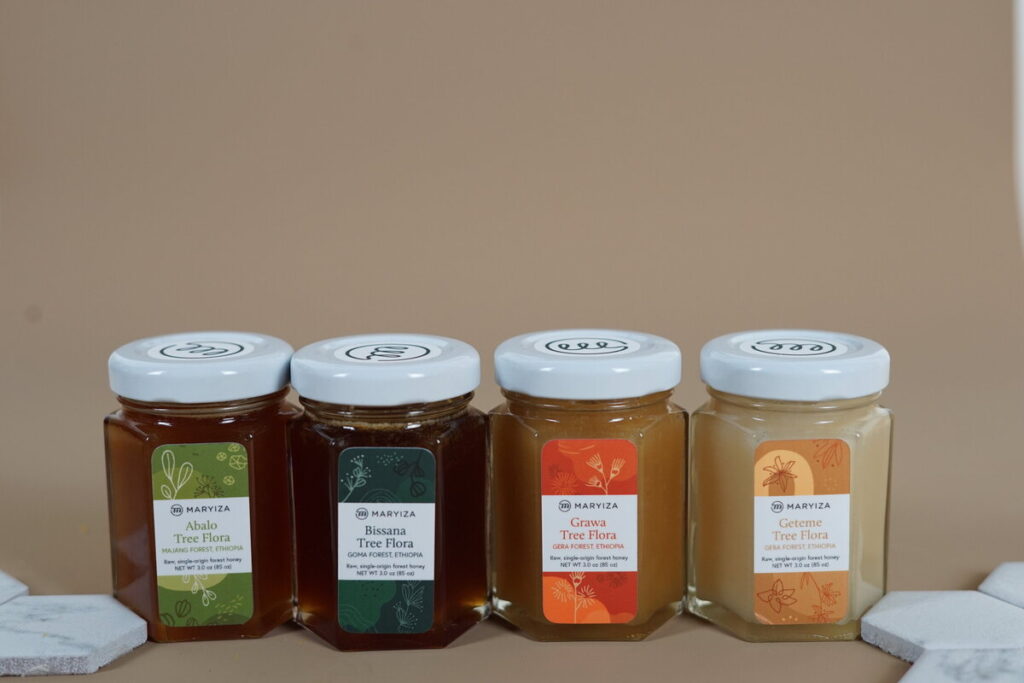 Maryiza is helping to build the nascent, specialty, single-origin honey movement.
They're leveraging the consumer-familiar concept of single-origin and terroir (as it's been applied to specialty coffee and wines) to engage consumers in honey's true potential.
Each of their single-origin honeys reflects the dynamic, unique ecology of each indigenous forest we work in.
Each monofloral honey varietal is an expression – in aroma and taste – of a dominant, native, tree flora source.
Balkan Bites
Balkan Bites is a women-owned business based in NYC specializing in Southeast European comfort foods such as Burek, a portable stuffed phyllo pie.
It all started when co-founder, Ariana approached her aunt and co-founder, Alida with a simple idea—to teach her how to make traditional Albanian recipes in honor of her late grandmother, Magbule.
Soon enough, they were debuting their Bureks at outdoor pop-up markets in NYC, receiving overwhelming support from customers around the world.
Since COVID-19, Balkan Bites has pivoted to selling handmade, frozen burek on their online store where they ship nationwide.
They are a small company with a big mission to share a piece of their culture through everyday Southeast European comfort foods.
You can learn more about their story here.