When it comes to learning, kids can take a number of approaches, but as a parent, it helps to push them in a positive direction.
Without the school structure, summer allows for more informal, self-directed learning based on kids' interests. This could include learning about hobbies, science experiments, arts and crafts projects, or exploring nature.
The less structured nature of summer allows for both fun and enriched learning through reading, hands-on discovery, new experiences, social interaction, and physical activity.
Kids benefit from the break to explore learning driven by their own motivation and interests.
Although, with the new school year closing in, now would be a great time to lead your kids into the light of furthering their education in the best way possible.
In order to do that, you're going to need a top-notch educational learning system.
Smile Zemi Is The Perfect Educational Tool
There's no better way to encourage your child to continue learning while out of school than with Smile Zemi by JustSystems!
With this tablet, kids can foster their critical thinking and problem-solving skills while staying motivated during their long breaks.
Smile Zemi is Q
In fact, it was specifically designed to improve academic performance aligned with Common Core State Standards.
Developed by JustSystems, one of Japan's largest manufacturers of educational software, Smile Zemi features a professionally developed curriculum and materials.
Now in terms of developed curriculum and materials, there's a ton to work with.
It's along the lines of instructional videos, exercises, and quizzes to help students most effectively study Math and English Language Arts (ELA) on their own and in support of Common Core State Standards.
The Smile Zemi isn't just your average piece of technology.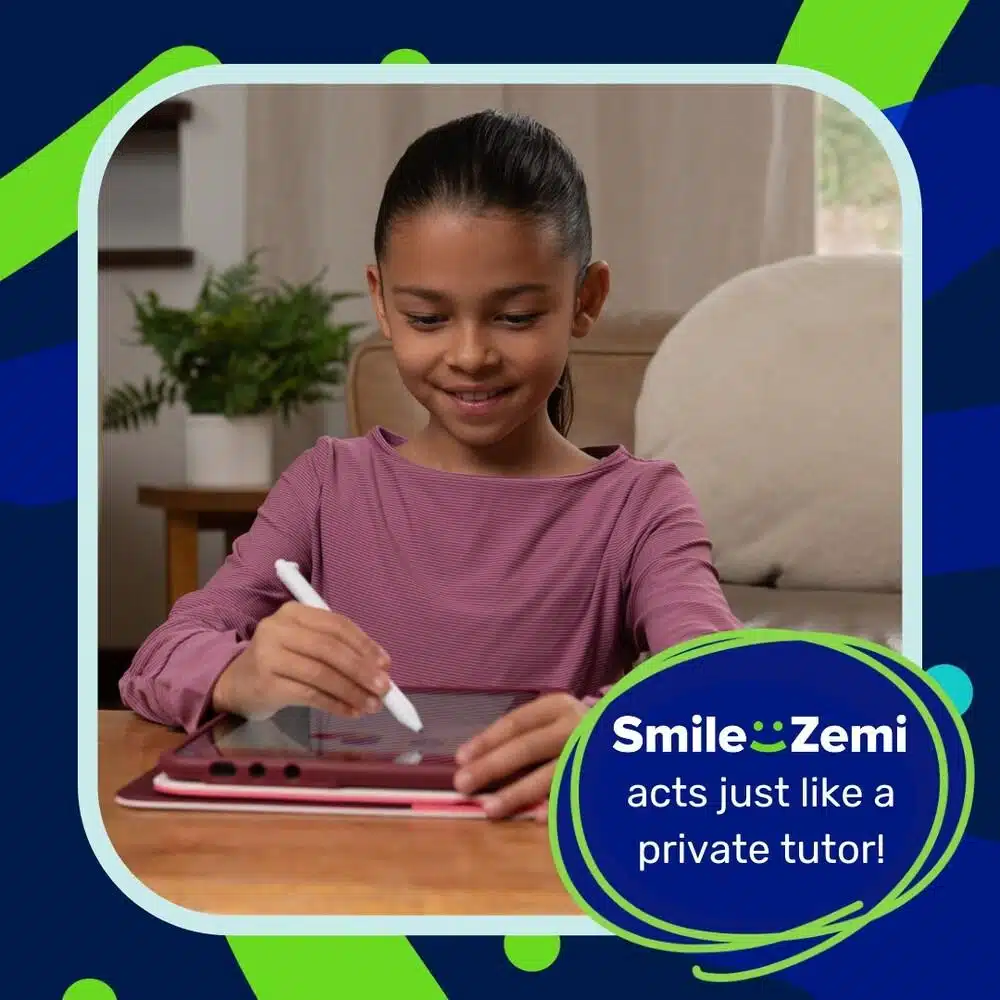 The durable and sturdy tablet is designed for learning purposes only, with no access to web browsers or games. The system tracks your child's progress, parents can monitor in real-time via smartphone.
It can be hard to find the right educational tools that will challenge your kids. Smile Zemi is specifically designed to help them achieve results you would expect from tutoring or learning centers!
This could be the perfect tool to help your child get ahead in a new school year.
Now you think this is what your child needs in their life, then you're in luck. As a special offer, from now to September 10th, 2023 the tablet fee of $329.99 will be $0.00 with a special coupon (provided on the website).
The offer is valid under the condition of continuing the subscription for one year. Subscribers who sign up using this coupon cannot cancel or change the subscription plan until the contract ends.
Keeping children focused solely on learning while cutting out potential distractions can be challenging.
Although with Smile Zemi anything is possible!