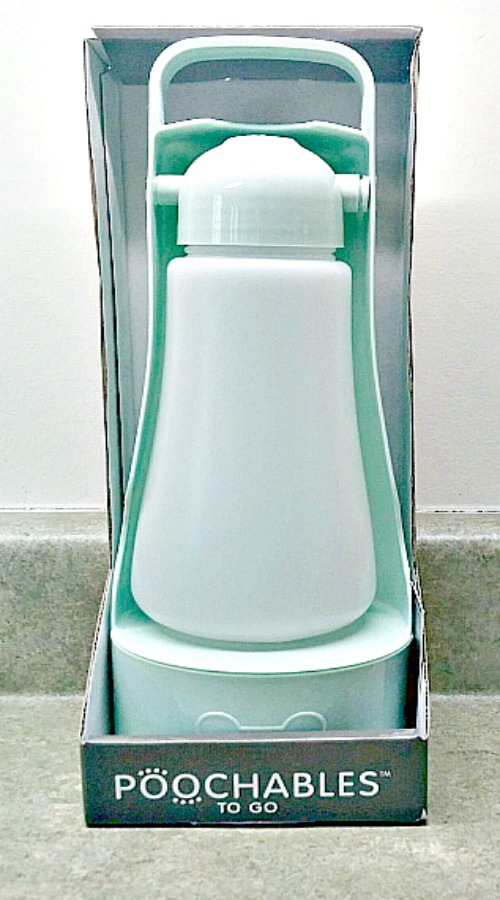 If you have a dog (or cat) that goes everywhere, or most everywhere, with you, it's important to at least bring water for the dog (or cat) to drink. And, Poochables can help.
In the past, when we've taken long road trips, our system for packing for my dog's nutritional needs has involved just bringing my dog's big bowls, a Ziploc filled with dog food, and a water bottle. And, it never fails, on a long road trip the dog's food gets lost among all the luggage. We then have to unload the car just to locate the dog's food. We eventually find it, but not until after we unload the car of luggage in some gas station parking lot (and let's hope it's not raining or snowing). Well, no more. I was introduced to Poochables To Go, a portable pet food and water travel system, which will make packing for and feeding my dog a whole lot easier when we're on the go.
My Dog Loves Poochables (And So Do I)
The Poochables system keeps liquids contained and the food fresh. To feed your pet, you simply unscrew the bowl (attached at the bottom) for food. Voila! Food is ready for your pet. To drink you squeeze water from the bottle into the container below and it's ready. My BIG dog was able to eat easily from the bowl and drink from the container. Many portable dog bowls are too small for him, but this one worked. My cat even enjoyed drinking from the water container (but the dog wouldn't let him eat from the food).
What I really like about this system is that it is very space efficient. It's also easy to clean. The water bottle has a wide mouth, making it easy to get in and clean it.
Now you can travel with your pet and carry your pet's food and water easily. It has a carry handle for easy transport and it's easier to keep track of it all because it's all in one place. So, next time you go on a hike, to the lake, to the park, or on a road trip, don't forget to take a Poochables To Go to make your life easier.
Specs For The Poochables To Go
Poochables To Go 2-in-1 pet food & water travel system comes in 3 different colors: Belle Rose, Industrial Grey, & Palm Springs Sky. Each one is priced at $19.99. And, they are durable, flexible, leak-proof and free of BPA. Please note that their website says these travel systems of the size pictured above (4″L x 4″ W x 10″ H) work best for dogs under 40 lbs. The water bottle is 15 oz./443 ml, and the food bowl carries 1.2 cups. The company says more sizes are coming soon. This travel system is available at their website at the present time, but will be on store shelves later this year.
And, Poochables is offering Kelly's Thoughts On Things blog readers a 15% off promo code. The promo code is KTOT. This would be a great item to buy as the weather gets warmer and we can do more outdoor things with our pets!
Connect with Poochables:
Website | Facebook | Twitter | Pinterest | Instagram | Tumblr