Plus-size women are very popular individuals to date in the modern-day.
Even though they are lovely ladies, it is not always easy for them to achieve the perfect look.
Here is what you need to know about getting the best looks so you can shine during your dates.
10bbwdatingsites.com specialists have shared several fashion tips for the first date.
What difficulties do you face in choosing the perfect look?
Plus-size people face a variety of different problems when they are trying to dress up well for a date.
After all, they need to think about the different kinds of situations they might be placed in.
They could require an outfit that allows them to move around freely, or they have to look good in a dress or suit.
The fit always concerns plus-size women because some items that would look good on other people might not fit their unique body shape.
Moreover, it is also difficult to find a size that fits you across all the name brands.
As such, you have to try on clothes all the time because you can't trust a size 10 to be a size 10 in every store.
These are just some of the difficulties women face when trying to cultivate the perfect look.
However, they are not the only troubles that people can face.
Some style tips for plus size body shape:
Fortunately, some style tips can help plus size ladies get the right outfit to suit their needs.
While you can always try to be healthier and do more for yourself, the best thing you can do with an impending date is accept your body as it is at the moment.
You need to realize what you are and what shape you have before trying to dress for the occasion.
A tailor is the best friend you can have. Sometimes, plus-sized clothing can be made too loose.
Your aim is a comfortable look that accentuates your body's right part without making you feel trapped in your clothes.
Another thing that you should do is invest in good underwear.
You need to have the right kind of support if you're going to get the best looks.
You want underwear that will go well with your outfits, so you might need a strapless bra or something of the sort to get the best results.
The right balance between fitted and too tight
Working with a good tailor can help you strike this balance.
You need to show off the curves while still being comfortable in your outfit.
Your shoes have to be comfortable and stylish no matter what.
However, you need to understand the date that you're having before you pick the shoes.
That way, you can determine whether you need to be more comfortable or stylish!
First date outfits
One thing to remember about the outfit you wear on the first date is that it has to be appropriate for the situation!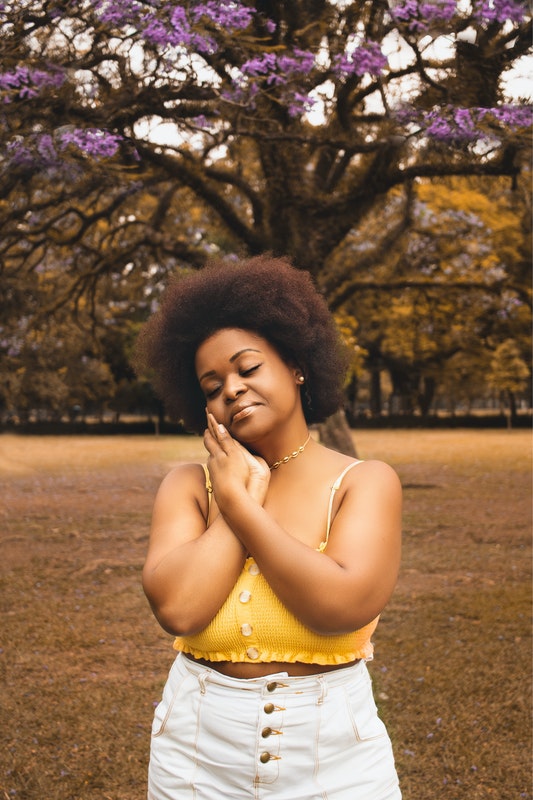 So, find out what your date has in mind for activities, and then you can dress comfortably while still looking your best.
The off the shoulder top is a hot look that is great for plus size women because it is loose-fitting and still enticing!
Faux-Leather Pencil Skirt
The leather pencil skirt is a fantastic look because it is versatile at dinners and various outings.
The Maxi Wrap Dress is a long, stylish dress that is incredibly versatile.
You can wear one for a nice lunch, dinner, movie, and more. It accentuates the curves on plus-size women, too!
Denim Pants with a Chic Blazer
Wearing denim pants and a nice blazer is a great combination for when you're going to do something that is not too formal.
The denim will look good for an informal lunch or a coffee date!
A silk cami and skirt is another outfit that accentuates the beauty of plus size women and gives them the comfort and freedom they want out of an outfit.
This outfit can be somewhat fancy for a summer dinner, or it can be paired with activewear shoes to facilitate a more active date.
Getting the right outfit can be hard, but these ideas give you options to make every date special.
Developing stylish outfits can be difficult when you are a plus-size woman.
Yet, you can focus on the here and now to give yourself the best chance at getting positive results for romance.
Knowing the challenges of finding the perfect outfit, it's up to you to find the brands that are best suited to giving you the level of style and comfort that you deserve.