I am so proud: I have finally boarded those "National Days" and I'm starting off with Piña Colada Day!
My Piña Colada Cupcakes are one-of-a-kind. I thought long and hard about how to make these cupcakes come to life. Sure, I could have just made a pineapple-flavored dessert, but I wanted it to be so much more than that.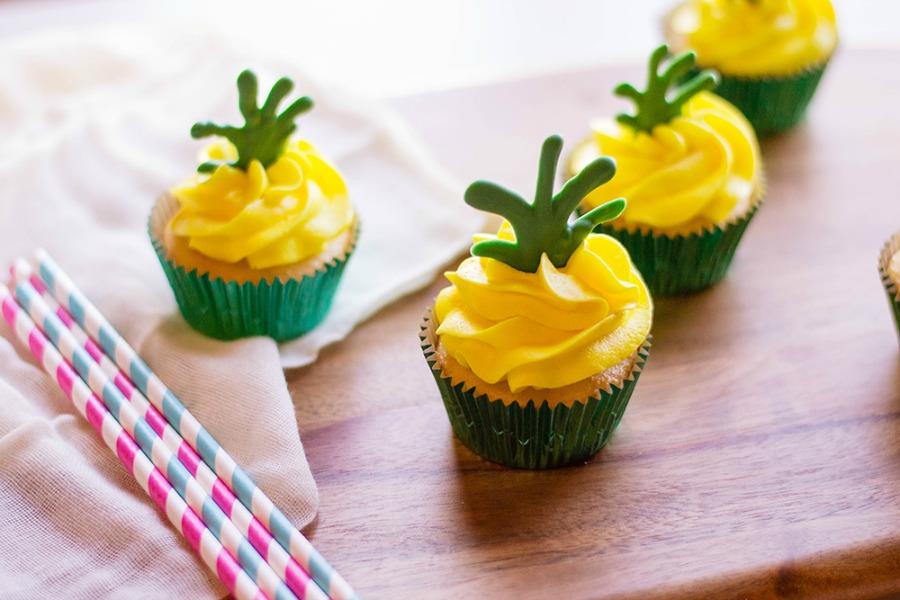 The best part about these cupcakes are the leaf-shaped candies. They don't have to be uniform at all: not one pineapple is alike and neither are these cupcakes!
Do you like piña coladas? How will you be celebrating on July 10?
Ingredients:
Vanilla cake mix plus all of the ingredients to make it
2/4 cup shredded sweetened coconut
2 cups green candy melts
2 tsp coconut oil
2 sticks butter, softened.
4 cups confectioners' sugar
3-4 tbsp milk
2 tsp vanilla extract
2 tbsp pineapple juice
3-4 drops yellow gel food coloring
For alcoholic/adult-friendly option: ¼ cup of your favorite rum
Yields: 24 cupcakes
Directions:
Prepare vanilla cake mix according to the box's directions then fold in shredded coconut. Place in cupcake liners and bake. Allow to cool completely on a rack before decorating.
Optional: Brush a thin coat of rum on top of each cupcake before adding the icing and candy decorations.
Line a baking sheet with wax paper. In a bowl, microwave candy melts and coconut oil in 30-second intervals until completely melted. Pour into a piping bag and pipe out pineapple-leaf shapes. Allow to set in the refrigerator for at least 15 minutes.
To make the buttercream, use an electric mixer to start beating butter, sugar, and milk on medium and gradually increase the speed to high. Add vanilla extract and pineapple juice and continue to mix. Mix in yellow food coloring. It is ready once the mixture forms stiff peaks.
Using a piping bag, frost each cupcake and then top with candy-shaped pineapple leaves. Enjoy and "cheers!"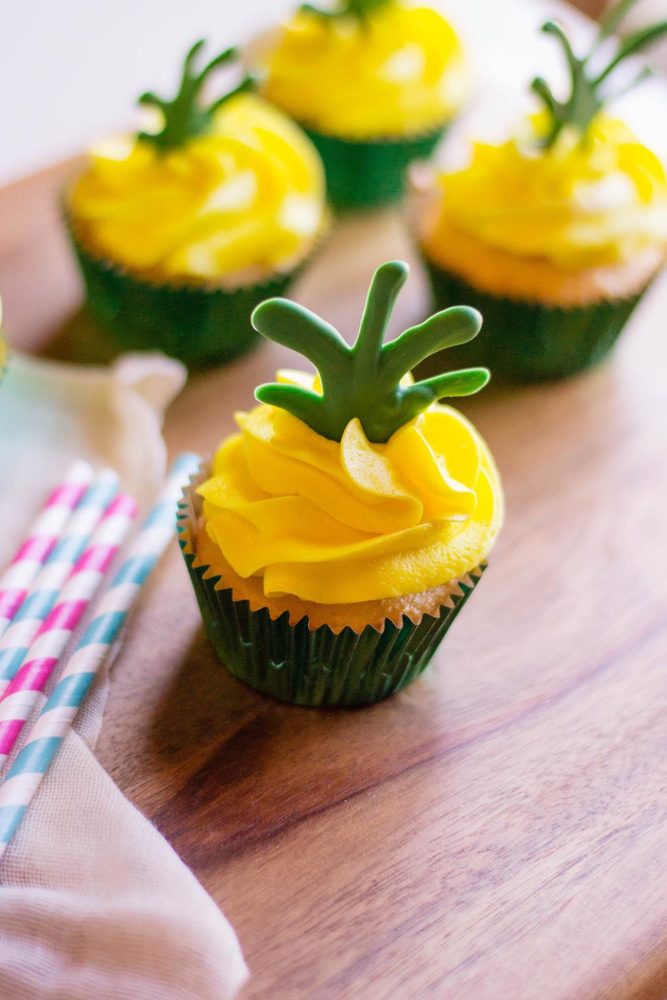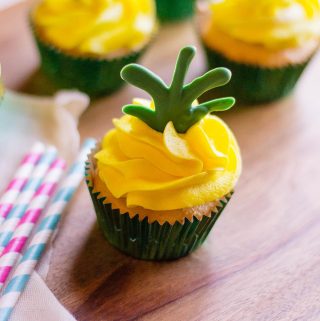 Pina Colada Cupcake
Ingredients
Vanilla cake mix plus all of the ingredients to make it

2/4

cup

shredded sweetened coconut

2

cups

green candy melts

2

tsp

coconut oil

2

sticks butter

softened.

4

cups

confectioners' sugar

3-4

tbsp

milk

2

tsp

vanilla extract

2

tbsp

pineapple juice

3-4

drops yellow gel food coloring
Instructions
Prepare vanilla cake mix according to the box's directions then fold in shredded coconut. Place in cupcake liners and bake. Allow to cool completely on a rack before decorating.

Optional: Brush a thin coat of rum on top of each cupcake before adding the icing and candy decorations.

Line a baking sheet with wax paper. In a bowl, microwave candy melts and coconut oil in 30-second intervals until completely melted. Pour into a piping bag and pipe out pineapple-leaf shapes. Allow to set in refrigerator for at least 15 minutes.

To make the buttercream, use an electric mixer to start beating butter, sugar, and milk on medium and gradually increase the speed to high. Add vanilla extract and pineapple juice and continue to mix. Mix in yellow food coloring. It is ready once the mixture forms stiff peaks.

Using a piping bag, frost each cupcake and then top with candy-shaped pineapple leaves. Enjoy and "cheers!"
Recipe Notes
For alcoholic/adult-friendly option: ¼ cup of your favorite rum