Oyo Fitness DoubleFlex
FlexPacks
Three 5 lb rated FlexPacks for a total of 15 lbs resistance.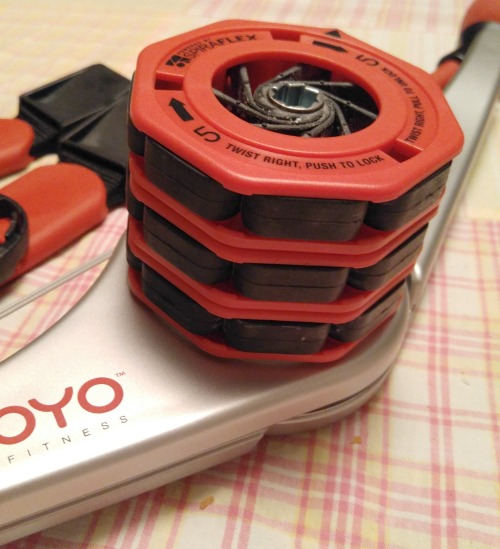 2 Leg Straps
Use these to attach to your legs or as anchor points.
Workout DVD
Includes 9 workouts: 3 total body targeted, 4 fast 5-minute workouts, 1 yoga workout and 1 Pilates workout.
Product & Nutrition Guide
Workouts and nutrition help you get started on a healthy road.
Door Attachment
Use this to attach to your doorway or other anchor points.
This amazing and lightweight machine replaces weights with a SpiraFlex® resistance that is used by NASA astronauts on International Space Station. And that is why you know that it works just as described. You receive 3 FlexPacks so that you can work your way up to 15 lbs of resistance. While they feel like free-weights but only weighing less than 2 lbs.
And the patented DoubleFlex® movement will sculpt both sides of your muscles. Which will help you build a balanced, well toned body in less time. The DVD includes 9 workouts, you can concentrate on your entire body – Total Body, Arms/Shoulders, Chest/Back, Buns/Thighs, Abs/Core, Yoga and Pilates. 50 page guide includes Nick Bolton's workouts and diet and nutrition programs.
The patented SpiraFlex® technology is really amazing because it provides a smooth and consistent resistance throughout your entire workout. I am just beginning to workout again and absolutely LOVE this! Because it is small, lightweight and easy to do. I am able to pick the resistance that I am comfortable with. While I keep it in my car during the work week, this way on my breaks I can get a 5 minute workout. You can really tell the difference between 1, 2 or all 3 FlexPacks. For you and your Valentine. Workout together or for each other.