When it comes to my Fur Babies, I tend to spoil them all. I make sure they have the best food to eat, and when it comes to treats and chews, I love to buy them Nylabone Healthy Edibles. They enjoy their treats, and I feel good knowing I am giving them something they love, and that is healthy for them!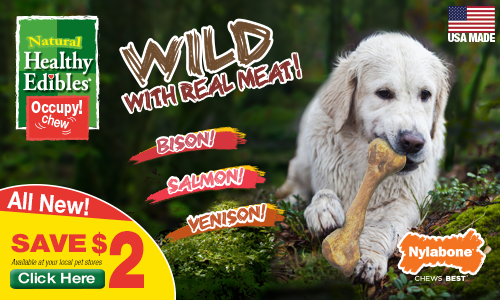 I have six dogs and each of them has their favorite flavor. The Nylabone Healthy Edibles Wild line comes in mouthwatering Venison, Bison, Salmon and wild turkey flavors. They are made with real meat, and I know our dogs love that!
The love to chew the day away on the Nylabone all natural occupying edible chews with real meat. They will sit there for over an hour, just chewing away. It keeps them busy and at the same time they are getting something that they love.
The Nylabone Healthy Edibles are made with the USA sourced wild proteins, and they are made in the USA!
You can go HERE for a $1 off coupon (While Supplies Last).