This is a sponsored post for SheSpeaks. All opinions are mine.
I rarely read a book that hits me hard with so many emotions and feelings, that was until I was asked to read The Girl He Used to Know by New York Times Bestselling Author, Tracey Garvis Graves. For so many reasons The Girl He Used to Know hit home in so many ways, the main character Annika reminds me of my son in so many ways, and she is why I read the book in about 3 hours. I could not put the book down, I was that spellbound with it.
I was intrigued from the first page, this is the type of book I love. One you can't put down and you close out the world and just dive right in. Some of the emotions I felt while reading the book were, sadness, happiness and in a way, I felt sorry for Annika and Jonathan. Yes, I cried a few times, it caught me off guard and touched me so deeply.
When it comes to books, I usually love to read mysteries and true stories, The Girl He Used to Know was new to me, and I was a little skeptical at first. It was really refreshing to read a different genre. I will defiantly pick up more novels by Tracey Garvis Graves.
The main characters Annika and Jonathan were really amazing in this book, if I had to pick a favorite I really couldn't they were both equal and compelling. Janice came in right behind them, she is the type of friend anyone would want in their life. As for Annika's mom, Linda reminds me of myself, she would do anything to protect her daughter, like I would for my son Devon. The Girl He Used to Know felt so real at times, the struggles that some people go through in real life were portrayed in this novel and at times I wanted to reach in that book and hug Annika and Jonathan.
Bullying is so prevalent in our lives, we hear and read about it so much and it's so sad how others treat people. That is one thing that touched me and made me so sad, Annika endured so much bullying as she grew up and it reminds me of how my son was bullied in school because he was different and it hurt to read that. Everyone deserves to be happy and not made fun of or called weird because they are "different" in your eyes. We all have feelings and hurt the same way, even if someone can't explain how they feel, they still hurt as Annika did. Annika did the only thing she knew how and she made the right decisions for herself, in some ways it helped her get past some of it, in others, she tried to be like everyone else and she only needed to be herself. No one in life should make another person feel like they need to change to fit in, we are who we are and that is what makes everyone special.
For so many reasons, you need to pick up a copy of this book when it debuts on April 2nd. This book will touch you in so many different ways and with so many different emotions. I felt sad, happy and mad sometimes throughout the book, for what Annika went through. These are things we deal with every day, and especially if we are different. As I said, Annika reminds me of Devon and what we have to deal with and the emotions he has. It is so hard seeing what my son goes through, and reading The Girl He Used to Know just touched me so deeply.
I can keep going on and on about this novel, but I don't want to give any spoilers and we could be here all day. Annika will grow on you, she will overcome some obstacles in her life and you will feel every feeling she goes through. The ending was extraordinary, I didn't want the book to end, I wanted to see where life led Annika, Jonathan, Janice, and the other characters. One quote that I love and have said over and over to myself is this "Do what you feel in your heart to be right-for you'll be criticized anyway'! Annika uses these quotes to get through life also.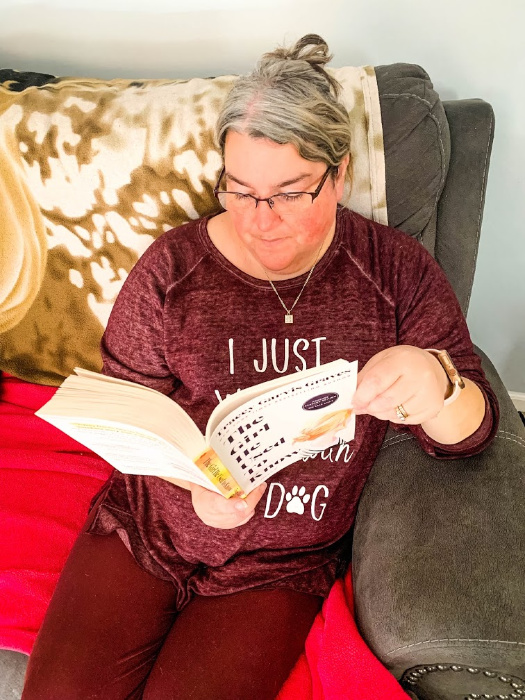 Make sure you pick up your copy of The Girl He Used to Know by New York Times Bestselling Author, Tracey Garvis Graves. This book will not disappoint you at all. As I said, I read this novel in about 3 hours, I could not put it down. I grabbed myself a bottle of water and some popcorn and sat on my couch and just lost myself in this book.