Do you ever get frustrated with your hair? I know I am often frustrated with my hair. And, sometimes it's so difficult to find a hair product that truly helps my hair. So, when I find one that does help, I love it! Well, I was recently introduced to a great hair product that helped my hair a lot and I'd like to share it with you. It's called Neon & Co. Hair Shot Ampoule.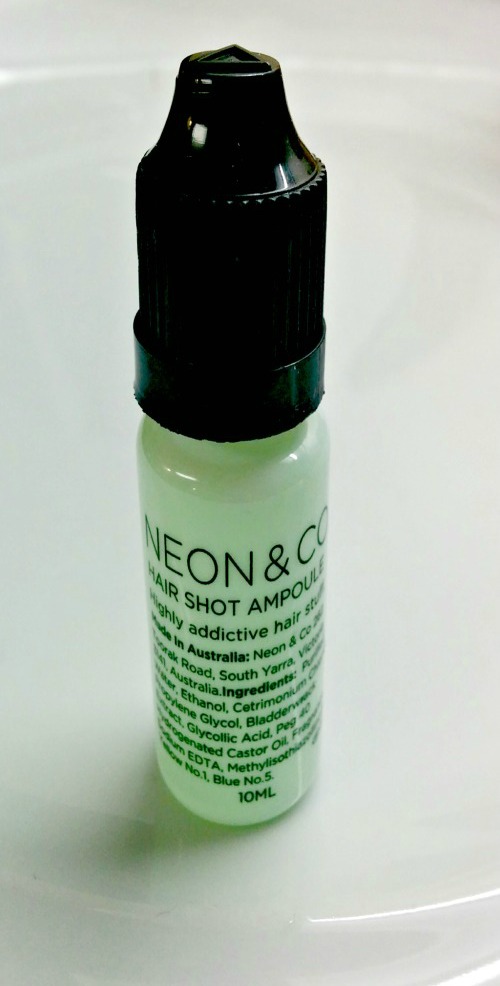 The Hair Shot Ampoule is a hair product that helps provide your hair with some extra hydration. According to the Neon & Co. website, their Hair Shot Ampoule, "(Gets) right down to the cuticle layer of the hair, (and) this formula strengthens and improves elasticity, meaning less breakage." The description for the formula says it also helps cut down the amount of blow-drying time (which I think is better for my hair). The company also says the Hair Shot Ampoule can help your hairstyle last longer.
Directions For Usage
How do you utilize the Hair Shot Ampoule? You can apply half of or all of the 10 ml bottle (it depends on how much hair you have) to your damp hair from the roots to the ends before air or blow drying.
How Did It Work For My Hair?
The first picture is of my hair before the Hair Shot Ampoule. I had used a flat iron on it earlier in the day, but no hair styling products.
The picture below shows my hair after I washed it, then applied the Hair Shot Ampoule and then dried it with the hairdryer. My hair is a little longer than shoulder-length but my hair is on the thin side. So, I applied about 1/4 of the Hair Shot bottle, which worked well for me. Once my hair was dry, one thing I really noticed was how soft and how much healthier my hair looked and felt.
I really like this product for what it did for my hair. Another thing I also like about the Hair Shot Ampoule is that it can be applied to hair that you plan on letting air dry. I really don't like using a hot dryer on a daily basis.
See what Neon & Co.'s Hair Shot Ampoule can do for your hair! You can purchase this product for $10 at Anthropologie.com and at neoncoproducts.com.
Connect with Neon & Co.:
Website | Facebook | Twitter | Instagram | YouTube | Google+