Domino's sponsored my airfare, hotel, and food, but this article is all my opinions.

My Day At Headquarters:
When we got to the Domino's Headquarters, we were greeted with such hospitality! The building is gorgeous and so huge, but the one thing I saw through out was how much Domino's cares for their staff, and that customer service is their #1 priority. We were given a tour of the building, and I saw so many amazing things…let me show you!
There were random tables placed all around, but this one caught my eye:
Do you see all the different boxes that have been made, now I'm too young to remember the 1960-1980 boxes, but I sure do remember all the boxes after 1980! So cool, right? Guess what in 1960 Tom Monaghan and brother, James, purchase "DomiNick's," a pizza store in Ypsilanti, Mich. Monaghan borrowed $500 to buy the store. So Domino's was started for $500. Wish it was that easy nowadays!
Let's take a look at the different delivery cars and how far they have become. Here is the VW Bug from way back when.
Then we have the MODERN DAY Delivery Car: Domino's DXP™ (Delivery Expert)
In October 2015, after three years in the making, Domino's was launched the DXP, the first purpose-built vehicle aimed at revolutionizing pizza delivery.
The DXP can hold up to 80 pizzas, along with other menu items including salads, wings and 2-liter bottles of soda. It features a warming oven, located behind the driver's door, that can hold two Heatwave™ bags and is quickly accessible to drivers with the touch of a key fob button. The car also comes equipped with a puddle light projecting the Domino's logo on the ground, as well as an illuminated Domino's car topper. A fantastic car right there, now I haven't seen any in my area, but they are around.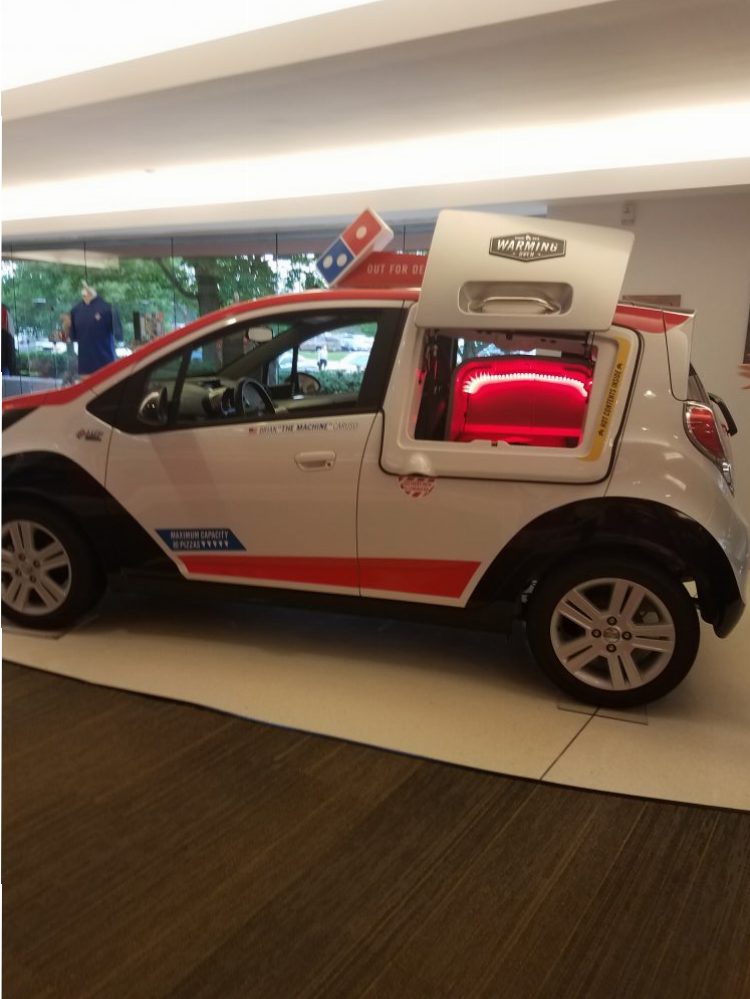 There was history all around the building; we were in awe of all the memorabilia and everything Domino's is involved with like St Jude Children's Hospital. Since becoming a national partner in 2004, Domino's has raised more than $38 million for St. Jude. For more information, go to
www.stjude.org
and follow St. Jude on
www.facebook.com/stjude
and
www.twitter.com/stjude.
COOL STUFF:
All around the offices, there is ART WORK that is downright amazing! I have no idea how people did some of the art below, but they were all made with pizza boxes and other Domino products.
We toured the Test Kitchen plus an area where they do tastings on all their new products. We all agreed that would be an awesome job to have, taste food all day!
After the tour, David Cesarini, a Franchise Owner, sat down with us and discussed how he got into the business and by the time he was done, I wanted to be on his team. He had some wise wisdom he shared with our group…Get better before getting bigger.
Pizza Making Skills:
Then we had our Pizza Making Lesson! Which was so much fun. I made my own lunch that day….Ham & Pineapple pizza and it was so good!
Everyone at the headquarters was so nice, and you can tell they love their job. We also were introduced to all the TECH gadgets, apps, and other cool stuff that Domino's has for their customers. Domino's is all about the CONVENIENCE. As a Domino's customer, I appreciate all the hard work they put into making our pizza ordering easier.
Domino's History Highlights:
1967: The first Domino's Pizza franchise store opens in Ypsilanti, Mich

1985 Domino's opens 954 units, for a total of 2,841, making Domino's the fastest-growing pizza company in the country

1992 Domino's rolls out breadsticks, the company's first national non-pizza menu item.

1996 Domino's launches its website (www.dominos.com)

2000 Domino's Pizza opens its 2,000th store outside the United States

2008 Domino's launches a food delivery industry first: Domino's. Tracker™

2015 Domino's celebrates its 55th anniversary in December