This post brought to you by U-Pack. The content and opinions expressed below are that of Kelly's thoughts On Things.

Moving is anything but easy! We all have done it, but has anyone had a good time doing it? Probably not! We moved last year, and let me tell you, with the stress and how much it cost us… our relationship was in jeopardy. Not cool at all! We will be moving again soon, and I'm looking NOW into how I can do this without taking a toll on our marriage. I'm not joking either – it was bad. Everything that could go wrong did, and next time I'm going to be prepared.
U-Pack sounds like exactly what I want. I don't want to drive a BIG TRUCK or go over our moving budget. Plus, I don't trust people with my things; I was so nervous last time when the movers packed and moved my stuff – NEVER AGAIN. Too much stress right there.
Don't even get me started on how much our first move cost us! We were quoted one price and ended up paying nearly double that in extra costs – it was crazy. We were so behind in our finances due to our last move that we are just now (a year later) able to start saving again.
As you can tell, my last move caused a lot of frustration and when we move again, it needs to go better! We know moving isn't free, but we want to ease some of the charges by doing the packing and moving the boxes ourselves this time.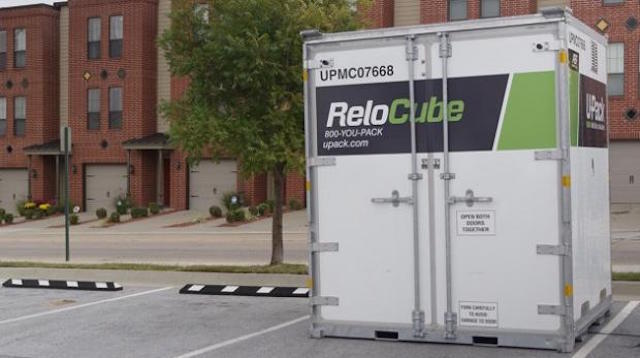 How U-Pack Works:
⦁ They deliver empty moving equipment to your house.
⦁ We will have three business days to load – love that!
⦁ They drive the trailer to your NEW PLACE.
⦁ You unload and all done.
They provide resources- they have checklists and how to's .
It's like getting the best of both worlds' services – we pack and they drive! That sounds like my type of teamwork. I really wouldn't trust my husband or myself to drive the moving truck cross-country anyway! This eases a lot of stress; we can drive in our vehicle while a professional drives the big truck!
Plus, I get an ONLINE quote from the beginning – they ask where you are moving from, to where, and how big of trailer you would need. I did a quote from Richmond, CA to Lexington SC and, people, it costs about the same as it did for us to move 25 miles! Oh, my goodness… for real a little over $3,300! I'm amazed. We can also add on HELP for loading/unloading, and because they charge based on space, the price will reflect just what we use!