My kids LOVE granola, so I wanted to try something different for them to try….BERRY CRISP! I grew up on crisp/cobbler, but I've never made it for my kids. I started out with our favorite GRANOLA- Viki's Apple Cinnamon. It has all the flavors of a homemade apple pie! So yummy and the kids will eat this granola all by itself. Viki's line of delicious signature soft-baked granola is perfect for snacking or making recipes.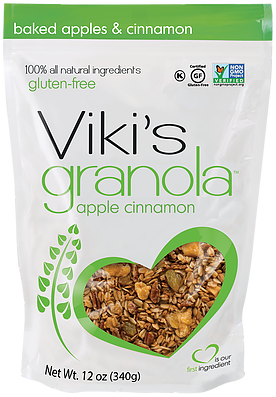 ABOUT VIKI'S GRANOLA
• Gluten Free
• Non-GMO Verified
• Cholesterol Free
• Zero Trans Fats
• Sodium free
• Dairy Free
• Kosher Pareve
MIXED BERRY CRISP
Ingredients for Berry Crisp:
TOPPING
3/4 cup all-purpose flour
1/2 cup (packed) light brown sugar
1 cup of Viki's Granola (any kind)
One stick of butter
FILLING:
4 cups of frozen berries (we used mixed)
2/3 cup of Sugar
Two tablespoon of all- purpose flour
DIRECTIONS:
Preheat oven to 375 degrees
Lightly butter the baking dish
Place topping ingredients into a bowl, working the butter into the granola mixture. Set aside
Place filling ingredients in a large bowl and mix
Pour berry mix into baking dish
Pour the topping mix on top of berries
Bake for 40 minutes (fruit bubbling)
Rest for 15 minutes
Serve warm with cool whip or ICE CREAM!
Making this with my daughter was fun and allowed us to have some mother-daughter time together baking. Baking is something we enjoy together and anything with FRUIT and GRANOLA we love so this was a WIN-WIN recipe for us to make. She even brought some to school today so she could share with her friends.
Our next recipe we are going to make is Banana Walnut Parfait for breakfast this weekend!
Check out more about Viki's Granola on HERE and also visit Vicki's Granola.
Connect with Viki's Granola SHOP FACEBOOK TWITTER PINTEREST INSTAGRAM