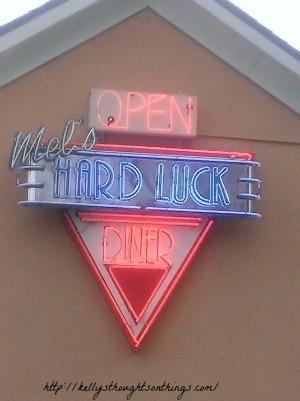 While we were in Branson, MO we had the pleasure of eating at Mel's Hard Luck Diner and it was simply amazing. After we rested up at the Castle Rock Resort and Water park we headed over to Mel's Hard Luck Diner to meet the other awesome bloggers that we were Exploring Branson with.
When we are traveling we are always looking for good food and a lively entertainment and with Mel's Hard Luck Diner you get both. One of the great things about Mel's is the singing waitresses and waiters. I was simply amazed with them! The walk around serving your food and singing at the same time. The servers are truly talented singers. They even sing to you, Ronnie loved that!
We got to personally meet Mel and he gave us some suggestions from his menu. Ronnie and I decided on the All Wrapped Up. It is Turkey with lettuce, tomato and cheese with their special fat-free seasoning in a tortilla wrap, served with fruit slices. It was absolutely yummy!

For dessert they have so many wonderful items, Ronnie was going to get the Krazy Kringle Kriter Kookie, it is giant chocolate chunk kookie, piled high with chocolate and French vanilla ice-cream, drizzled with hot fudge and hot caramel topping, snow drifts of whipped cream and bright red cherries. But he decided to go with the Chocolate Shake that was extra thick and yummy!
Mel's Hard luck Diner has awesome food at reasonable prices and great entertainment. What else can you ask for? We had a wonderful time meeting new friends and then we headed on over to watch the Six Show. Check out Mel's Full Menu.