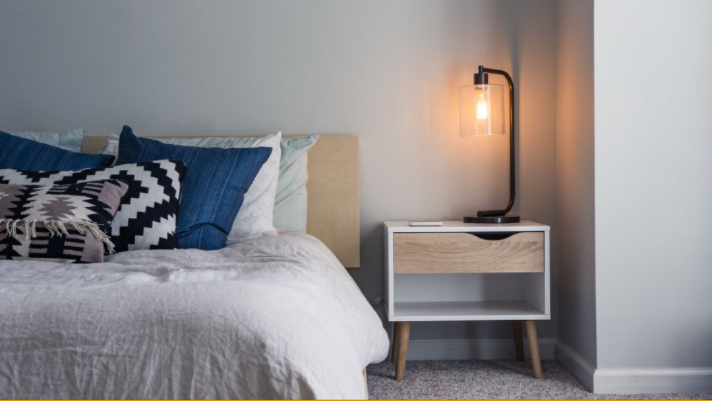 Your master bedroom is supposed to be a haven of rest and relaxation. Unfortunately, it's a little bit difficult to relax when there's clutter everywhere! That's why it's so important to keep your master bedroom organized and clean. From your bedside tables to the closet and beyond, here are a few tips to help you become a master of master bedroom organization.
Start with a Deep Clean
The first step to organizing your master bedroom is to give it a good, deep cleaning. That means dusting all of your fixtures, scrubbing down the walls, and shampooing your carpets. Whether you like it or not, a dirty carpet can make your space look and feel even more disorganized than it really is. Even a carpet that looks clean can hold up to a full pound of dirt inside. Gross. Once you're done cleaning, the real organizational work can begin.
Prepare for a Purge
Begin by emptying the contents of your bedside tables, dresser drawers, and closet. You might not even realize how much space is in these bedroom fixtures until they're empty! And considering 20% of people would be willing to take a pay cut just for a bigger closet, being fully aware of the space you already have is crucial.
Once everything is emptied, begin your purge. If you're having trouble throwing things away or sending them off for donation, here are a few tips to help you get through this tough task:
Invite a no-nonsense friend to steel your resolve.
If you haven't worn it in over six months, it's time to say goodbye.
Damaged items need to hit the road.
You don't need to throw everything away. Determine what trinkets and trophies you want to put in storage.
Fortunately, this is the most difficult step of the process. Once you're done with your purge, you'll be able to tackle some of the less emotionally intensive tasks that organizing a master bedroom requires.
Secure Storage Spaces
Next on your list is to make effective use of all storage spaces in your bedroom. Let's take a look at a few key storage aspects you need to make use of during your master bedroom cleaning and organizing project.
Under the Bed Storage
If you have space underneath your bed, you should 100% be using it. Sliding or rolling under bed storage units are an excellent way ot make use of this often forgotten space. No more worrying about where to put all of your shoes in your closet!
Bedside Table Organization
Did you know that almost 15% of all paper documents are misplaced at some point? If you're someone who likes to keep paper reminders on your bedside table or desk, make sure you have a system to keep them organized. Drawer organizers are an excellent way to accomplish this. If you have a lot of papers, it might be a good idea to invest in a file holder for your desk or bedside table, as well.
Coordinated Bins
Bins are your best friends if you want to keep your room looking coordinated and organized at the same time. A cubicle shelving unit placed inside of your closet can house a number of fabric bins in which you can store accessories, bulkier clothing items, and anything else you want to be kept out of sight. Not to mention they offer excellent additional storage.
Keep Clothing Seasonal
We all love a cozy sweater, but they tend to take up a lot of dresser and hanger space. If you want to make the most of your closet space from season to season, it's a good idea to store clothes that are out of season. So during the summer, your bulky winter sweaters get tucked into a nice storage bin and put away on that top closet shelf you rarely use. This allows your summer clothes to shine and it gives you more space in your closet for the things you actually want to wear.
Looking for an excuse to tidy up the master bedroom? Why not surprise your sweetheart? After all, 69% of people report they're grateful when something unexpectedly good happens. And what better surprise to come home to than a beautifully organized bedroom? Making use of these tips will help you get well on your way to mastering your master bedroom.