Extra Virgin Olive Oil and honey are staples ingredients to keep in your home especially in the Summer. Nothing sets the seasonal mood like a summertime soiree: catching up with friends over chilled cocktails, staying out in shorts 'til the sun goes down, noshing tasty seasonal food…The only thing is,turning on the oven in 95-degree weather is enough to curb your appetite. Whether you're hosting a summertime soiree and want to serve a dessert to impress, or a simple, yet delicious appetizer, the following two recipes are just the ticket. Even better, they feature two ingredients whose all-natural flavors shine and add a healthy boost: extra virgin olive oil instead of butter, and honey instead of white sugar.
Ingredients
1 (16 ounce) package softened cream cheese
1/2 cup GOLDEN BLOSSOM HONEY
1 cup plain yogurt
grated rind of one lemon (or 1/2 lime; or 1/3 orange)
3 teaspoons pure vanilla extract
1- 8 inch graham cracker crust
Directions
Beat cream cheese until fluffy. Beat in honey. Stir in yogurt, lemon rind and vanilla. Pour into crust and chill at least 6 hours or overnight. Garnish with fresh fruit and whipped cream or any topping that you would like. I drizzled some caramel on top.
Golden Blossom has been making their honey since 1921 with a unique blend of three pure honeys: orange blossom, sage buckwheat, and extra white clover, creating the signature Golden Blossom Honey flavor. It is sourced exclusively from U.S. beekeepers, and does not contain any additives or preservatives. Naturally gluten-free.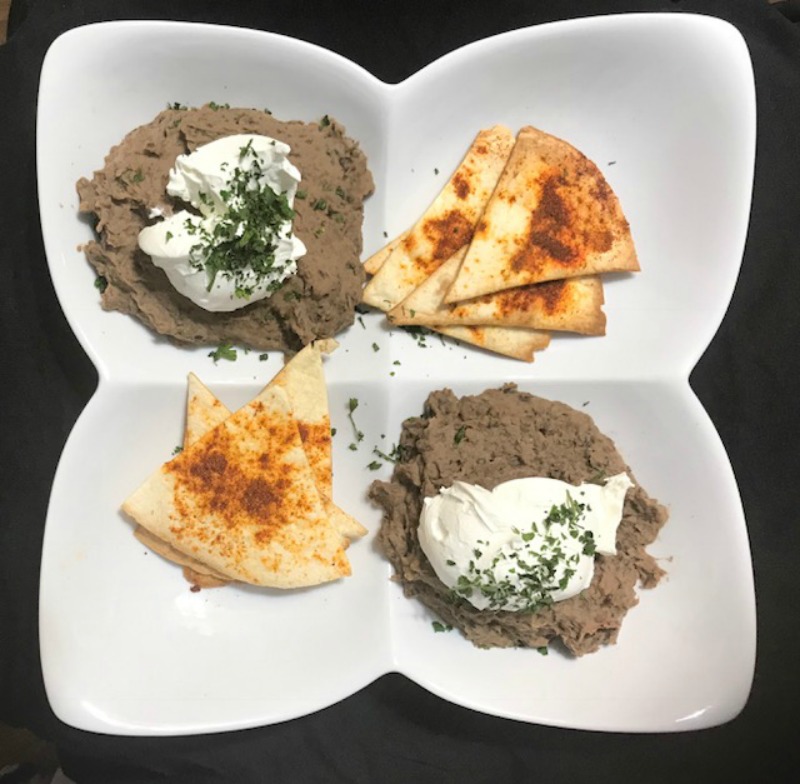 Ingredients
Dip:
2 cans black beans, drained
1 vidalia onion
3 tbsp Colavita Olive Oil
1 tbsp Colavita Balsamic Vinegar
1/2 cup sour cream
1 tsp cumin
1 tsp salt
1/4 tsp black pepper
Freshly chopped parsley and a dollop of sour cream for topping

Chips:
2 flour tortillas
1/2 tsp salt
1 tsp smoked paprika
1 tbsp Colavita Balsamic Vinegar
1 tsp cumin
1/2 tsp black pepper
1 tbsp Colavita Extra Virgin Olive Oil
Bat-shaped (or other) cookie cutter

Directions:
MAKE THE DIP:
1. First caramelize the onion. Slice it into long, thin strips. Heat 1 tbsp Colavita Olive Oil in a large skillet over medium heat. Add the onion to the pan and sauté. Stir only occasionally until the onion starts to wilt and turn brown, about 20 minutes.
2. Add the Colavita Balsamic Vinegar to the onion and sauté another 5 minutes. Remove from the heat.
3. In a food processor or blender, purée the caramelized onion together with the remaining ingredients until smooth.
4. Add more Colavita Olive Oil if the mixture seems dry.
5. Garnish with parsley, and a dollop of sour cream.
6. Serve with corn chips, pita chips, or special bat-shaped tortilla chips.* See instructions below.
MAKE THE CHIPS:
1. Cut bat shapes out of each flour tortilla. Each flour tortilla should give you 6 to 8 shapes.
2. Mix together the smoked paprika, salt and pepper in a small bowl.
3. Preheat your oven to 350°F. Line a baking sheet with parchment paper.
4. Brush the tortilla pieces with Colavita Olive Oil, and place them on the prepared baking sheet.
5. Sprinkle them with the spice mixture.
6. Place the pieces in the oven and bake for 10 minutes or until they are crisp. Remove from the oven and allow to cool for 2 minutes.
Colavita Premium Italian EVOO
Colavita Premium Italian Extra Virgin Olive Oil has a rich aroma and a balanced, full-bodied flavor, with slightly spicy and bitter notes that testify to its Italian authenticity and freshness. Made exclusively from olives harvested and pressed in Italy. Colavita is a leading family-owned specialty Italian food brand of one of the top-selling extra virgin olive oils in the United States. Healthy, versatile, and delicious, choose Colavita Extra Virgin Olive Oil as your kitchen stable for every preparation, whether sautéing, baking, or drizzled over your favorite dish for a finishing touch.
Connect with Golden Blossom Honey: Site | Facebook | Twitter | Instagram
Connect with Colavita: Site | Facebook | Twitter | Instagram