This is a sponsored post written by me on behalf of Visit Gulf County for IZEA. All opinions are 100% mine.
I have many wonderful memories of my childhood. But the memories that stick out the most are from our yearly vacation to the Jersey Shore. My parents never missed a beat, every summer we would head down to the beach for a week, and we had so much fun. My parents would take us crabbing, fishing, and, of course, we would go to the beach and swim in the ocean. These are memories that I will always hold dear to my heart. Now that I have kids, I want them to have wonderful memories to carry with them for the rest of their lives. A few times a year we love to take our family to a beach, and those beaches are usually in Florida. This year we are making plans to head to Gulf County, Florida. I love to make sure our vacations are packed with fun and adventure and a little relaxation of course. There is so much to do and see in GCFL. From the beautiful beaches, fishing, bike riding, kayaking and so much more. All I can think about is the beautiful white beaches and watching the sunset over the water. For this vacation, I checked out their Gulf County Adventure Guide, and there is so much to do, but below is the adventures we are thinking about for our trip.
Kayak Through the Dead Lakes
This will be a first for my family. I wanted to do something different with them. The Dead Lakes get their name from the Cypress and Tupelo trees that stand in the water. When the water is low, you can see the stumps rising out of the swamp. It's like nothing you've seen before. People don't know what you're talking about, and then they have an "aha" moment when they paddle around the shallows in the South Flats. The stumps are so concentrated; it's like being on another planet. If you go out early in the morning in April, the birds are all coming into nest, and other critters are just showing up. The fog comes off the water. It's very still, where you feel like you're in the wilderness. Who wouldn't want to do this!
Wake Up Early to Watch the Dolphin Parade
One thing I love to do when we are around the beach and ocean is dolphin watching. This is something we do every time we go away. My children love seeing the dolphins swimming in the water. So this will be a must in GCFL. This is what I have read about the Dolphin Parade. A family happened to be up early one day, and they saw a pod of dolphins playing and chasing a school of fish. They were so close to shore; they could see them from the deck that day. After that, they got up early so they could walk down and see them from the beach. They loved the "dolphin parade" and watched them swim by every day.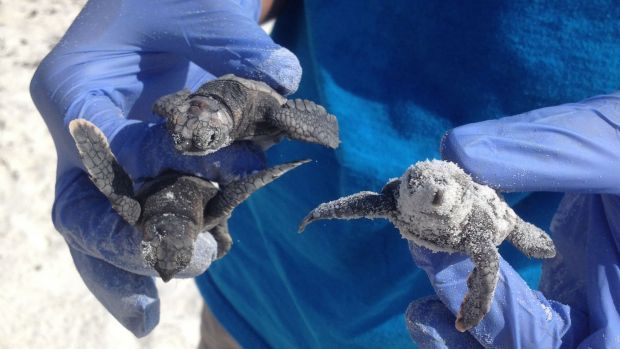 Go on a Turtle Treasure Hunt
This is another adventure we have never done, and we are all looking forward to this. Especially my daughter, the reason is her nickname since she was a baby is turtle. We will join adventure guide Jessica Swindell on a Turtle patrol on the beach. Jessica gives visitors a chance to view baby sea turtle nestings in the highest density-nesting beach in North Florida. We will be able to help her look for signs of nesting and participate in the process of protecting loggerhead turtles. This does sound like a lot of fun.
Shark fishing
This is something that my husband has wanted to do for a long time. This trip we will go shark fishing. We will go on a 3-hour shark fishing trip with Fish'N Xpress with all equipment, bait and licenses included! He 60 ft, 44 passenger boat leaves at 5 pm and comes back around 8 pm, and what is even better is it is safe for our kids to come with us. You put your hook in the water and can catch up to an 8 ft tiger shark, get your picture taken and release the shark at the end! Around every corner in GCFL there is an easy adventure. The big, wide outdoors is open to you here – nature surrounds you, people are friendly, you are almost guaranteed to see or learn something new. In GCFL, you stop "doing" and start "feeling" – more joy, more wonder, more love. Every moment is a discovery. Or, one that you've had as a kid and want to pass on to your children. Memories aren't always made from big, fancy productions. Instead, connect with your family over the small, happy accidents. Be open to wonder. Again and Again! This is what we plan on doing every chance we get. This fall when we head to Gulf County, Florida, we will be making memories with our children that will last a lifetime. The great thing about GCFL is you can visit anytime of the year, there is always something to do, and Fall is a wonderful time to visit!
One last thing I love to do while on vacation with my family is to sit and watch the Sunset with my family. Just sitting there and reflecting on what we did that day and relaxing! Head on over and enter for a chance to win a $50 gift card to have an adventure of your own in your local town. Enter Below! Ten lucky winners per week Contest Duration: 9/28/15 – 10/25/15