This is a sponsored post written by me on behalf of Daytona Beach Area Convention & Visitors Bureau for IZEA. All opinions are 100% mine.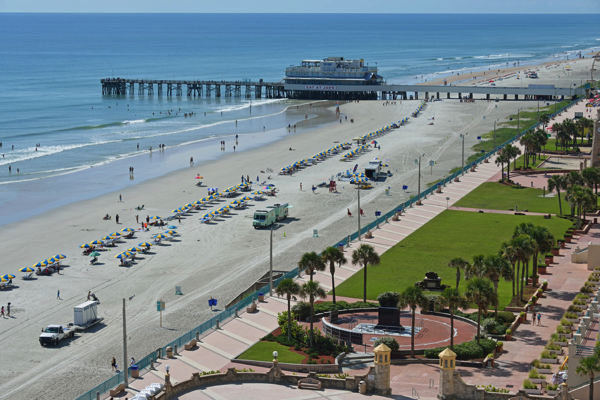 My favorite season of the year is fall! November is a month that we love to travel and we love to hit the beaches in Florida. This year we think Daytona Beach might be our destination of choice! There are so many places and things to do while visiting Daytona Beach. Living in South Carolina, Florida is not that far of a drive for us, so we don't mind heading to Daytona Beach.
Daytona Beach is The Original American Beach! Daytona Beach is that perfect vacation destination for your next family getaway. There is a wide variety of activities and dining options available. With 23 miles of sparkling white sand, Daytona Beach is the perfect vacation spot. The area features large variety for your family's stay including hotels, motels, condo rentals, bed and breakfast inns, vacation rentals and campgrounds – something to fit everyone's budget and style.
Did you know that Daytona Beach is the festival capital of Florida? Fall is the perfect time of the year to visit Daytona Beach with so many festivals happening this time of year as the Greek Festival, the Daytona Blues Festival, the Daytona Beach Dream Cruise and the Halifax Art Festival, there is something for everyone. The area hosts more than 50 festivals throughout the year, and Fall festivals make this one of the best times of the year to visit. If you love art, be sure to attend the Halifax Art Festival in scenic downtown Daytona Beach. For classic cars of all varieties, it's the Daytona Turkey Run at Daytona International Speedway, and for a bit of dancing and tasty gyros, don't miss the Greek Festival. During the Daytona Blues Festival, you'll enjoy a top-notch line-up for blues greats performing at historic Jackie Robinson Ballpark.
Even though Daytona Beach is still great for couples, it has many kid friendly options available. And when you might be a little tight on the money there are so many free things to do in Daytona Beach. Whether it's a stroll along the riverfront, bringing the family to one of the area's attractions, you are bound to have so much fun. For those who want more activity after a bit of lounging on the beach, there are tons of options all close by. Enjoy world-class attractions like Daytona International Speedway or the new Cici and Hyatt Brown Museum of Art, the largest collection of Florida art in the world. Go deep-sea fishing where some of the best bass fishing in Florida is offered, rent everything you need for endless water sports or visit one of Daytona Beach's many historical sites. Many options for outdoor fun is at your feet in Daytona Beach!
At night, you can pick from many of Daytona Beach's fine dining and restaurants. Maybe take some alone time away from the kids and enjoy time at one of the local bars and if you love to dance, you can spend time at one of the dance clubs.
I know when we visit Daytona Beach this fall, we will, of course, spend time on the beach during the morning, and then we will head out and explore some of the histories of Daytona Beach. Dine at one of the many restaurants and maybe me and my husband will stop by one of the clubs; we love to dance! My husband is a retired DJ and loves music, so I know we will be checking out the Daytona Blues Festival. Me I love art so I would love to head on over to the Halifax Art Festival.
Whether you are looking for a place to bring the whole family or the perfect spot for a romantic getaway, Daytona Beach has lots of great options for your perfect vacation. There is no time like now to visit Daytona Beach, the beach awaits you!