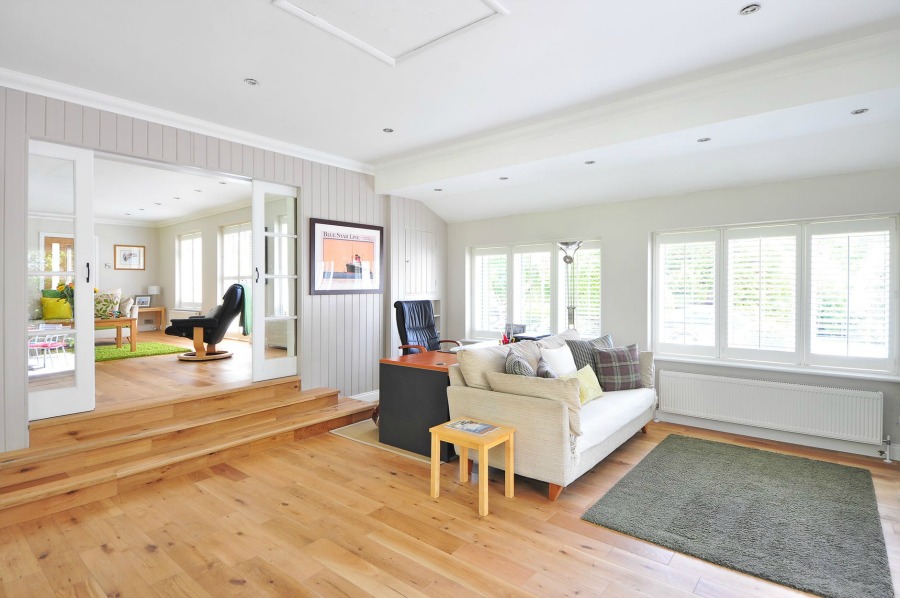 When it's time for new flooring in your home, there are a lot of options.
Some of the popular trends in the market today are:
carpeting

wood flooring

ceramic tile

cork flooring

rubber flooring

faux brick flooring

concrete flooring

plywood flooring

pallet flooring

foam floors
These are just some of the many options that are available. One popular option to consider is LVT Flooring. Also known as laminate vinyl tile, it's quickly becoming a popular, durable alternative for most busy homes. In this article, we'll compare and contrast the pros and cons of LVT flooring and traditional wood flooring.
There's no doubt for most people that hardwood flooring looks gorgeous and adds value to a home. Hardwood floors are also a great selling point when it's time to put your house on the market.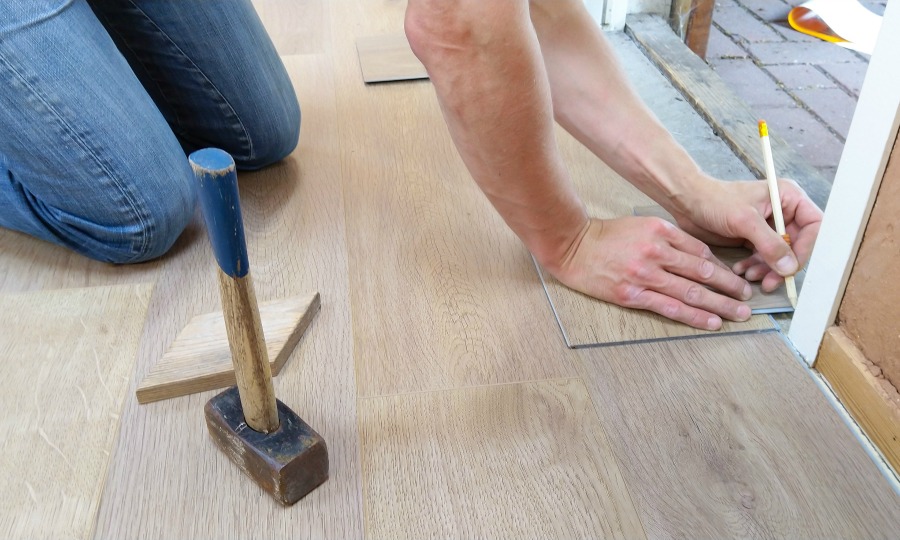 Hardwood floors are usually installed using 3 different types of installation
– Planks are tongue and groove boards that come in different lengths.
– Strips are narrow tongue and groove boards that also vary in length depending on where the flooring is being installed.
– Wood tiles are just that: same size tiles that are usually patterned.
Here are some of the advantages of having traditional wood flooring in your home:
1. Hardwood floors add value.
Hardwood floors instantly add dollars to your home's value. Prospective home buyers often list hardwood floors as one of the key amenities they are looking for when it's time for them to buy. Realtors are often able to sell houses with hardwood floors installed faster than those with just carpet installed.
2. Hardwood floors are durable.
Hardwood floors have been known to last for over about 10-20 years on average, with some lasting for over a century. They survive the daily wear and tear from busy families and pets for generations and generations. They are less likely to warp, rot or otherwise ruin your house's decor. They can often go weeks, months, or even years without requiring consistent maintenance.
3. Hardwood floors offer a lot of variety.
Hardwood flooring offers many options and can fit with any kind of house decor. There are many different kinds of wood to choose from, and each wood selected can be sanded and stained to your liking. You can choose different types of wood and wood flooring for every room of your home if you'd like.
4. Any damage can be fixed.
Hardwood floors will eventually be dinged, scratched and scuffed over time. The good news is that they're relatively easy to repair. Sanding and refinishing them when necessary restore the luster and shine to your hardwood floors that you're used to.
5. Hardwood floors are easy on allergy sufferers.
You won't find allergens hiding in hardwood floors like you would in carpeting. This is a blessing for anyone who is allergic to pet dander, dust and other things. Hardwood floors look nice, last a long time and add value to your home. However, they aren't the perfect flooring option.
There are a few negatives, such as:
1. Hardwood floors can be expensive.
Materials for hardwood flooring usually run about $5 to $15 per square foot, depending on the type of wood and the retailer. Hardwood floors have to be installed over your existing flooring, so you may have to shell out some extra bucks to have a professional install them for you. You can also pay a few more dollars per square foot later on when hardwood floors need to be refinished when they get scuffed up or damaged due to moisture from standing water or a burst water pipe.
2. Hardwood floors can be noisy.
Hardwood floors look nice, but you can definitely hear when you walk across them. Like most traditional floors, they will creak when stepped on over time. Such noise can be distracting, especially if you live in a Townhome community or in an apartment complex. You may want to invest in an area rug or two to keep the noise down and to reduce damage to the flooring.
3. Cleaning hardwood floors can be messy.
Refinishing hardwood floors often require the use of sanders, buffers and polyurethane coating to protect their surfaces from damage. This requires extra time, effort and money in both the refinishing and cleaning up afterwards. Polyurethane fumes can also cause asthma and other breathing problems.
4. Hardwood floors can be damaged.
Hardwood floors look nice, but they can easily be scuffed and scratched up by moving furniture, pet toenails, etc. They can also be susceptible to water damage and require removal and replacement to repair the damage. Regular cleaning a few times a day or week can help alleviate those problems before they become more costly issues.
5. Hardwood floors can be cold.
If you live in a colder climate, you can probably expect your hardwood floors to be cold when you wake up on a frosty winter morning. You may have to offset this by adding carpet or area rugs over hardwood floors in your kitchen, bedroom, living room, hallways, etc.
6. Hardwood floors aren't pet-friendly.
Hardwood floors aren't built for cats and dogs, unfortunately. Their nails will often click along their surfaces and scratch them, and your pet may end up slipping and sliding along them at times due to the padding on their feet.
LVT flooring is an affordable and attractive flooring option for many homeowners. It's easily available at most retail outlets and big box stores and is something that you can install yourself.

Here are a few positive aspects of LVT flooring:
1. Vinyl tile is easy to install.
LVT flooring often comes in one of three installation options:
Glue down installation: Tiling that comes with an adhesive that is spread across the entire flooring surface before the tile is laid down onto it. Allow time for the adhesive to dry, and you're good to go!
Self-adhesive installation: You can peel off the adhesive backing, and set your tile wherever you'd like it to be. You can even reposition the tiles later, whether it's been ten minutes or ten years since the tile was first installed.
Angle is locking installation: Also known as floating floor installation, this kind of tiling has no messy adhesives or glue. Just connect your planks together at an angle, and snap them in place. The flooring looks like it's "floating" over the subfloor.
2. Vinyl tile is durable.
Vinyl tile flooring is built to withstand an active family lifestyle. Most vinyl tiles last for about 5-15 years on average. It doesn't get scuffed or scratched like hardwood flooring does. Laminate vinyl tiles are usually thicker than traditional vinyl floor tiles because they have an extra layer of UV-cured urethane on them. This coating makes the tiles more resistant to scratches and scuff marks. It also aids in better heat insulation and sound absorption. Some varieties are even waterproof.
3. Vinyl tile is affordable.
Vinyl tile is often seen as an affordable alternative to hardwood, ceramic and concrete flooring. It generally costs less in terms of both material and labor. Most tile flooring runs from under $1 per square foot to around $4-6 per square foot for higher-end brands and models. You can find a wide variety of vinyl tile at big-box retailers, home improvement stores and at online retailers. You can probably do most or all of the installation by yourself, and won't have to rely on having a professional complete the job for you.
4. Vinyl tile flooring is fashionable.
Laminate vinyl tile flooring comes in many attractive colors and patterns and has been a popular choice for kitchen, bathroom, and living room remodels. Tile flooring adds to any room's decor almost instantly. Your guests will think that you splurged on wood, stone or ceramic flooring, but you'll know the truth. LVT flooring is inspired by natural elements but is available at a fraction of the price.
5. Vinyl tile keeps out the cold.
Tile can be installed over radiant floor heating and generally keeps the heat in. Unlike traditional hardwood flooring, tile keeps the heat in so you don't have to worry about getting cold feet walking around in your home on a chilly morning.
6. Vinyl tile also keeps out allergens.
Vinyl tile does a great job all by itself of keeping pet dander, dust, and other allergy-causing items from being absorbed into its materials. They just require regular dusting and cleaning to ensure those allergens stay off of your floor.
While LVT flooring may seem like the sensible choice for your remodeling time and budget, there are some downsides to it, such as:
1. Vinyl tile can't be installed everywhere.
While luxury vinyl tile can be installed in most rooms of your home, it cannot be installed on stairs. It isn't recommended for any non-level surfaces. You may want to avoid adding tile flooring in any areas like around the tub that will consistently get wet, or outdoor areas that require more durable tile that can withstand nature's elements. Tile can expand and contract just like wood, so keep that in consideration when planning to renovate an area with inconsistent temperatures, such as a guest house, greenhouse or utility shed.
2. Tile isn't as comforting as carpet.
Vinyl tile is affordable and looks great, but your feet might not think so, especially if you've been standing or walking for long periods of time. Carpet is a great shock absorber and helps reduce muscle fatigue more than vinyl or wood flooring can. You can reduce foot pain by adding area rugs or carpeting over vinyl flooring in heavy traffic areas of your home.
3. Tile can be slippery when wet.
Unlike wood flooring, LVT flooring is easier to slip and fall on. Tile has no place for moisture to be absorbed into, and falling on tile flooring can be quite painful. While some brands of tile flooring are more slip-resistant and some models are waterproof, you still have to clean them regularly to avoid dust, dirt and moisture buildup.
4. Keeping tile floor cleans takes time.
You may have to vacuum, brush and mop and dry your vinyl tile floors regularly to prevent dust, dirt and moisture buildup. Standing water and unattended spills can damage your vinyl flooring over time. While this extra work can take extra time out of your already busy schedule, regular cleaning will add value and life to your flooring.
5. Tiles can be damaged if not installed correctly.
Tiles are susceptible to warping, cracking and loosening of the floor surface if they aren't installed correctly. This can be a very costly mistake over the long run. You should carefully survey the floor surface before installing and allow for possible expansion and contraction of the tiles in different weather. Once damaged, tiles will have to be replaced. They can't be fixed as easily as hardwood flooring can, albeit at a much lower replacement cost.
6. Tile doesn't add to a home's value.
Unlike hardwood flooring, vinyl tiling doesn't add a lot of value to your home when it's time to sell. Because it can be easily redone and replaced, tile is functional but is not a key selling feature that most homebuyers are looking for.
7. Replacing tile isn't environmentally friendly.
While replacing vinyl tile is relatively inexpensive, it isn't something that's easily recyclable right now. Most disposed vinyl tiles end up clogging landfills, although some manufacturers are working on plans to make their flooring more biodegradable and less harmful to the environment.
Whether you choose hardwood flooring or laminate vinyl tile flooring for your next home remodeling project depends on your aesthetic needs and your budget. If you are looking for a great look and added value and don't mind spending the extra time and money, then you may want to consider hardwood flooring. If you're on more of a budget and don't have a lot of time to spare, then LVT flooring may be your best bet. Whatever you decide, do your homework: shop around for pricing, variety, and installation. Get estimates and read reviews when necessary before you choose. It's an investment that you want to last for a long time, so you might as well do it right!