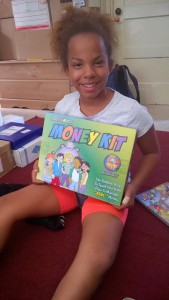 Kids Wealth is helping us talk to our daughter who is 11 years old and WANTS a lot of stuff. When I say "stuff" I mean clothes, toys, crafts, ice cream from the truck, and go shopping at the mall. We try to explain to her that we cover all her NEEDS and her WANTS are extras. Kids Wealth walks her through all those issues. I swear our kids think money is grown on trees or just magically appears. They look at us with blank stares when we explain we can't do or that because we don't have the money.
Here is Sahara opening her kit:


As a parents, we need to teach our kids about money. However, some of us aren't experts and really don't handle money very well ourselves. To have the Kids Wealth Money Kit has opened the door for conversation about money. It actually can help parents save money too. I wish I had this kit growing up maybe I would have actually learned how to save money.
About KidsWealth®:
• The KidsWealth® Money kit is designed to teach children to save money and to appreciate and manage those savings.
• With the Program, each child has their own Money Kit which they can use to track their progress.
• Based upon extensive research into helping children to save more at an early age, the kit includes guides for both parents and children, and you can get up and running in less than 30 minutes.
• Here are the resources your kids will use to develop successful and lifelong money savings habits:
Parents Guide: A kid-friendly starter manual will introduce kids to the Kal and Pals characters and the basics that will help teach kids to save money.
Kid's Guide: A fun, informational guide where the Kal & Pals characters teach children how to use the KidsWealth Account Wallet.
Account Wallet: Includes five sturdy wallets in different colors to help kids keep track of their savings.
Kid's Pay Calendar with Kid's Pay Stickers: A colorful, friendly way to keep track of Pay Days and help pace children in their spending
There is so many cool aspects of this Kids Wealth Money Kit. There is a workbook that helps her with problems that happen in everyday life. I think every kid in school should get a kit like this because it is filled with useful information that will assist kids with money.
Please visit Kids Wealth and get your kit TODAY!