Kids and technology are like 'best friends' today. Many parents say that they are totally inseparable.
Well, technology can be enticing for kids.
With vivid colors, cartoons, innovative learning and endless entrainment, children cannot resist diving into the world of technology.
In fact, a survey conducted by Common Sense Media suggested that 98% of homes with children over six years have a mobile device such as a smartphone or a tablet.
Parents today want their children to learn the best and as fast as possible.
Many parents think that refraining children from technology might keep them behind in life and they might miss out on a crucial aspect of learning.
They want their children to be familiar with technology as it is now a huge part of their lives too!
Usage of technology might appear 'normal' to many parents today but there are people who do worry about their children getting addicted to tablets and smartphones from an early age.
They want their kids to learn and be friends with technology but they cannot let them use it for the most part of their day because of the consequences like lack of social interaction and low physical activity.
So here we are with the best tips for parents in the digital age that will help in creating a balanced environment at home that aims at the overall development of the children.
Tip #1: Be Their Role Models
If you want your kids to not get addicted to technology, you have to check yourself first.
If you cannot keep your eyes away from your mobile phones or you cling to the TV programmes most of the time, your kids would follow you.
Being addicted to technology would also cut off the time that you can spend with your kids.
It might appear to them that you are not available for them and they might also turn towards technology.
Tip#2: Set Some Limits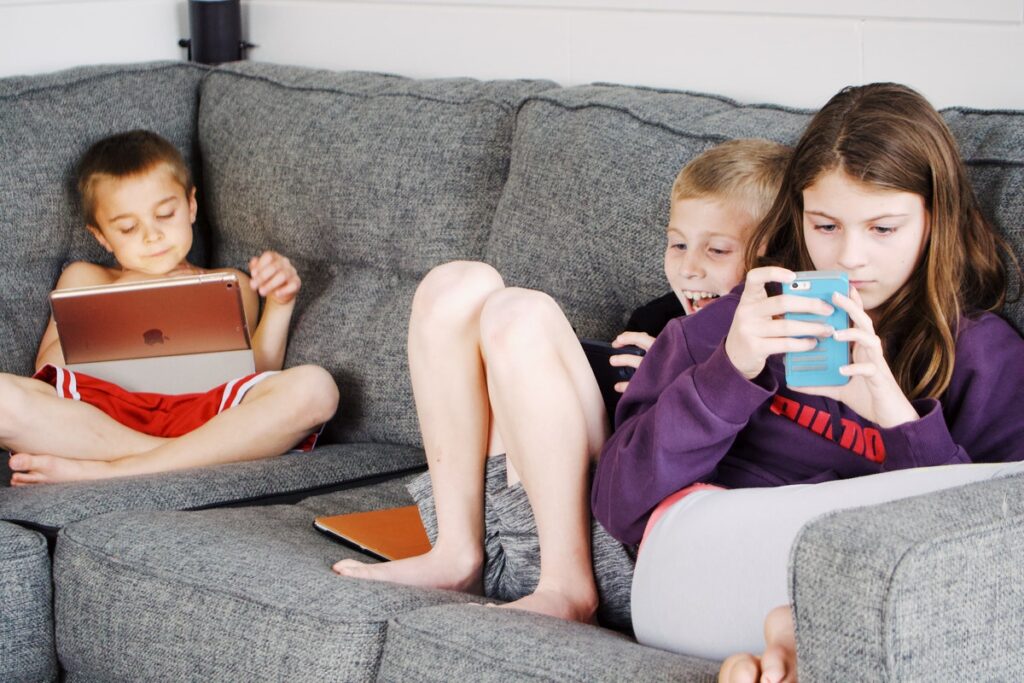 How nice would it be if you allow your kids to play games on the tablet or watch cartoons on YouTube for just two hours a day or even less?
They would have time to focus on other things such as going out to play, reading books or developing hobbies like drawing and painting.
So set time limits for using technology at home.
Then, use the rest of the time to connect with your kids.
They may learn a lot from you which the computer can't teach them.
Maria, who provides assignment help in Canada to high school students suggests that some limits should also be set on when kids can use technology.
For instance, if there is a family gathering, children should be encouraged to connect with the family rather than using gadgets.
Tip #3: Take Interest
You must show that you are intrigued to know what your child is doing on the phone or the tablet.
You do not have to spy on them or act like you are suspicious. Neither you have to be carefree and let them do what they want.
Just take some interest in knowing which game they like the most and what it is like.
If they are learning something on the smartphone or computer, ask them what they learned.
You can even play video games together with your kid or sit beside them in an online learning session.
It would help you connect with them and there will be fewer communication gaps between you.
Tip #4: Gadgets Prohibited
Just like you set limits on when your child can use technology, you can set up areas of your house where they are not allowed to use gadgets.
For instance, many families have a rule of 'no technology at the dining table'.
That time could be used as talking to each other and having a nice meal together.
Similarly, avoid using technology in the bedroom and bathroom.
Dev, one of the subject matter experts at GoAssignmentHelp said, "some families even keep their car as a tech-free zone so that their children can look around and see the neighbourhood instead of their smartphone screens."
Well, it is a great idea as it will drive their curiosities and make them familiar with things around them.
Tip #5: Talk It Out
As your kids are getting familiar with technology, specifically the internet, you need to make them aware of the possible dangers such as intrusion or privacy concerns.
They must understand that they should never give their personal information or any personal information of their parents to a stranger.
Social media is also a matter of concern, especially for teenagers as they might get carried away in the limelight of social network platforms without understanding what's behind the scenes.
Be open to such conversations with your kids so that if they find anything uncomfortable, they come to you straight away and not their friends.
"Parental control is also a good way to ensure that your kid is not getting distracted while using the internet.
Parents might also block certain apps and websites while their children are studying so that they can focus in a better way," said Andrew, who works as an editor at a leading dissertation writing service.
There is no wonder kids are learning faster than their parents when it comes to technology.
Many times parents who are not that comfortable with technology are unable to discuss it with their children.
While other times, many parents who are indulged in technology way too much fail to put certain limits on their children.
Either way is not good for the growth of the children.
For their overall development, using these five tips would be very beneficial to you.
It will allow them to use technology as they like, but would also teach them their boundaries.
What do you think about these tips?
Do you have something of your own to share with us?
We are keen to know how you keep up with your kids using technology these days.