Blue center feed roll is sanitary cleaning paper that is great for use in a number of situations to wipe away dirt and fluid. It offers a good alternative to tissue paper and towels because it is absorbent, disposable, made with high quality materials and methods, as well as being friendly priced.
Is blue center feed roll suitable for you?
There are many situations and surfaces for which blue center feed roll is recommended. Accredited blue paper is ideal for use in a kitchen environment because it meets food safety standards. Unlike towels and tissues, blue roll will not contaminate your food, which will reduce any likelihood of food poisoning and other potentially dangerous effects of using unsafe cleaning products.
It is generally very absorbent, which makes it ideal for use in your kitchen to get rid of any oil or grease on your kitchen surfaces and utensils, which will reduce the chances of your sink being clogged.
It can be used to clear water and oil spills, as well as wipe down any parts, which make it ideal for use in a workshop environment. Since it is non-abrasive, it is great on your hands too! You will be able to keep your workshop neat and tide, helping reduce the risk of slipping and any harm that may occur.
Blue center feed roll ensures thorough cleaning on all surfaces. It does not leave any remnants, like tissue paper, or carry germs onto the next wipe, like linen towels. This makes it great for sanitary environments, such as dentists' offices. It will be suitable for use on glass and perplex surfaces, making it a great way to keep your office chairs, tables and glass doors looking neat.
Center feed paper fits into a dispenser, which makes it easy to use and move about. It can be used in a number of workplace environments, since it is compatible with any surface, and is mobile.
What does the best blue roll offer?
There are many blue center feed roll options available. These are the most important features to consider when looking for the best center feed roll for you.
Quality
You need to find blue paper that guarantees great service. The best paper should be available in a variety of thicknesses, which will help meet different purposes. Quality blue roll should offer different ply paper, from which you will be able to pick a desired thickness.
A different aspect of quality is the texture and finish of the paper. You should find blue roll that is thick and absorbent, and which is embossed. You will have a better grip with an embossed sheet, and it will be easier to clean surfaces with fewer strokes.
Convenience
Most center feed rolls are designed for a center feed dispenser. It is conveniently sized and will fit many blue roll packs. A dispenser is easy to move about, and can be used easily when needed by more than one person. If you have a dispenser, center feed roll will offer convenient use.
For people without a center feed dispenser, you need to find blue roll that can be used as a standalone product. Some brands will not be as convenient to use because they require that users have a dispenser.
Length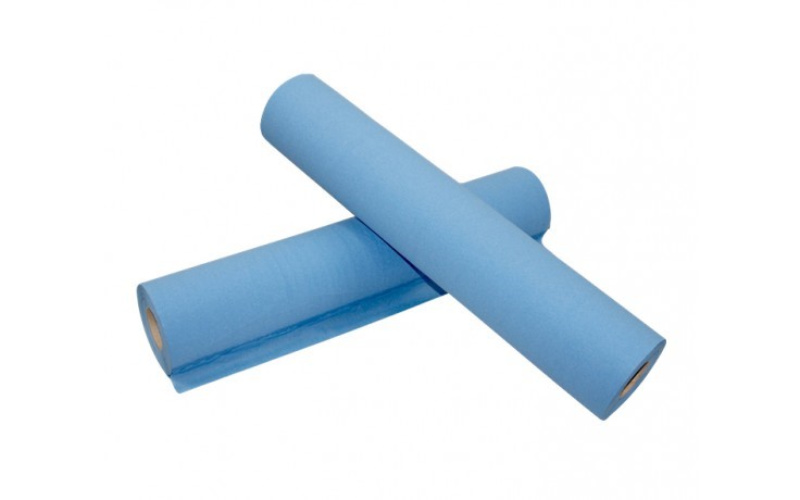 A great blue roll product should be long and durable to help you get value for your money. It should have enough sheets to last for a sufficient amount of time, and offer value packs to cut down the cost of purchasing this type of paper.
A good blue roll option should be of desirable length and width, usually longer than 100m by 160mm. It should be perforated about its tear lines, which will help you monitor your use and help increase accountability for every sheet.
Accreditation
The best blue center feed roll should feature official accreditation to guarantee quality and safety standards. CHSA accreditation requires that producers meet certain quality and measurement standards, which guarantees that you will receive the product as specified. BRC accreditation involves thorough analysis of the packaging standards to make sure that the product is safe to use on food and within food environments. Quality blue roll paper should have at least one of these official accreditations.
Ease of installation
Many brands will offer rolls with a hard core to help retain their shape and make them easier to roll out. If they are for use with a center feed paper dispenser, the rolls will need to have the core removed. A good roll should require minimal work to remove the central core.
The best brands offer a three-step removal process where users tear off some part of the core, split it and pull out the hardened paper before installing it for use. There are some brands which offer standalone center feed blue rolls, which can be used without being attached onto a dispenser.
Blue Roll, Economy Center-feed – Pack of 6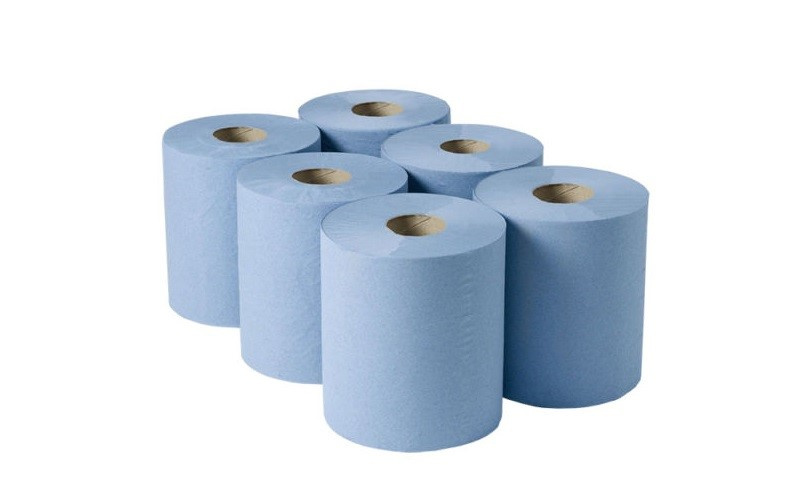 Available through Clean 4 Less, this premier paper roll is among the best available center feed rolls on the market. It is made of great quality materials and is of a decent thickness. Here are some features that make it an ideal product for your kitchen or workplace.
Value for money
This roll measures 175mm by 105 m, with about 420 2-ply sheets. It is perforated along the sear lines, which makes it easy to monitor your use for each sheet. It features CHSA accreditation, guaranteeing that the product meets the required quality and length specifications.
Quality of materials and finish
The roll is multipurpose, and can be used to clean off oils, grease, sweat and other fluids; it can also be used to clean sensitive surfaces such as glass since it leaves no residue. It is embossed, which helps it have a better grip in your hand. You will use fewer sheets to clean off any spills since this roll is thorough and highly absorbent
Convenience
The blue center feed roll is easy to use with or without a dispenser. It can be used as a standalone product, making it an ideal replacement for your kitchen roll even if you do not have one. If you do, it is easy to install and will only require that you do away with the easily removable core.
Final word
Great quality blue center feed roll should be easy to use, durable and versatile. It should allow you to keep many surfaces clean with as little paper as possible. Using this guide will help you find the best center feed roll for you.