The "Breast" Way to Keep Boobs in Place is to Use Bosom Couture Boob Glue
Ladies, sometimes our breasts seem to have a mind of their own. At least, I know I have that problem! Since having my kids and breastfeeding (a long time ago), my poor boobs have lost their perkiness. They certainly don't stand at attention anymore. I miss that, and I'm sure you do too. There is a product that will keep your breasts where you leave them! Bosom Couture Boob Glue is an amazing roll-on adhesive. Yes, ladies, you can wear clothing without a bra again!
Getting married and need to go bra-less? This will help you. Would you like to wear your favorite tank top without worrying about your bra straps showing? There are so many items of clothing that I can't wear without a bra, so this opens up a whole new wardrobe for me. I am so excited about this! As a matter of fact, I am including a photo of one breast with the glue on, and one without. I was contemplating on whether or not to use it (it's a little embarrassing), but I want "regular" women with breasts that sag to see that this works!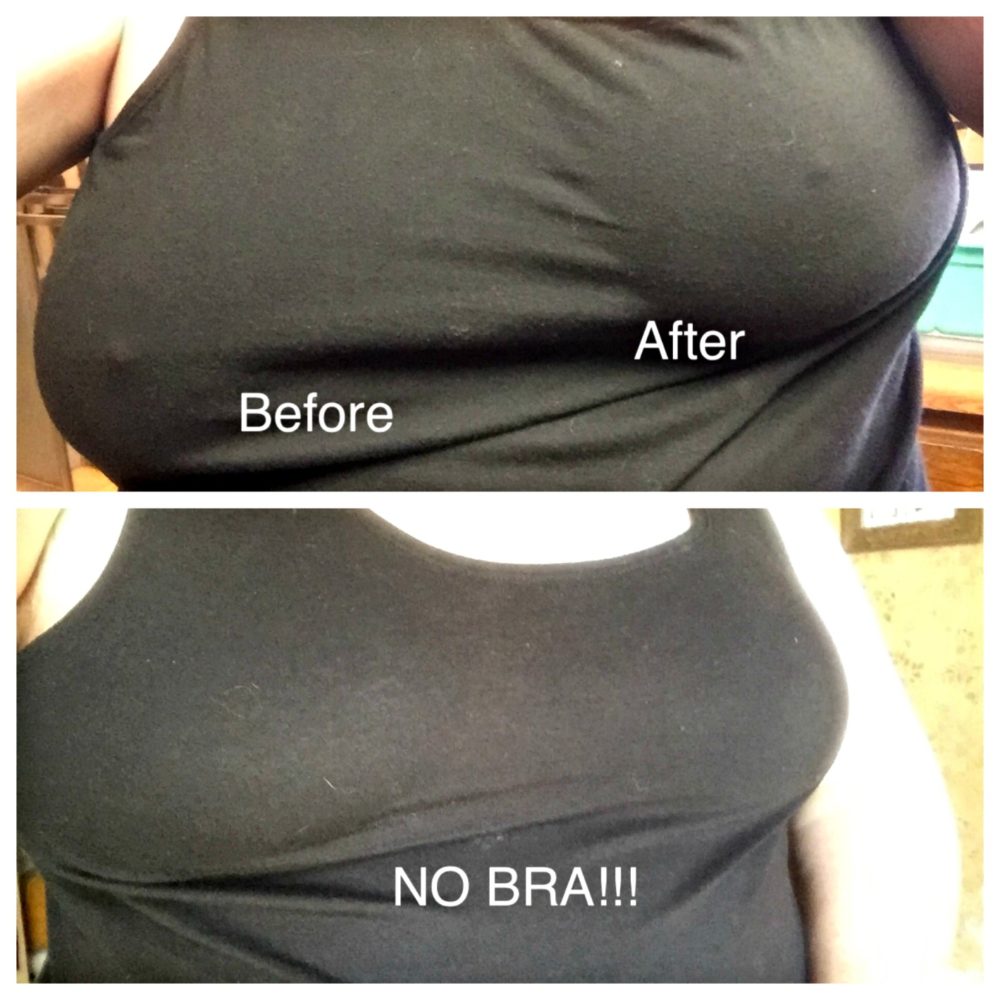 When I first read about this product, I was worried about how it would feel rolling it on my breasts. Would it be messy? Would it hurt when I removed my clothing? Would it irritate my skin? Well, let me ease all of your minds by telling you that it didn't do any of the above. It certainly wasn't messy, it didn't hurt at all (just simply pull your clothing off slowly), and I definitely had no irritation. I also didn't believe that this could actually do what it said it could. Once again, I was wrong. It absolutely works!
Bosom Couture isn't only about Boob Glue. It is a movement! It is all about encouraging and supporting women to love themselves just the way they are. It's about "lifting" each other up, not putting each other down. No matter what, we are all different shapes and sizes, and that is beautiful!
Like I said earlier, my breasts sag and have definitely lost their shape. However, with Bosom Couture Boob Glue nobody else needs to know that. The feeling I felt after putting on my tank top, without having to use a bra was simply indescribable. I could even jump up and down! It felt like I was wearing a good, supporting sports bra. How could this be? As the company says on their website "It's a boob job in a bottle". How true that statement is!
I have said some positive things about products before, but I am telling you that I've never believed in a product so much before this. I literally don't have one bad thing to say about it. Oh, and it would make a wonderful bridal party gift for sure. If your daughter is going to the prom and wearing a strapless dress, please get this for her! Not only does it keep the "girls" where you put them, but it also keeps "boob slips" from happening. Janet Jackson could have benefitted from using this at the Superbowl (haha).
So stop spending money on expensive bras that end up not working! Get yourself some Bosom Couture Boob Glue!
Connect with Bosom Couture/ Facebook/ Twitter/ Instagram/