Hike through mountains and a tropical rainforest, swim beneath waterfalls, ride mountain bikes, sports fish, surf and just enjoy a beautiful warm sandy beach. Add golf and tennis if you want more activities. Kauai, Hawai'i's Garden Isle, has it all on one beautiful and romantic island.
Kauai resorts offer beautifully landscaped grounds with swimming pools, restaurants, and luxurious accommodations. You can rent cars or all-terrain vehicles to explore the island. Ride mountain bikes to visit Waimea Canyon, the Grand Canyon of the Pacific. You can charter a vessel for sports fishing or a helicopter for an aerial tour of the island's remote Na Pali coast.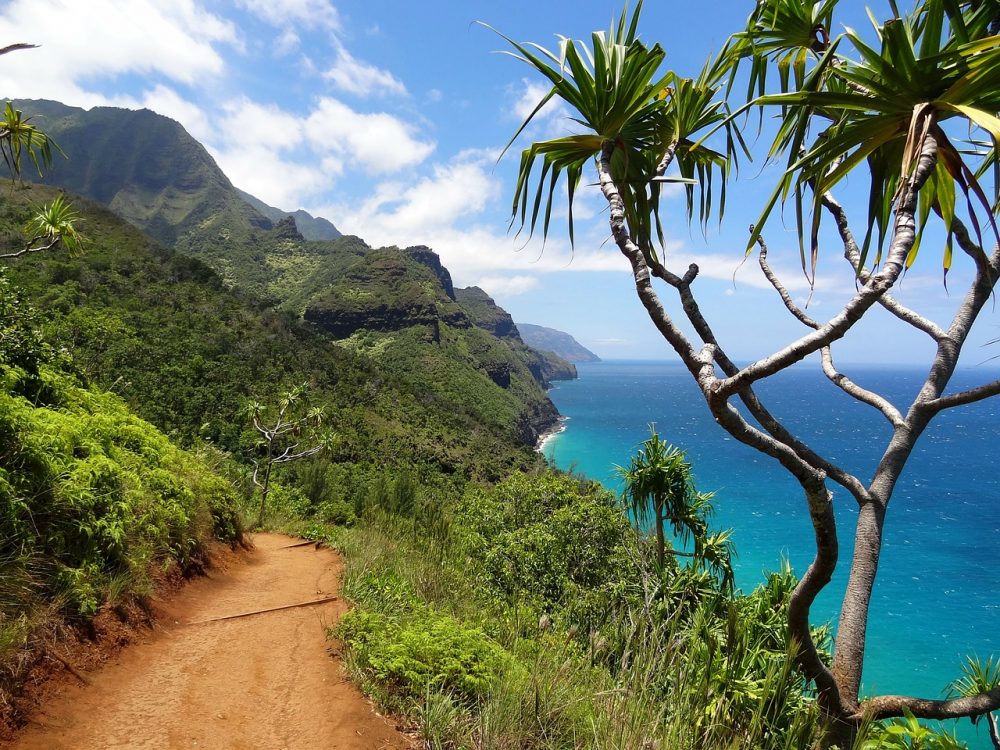 Helicopter tours
Seventy percent of Kauai is inaccessible by road. This includes the canyons and mountains that make up most of the island. A helicopter tour takes you over Waimea Canyon and gives you a bird's eye view of several of the island's spectacular waterfalls. This includes the falls used in Jurassic Park. You will also see the remote Kalalau Valley.
Kauai is the oldest of the Hawaiian islands in geological time. The many layers of lava flows that built this island over five million years are easily viewed from a helicopter. This includes Mount EleEle, considered the wettest spot in the world with 400 inches of rainfall each year.
The Na Pali coast consists of a rugged stretch of mountains with small beaches tucked into coves. This part of the island is most spectacular when viewed from the air.
Kayak tours
Visit the remote Wailua River Sacred Falls by kayak on a guided tour on the Wailua River. This is a family outing along the sacred river used by native Hawaiians for centuries. See ancient landmarks, lush tropical vegetation and enjoy an easy hike to the falls. Swim in crystal water at special pools along the river.
Ocean kayaks are used during the summer in Hanalei Bay and along the Na Pali coast. Paddle past the arches of Honopu and sea caves along the coast to a campground on a hidden beach. The special sea kayak and camping tours are lead by experienced guides. They are completely outfitted with the necessary camping gear.
Hiking tours
There are several hikes that can be guided or you can go on your own. The Nounou Sleeping Giant Mountain is one of the most popular hikes through the forest and mountains. The hike includes lunch and a spectacular view of the Kapa'a valley below.
Several easy nature hikes are offered with the emphasis on native birds and other wildlife. The Mahaulepo tour takes hikers along the wild south coast of the island in an easy four-hour walk.
Experienced hikers will enjoy guided tours of Waimea Canyon and the Na Pali coast. Several tours offer overnight camping.
Sea and land adventures
An all-terrain vehicle tour is another way to reach beautiful waterfalls and 23 miles of diverse jungles and highlands. A zip line is included with various ATV packages.
Downhill bike tours are offered through Waimea Canyon. Bikers start at 3,600 feet and cruise downhill with stops along the way at lookout points. Van service carries riders to the starting point and returns them to tour headquarters at the end.
Fishing charters and boat trips to the Na Pali coast are also offered. Boat trips can be on sailing catamarans or a snorkel adventure on a rigid hull raft.
Kauai has so much to offer visitors. Kauai resorts, including the elegant Koloa Landing Resort in Poipu, will arrange tours and vehicle rentals for guests.