This is a sponsored post written by me on behalf of Jockey for IZEA. All opinions are 100% mine.
Family is IMPORTANT!
My family has had a rough couple years with my husband's health, relocating from NJ to SC, and of course raising two children, one with Autism and helping take care of our nephew and niece, but we have come back and even stronger now. Going through everything we have gone through and still going through, the one thing we do not do is give up! The kids made us stronger, too. Raising children is hard, but raising a special needs child is even harder. Devon has shown all of us how to live life. Sometimes you feel like you are getting sucked down this long, dark tunnel, and when he smiles, the tunnel lights up. I was twenty when I had Devon, newly married and I had to put my life on hold. But, I was ok with that, I knew I could continue my career later in life.
Devon hit every milestone early and was even talking and saying words. But that all ended when he was about 1 1/2 years old. Instead of talking more he was talking less. I just chalked it up to his age, but deep down I knew something was not right. When he was 4 1/2, he was diagnosed with Autism and my life as I knew it, turned upside down. My marriage to my husband started to fall apart and at times, I felt so alone. But fast forward 19 years, I am married to Ronnie, he is the children's step dad, but really in every sense of the word he is their dad. Family means so much to me, we have fought hard and won our battles, well most of them.
When I saw the Jockey Showem Meme Generator, I knew I had to make one! Here is mine: Family Is Everything!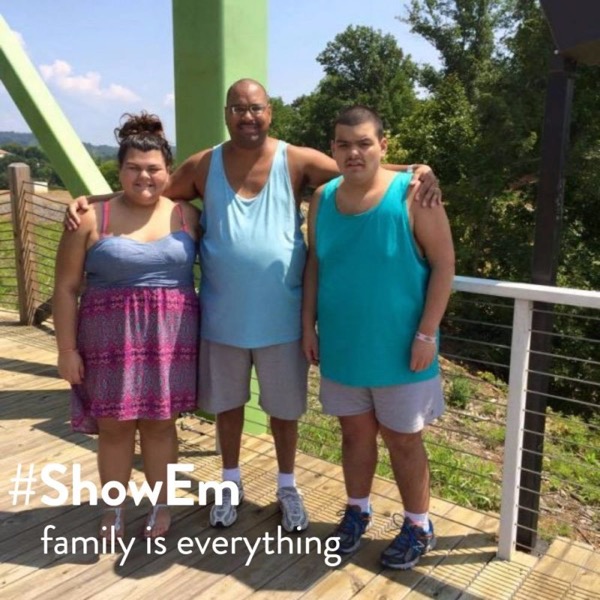 Jockey is encouraging everyone to show off their Courage, Family, or Perseverance with Jockey's meme generator. Show'em your Values, Show'em what's underneath-create your MEME! Jockey is going to stand up and stand for more by helping to appreciate the complete person. Let us know how you feel! This fun process is to promote self-confidence- your meme might be able to help someone open up. We all need to be comfortable expressing who we are inside by showing what is underneath.
Check out other people's memes: http://showemyourjockey.com/gallery/
I was so inspired after looking at these memes people around the world have made. Are you ready to share with us your MEME- make one right now! I know it's hard to show others what is going on but believe me you are not the only one going through something. We can uplift and cheer each other on, in a world that is such a roller coaster we need to believe in ourselves. So what are you going to share or #ShowEm your courage, family, or your perseverance?
The process is super easy
Choose a photo
Write a message
Share and Show'em!
Here are some examples of messages:
#ShowEm compassion
#ShowEm love
#ShowEm family is everything
#ShowEm confidence
#ShowEm perseverance
#ShowEm courage
As I said earlier…..family is everything to me! I get up every morning for my family, make them breakfast and plan our day. Devon is home with us during the day, so we try and plan outings for all of us. We get my nephew and niece off on the bus and off to school and Amanda, well she is in her senior year of High School, so she just gets in her car and drives to school. But before anyone leaves the house, we make sure to tell each other I Love You and see you later. Never goodbye, to me is to final. My life is my family and without them, I would be very lost. I need their support too, and they show me daily as well with all the hugs and "I love you" I get from them every day. Being a special needs family, sometimes you feel all alone, that was how we used to feel, until we opened up and allowed people into our lives, to see we are not just an autistic family, we had to show them what was underneath.
However, I had to open up and allow others see what is underneath, and that was sometimes was difficult to do! When I walked out of that doctor's office that day, I walked out a different person, my love for my son never changed but I think it made me stronger, I couldn't just break down and pity myself, I had to be strong for him and myself, because Devon will always need me to be strong, so I can be his voice, and he can be heard. My family values taught me, never to give up or give in, fight for the ones you love, and I do that every day. For my husband, children and niece and nephew. I sometimes look at the children Devon's age, and I feel that slight pain in my heart, for the things he will never be able to do, the first girlfriend, graduating high school, getting married and having children. I then look at him and see all the things he can do, things other parents take for granted. Devon is special, to me and everyone in our family, he has taught us never to give up, when we think we can't do anymore, his smile pushes us, and we know that for him we can do anything.
Are you ready to share what is underneath and let us know what makes you…YOU! Create your own captioned photo using the Jockey meme generator here and share with the world to #ShowEm what's underneath!.
We would love to see your meme so please either TAG us on Social Media or leave a comment below with your meme. Let us know what is underneath, your true feelings! Open up and SHARE!