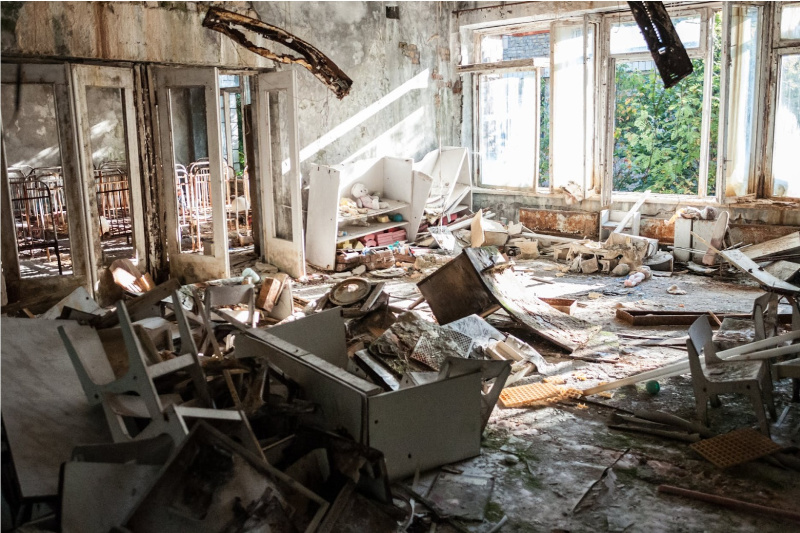 Termites are household pests that can cause significant damage. In fact, the National Pest Control Association estimates that termites cause more structural damage than fire, storms, and earthquakes combined. Although your home may have undergone a termite inspection when it was purchased, it is important to keep an eye out for these pests.
Swarming Activity
A common sign that termites may be around is swarming activity. This can occur in the springtime and usually lasts from March until May. Looking for places to build their nests, swarms of winged termites will appear in warm weather. They prefer high humidity atmospheres and are attracted to lights and windows. Many people may notice that they appear in a group.
Appearance
It can be difficult to spot them as people may not know what termites look like. Their general appearance is similar to an ant, although they have a few defining characteristics. Capture a few insects that are believed to be termites and take a closer look. Termites have wings when they swarm, although they will lose them over time. Their wings are the same size and shape. Termites also have a broad waist and a straight antenna.
Not all termites are the same species though. There are variations between termites, which can make them challenging to identify. Homeowners may need to look up what species are most common in their areas. However, all termites are yellow to shades of brown. They can be 1/2-1″ and have pointers to bore through wood. Since they have similar characteristics to ants, it will likely take a closer look to distinguish them.
Tubes or Tunnels
Although it can be difficult to note the presence of termites, they also leave warning signs behind. A clue that is often noticed is their tunnels. Termites will build mud tubes or tunnels between wood sources and the earth. The tunnels are often built along the foundation walls and allow the termites to bore into the wood without exposing themselves to daylight. When walking around your home, take note of any tunnels. They are usually small and may be difficult to see in poor lighting.
Since termites feed inside the wood, they rarely break the surface. They may be difficult to detect simply by examining wood surfaces in a building. This means that the termites may be destroying beams of a building without being detected. Another way to determine if the termites have caused damage is to use an awl or a sharp knife to pry into the wood. If a sharp point sinks easily into the wood, it is likely that termites or rot is present. Use a small, sharp object to jab the wood and notice if there is resistance. This is a way to detect termites without causing significant damage.
Termination or Treatment
Since termites are difficult to detect, some building and homeowners may decide to have a pest management program. Areas of the country that have high humidity are especially at risk for these pests. Preventing termites are always easier than trying to treat the areas.
If termites are found to be present, it is important to have them eradicated promptly. If they are left unchecked, they will cause significant damage. Termites can actually cause a building to fall down and may damage the building beyond repair. However, if they are removed quickly, they may not have caused significant damage. Having a home inspected after termites have been removed can help to address any structural concerns. It may be necessary to have some areas of the building rebuilt or have beams or other structures.
Termites are an area of concern in any building where wood is present. Termites only feed on wood and will not attack any metal or plastic surfaces. Termites also prefer solid woods, although they may also eat through particle board when present. Make sure to address any wood surfaces in a home to avoid missing on a potential pest infestation.
Treatment options for termites can vary, but the traditional treatment is injecting insecticides in the soil around a structure. The wood that is inside the structure can also be treated with chemicals that will be toxic to termites. Another potential treatment is to put baited termite stations in the soil near the building. Having an expert provide recommendations is the best way to handle any termite-related problems.
When termites are suspected, identify the creatures promptly. This will provide you with an indication on whether you need to call for pest removal. Although homes may be given a termite-free certification when the home is new or newly sold, these pests can move in anytime. Termites are always on the hunt for a new food source. They can and will move into a home at any time. Keep an eye out throughout the year, but especially in the spring months. This is when termites are more common. Take note of what the termites look like to know if they are present.