A masked ball is a perfect theme for a party. Draped in mystery, intrigue, and decadence, it's nothing short of magical. Here are six tips to help you throw your own unforgettable and magical masquerade party.
Pick a Theme
While some people can turn this into a daunting task, your best bet is to keep it simple. Some of the most common masquerade party themes are:
Color – this is often a very popular theme. While people are restricted in what colors they can wear, they can have total freedom with their Masquerade masks. This creates a great visual impact! Some colors to consider are black and white, jewel tones, or even colors coordinated to a holiday such as orange and black for Halloween; red, white and blue for the 4th of July; or black and gold for New Years.
Mardi Gras or Carnival – two popular themes that are ideal for a casual and relaxed event.
Black Tie – this theme follows a traditional Masquerade Ball where the men wear suits and the ladies wear ball gowns.
Send Out Invitations
While this may be the age of technology, add to the elegance and mystique of the occasion by mailing invitations to your guests. You can find a great selection of masquerade-themed invitations online, or, if you're creative, you could always design your own.
Be sure to include a reminder that guests should try to remain anonymous until the big reveal at midnight! That way guests will be trying to guess who is who until the time comes to unmask themselves.
Send out the invites at least six weeks before the event. Then, about a week before the party, send them a reminder via email, Facebook or text. Don't forget to make costumes, or at least masks, mandatory.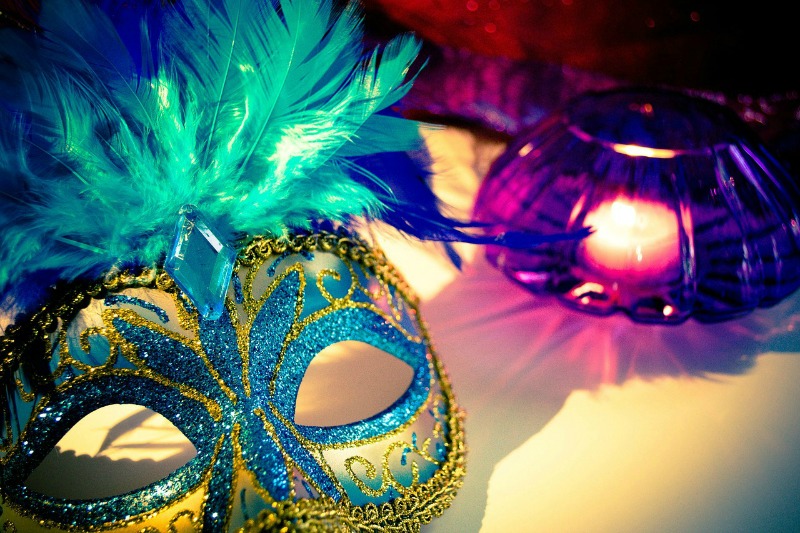 Decor
Decorations set the mood at any party, and masquerade parties often have a dark and mysterious atmosphere. Create the right ambiance with the dim, golden-colored lighting provided by candles of all shapes and sizes, as well as some elegant candelabras. Create captivating centerpieces using feathers and beads in glass vases, and sprinkling glitter and sequins over the tables. Consider working shiny fabrics such as silk and satin into the decor as they add an elegant touch.
If you don't want to use candles, you can still set the mood by using LED candles or by dangling fairy lights around the rooms and in dramatic swoops from the ceiling.
For a masquerade party, you really cannot go wrong using Venetian masks as decor. Hang the masks on walls and create some more unique centerpieces with them.
Food and Drink
No party would be complete without food and drink. However, with a Masquerade party, you need to keep in mind that guests will be wearing masks, some of which may be full-faced. Therefore finger foods will work best. Plus, as a bonus, these type of party foods are easily prepared and make clean up a breeze.
When selecting food, you should also ensure that the food fits your theme. For example, if Mardi Gras is your theme, pick out foods common to New Orleans, just in mini form. Also, be sure you include at least one vegan/vegetarian option and one that is gluten-free. .
Some other tasty ideas include deviled eggs, spiced walnuts, stuffed mushrooms, crab puffs, gourmet cheeses cut into small pieces, water crackers, caviar with toast points, and small canapés.
For dessert, a chocolate fountain with cubes of cake and strawberries on the side is sure to be a hit. While chilled dark or white chocolate mousse is a sure way to satisfy a sweet-tooth!
When it comes to drinks, the first thing you need to decide is whether or not you want to serve alcohol. If you do, be sure to include non-alcoholic drinks as well. Cola, water, punch, wine, and champagne are some suggestions to consider serving.
Music and Entertainment
When it comes to the music of the night, classical music is the best bet. Set the mood with Beethoven, Vivaldi, and Mozart.
To keep guests entertained until the midnight unveiling, plan out fun activities such as charades, dancing, and/or a costume contest. Even better, since Masquerade parties automatically create an air of mystery, why not plan out and play a live version of Clue where guests role play and have to figure out who the killer is.
Come midnight, don't forget the main event: the unveiling where all guests remove their masks and reveal their identities. To make this moment even more exciting, consider offering a prize to the best mask or costume!