Disclaimer: This post is sponsored by PSECU, a Pennsylvania-based credit union.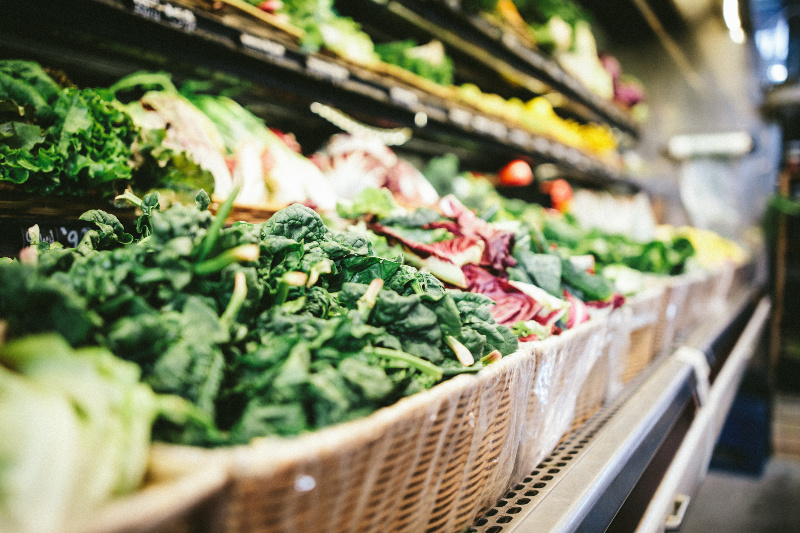 Most Americans spend over $7,200 annually on food, but unless money is exceptionally tight, many pay little attention to setting a food budget. But planning ahead means spending less overall while getting more nutrition. That frees up money to pay down debt or indulge in a special meal out every month.
Grocery budgets also cut down on food waste, a major problem in many areas, which means that budgeting for food shopping helps the planet we share as well. Here's how to create a manageable grocery budget that will allow for the occasional indulgence.
1. Track Spending Over a Month
Any budget begins by tracking spending. Online banking and banking apps can assist greatly in this — most will break down monthly spending into a pie chart to allow users to see how much they spend on items like housing and, of course, food. Save receipts over this month too so that you can examine which frequently bought items can go and which can stay.
2. Pick a Realistic Weekly Spending Cap
Many people find that they spend far more on food than they knew. Choose a realistic spending number that doesn't break the bank. Allow a little wiggle room to account for minor price changes in certain staple items, but stay within $5-$10 of the target spending estimate.
3. Inventory What You Have
Go through the fridge, freezer, and pantry and take note of what's already there. Use these staples to begin planning weekly menus. Think like a Chopped contestant given these basket ingredients — what additions would wow tough food judges, like family members?
4. Read the Circulars
Take time to review what's on sale at local stores. Look for sales on staple items like beans, rice, and pasta. These items won't expire, and '$5 for five' deals quickly fill barren pantries.
5. Shop Small
Those without large families may consider running to the store twice a week versus once every two weeks. Doing all shopping in one fell swoop inevitably results in buying some items that go bad before they're consumed.
Other than staples, try shopping for meals for the next two to three days to eliminate food waste. Doing so will also allow you to take advantage of the manager's specials on perishable items on the border of becoming too old to sell.
6. Consider Store Brands
Manufacturers of many brand-name food products produce generic products as well. Most generic foods contain the same ingredients that are in brand-name goods, but they cost far less. Unless the store label product tastes inferior, save pennies by ditching more expensive brands.
7. Use Leftovers Creatively
Leftovers too often get tossed because few people relish eating the same meal day after day. If you're guilty of the same process, try using leftovers in fun new ways! Leftover meatloaf, for example, can become brown bag sandwiches. Leftover veggies can be tossed into the soup pot with some noodles and stock for a vitamin-rich bowl of comfort.
8. Prep on the Weekend
Food sometimes goes unused when long workdays leave many too tired to cook. Take time to prep meals for the week on Sunday so that weeknight meals after stressful days require no more effort than putting ingredients in the crockpot in the morning or popping a pre-made casserole in the oven.
9. Buy Some Sale Items in Bulk
Those with ample storage space can benefit from buying certain staples in bulk. For instance, families with multiple children, all of whom crave cereal in the morning, will go through a Costco-sized box in a few days. Making healthy snacks to take to work? Buy carrots or other veggies in bulk as well as a large container of hummus or another dip, and divide them into smaller reusable containers to grab on the way out the door.
10. Allow for a Weekly Indulgence
Even the most virtuous individuals dedicated to zero waste sometimes crave a nice meal out, a container of fast food french fries or a pricey latte. Include a treat in the weekly food budget. Everyone needs a break from being penny-wise and disciplined now and then!
Eating Better for Less
Many people think hectic lifestyles excuse eating off the dollar menu for nearly every meal, but preparing food at home improves nutrition for the whole family. It also frees up money for paying off debt faster or saving for a trip to Disneyland. Setting a food budget has so many benefits — why not get started today?