Not even specialty-grade coffee beans at peak flavor can pass through a dirty press with their flavor and freshness intact.
The filthy device will hide most of the coffee's best traits under a mantle of old oils and stuck-on coffee bits.
Coffee Break Essentials ensures that this won't be the case with a clean French press.
With an excellent cleaning routine, you can keep your brewer at its peak, functionally and aesthetically.
You also allow it to produce coffee that is as close to its purest and most flavorful form.
Today, we will outline the steps for a quick and easy cleaning routine that can help you have many more years with your French press.
How Often to Clean Your French Press
Regular daily maintenance is what keeps your press clean and sanitary.
Make sure to wash it every day, after every use.
In addition, subject your French press to a weekly deep cleaning routine to really flush out those stubborn dirt and oils from previous brews.
French Press Cleaning Routines
We've already established that French press maintenance is a two-part process involving daily and weekly cleaning practices.
Now let's take a closer look at how each routine works.
Washing Your French Press Daily
This method of cleaning your press is as easy as brewing a pot of coffee. Here's how you can do it in six steps:
Step 1: If you just used your press, let it cool down a bit.
Step 2: Using a spatula or your hands, remove all the grounds from the carafe. Avoid using anything made of metal, such as a metal spoon, as it might crack or break the glass. As an alternative, you can pour water into the carafe and dump the contents into a strainer so that they don't clog the sink.
Step 3: The sink should never be where you dispose of the coffee grounds. You can either dump them in your compost or send them straight to the trash bin. A few grounds might wash down the sink drain every now and then, but they usually won't be enough to clog it if you're careful.
Step 4: Now that most of those oils and loose bits of coffee are out, you can pour warm water mixed with liquid dish soap into your carafe. Then, take the plunger and pump it until the water foams. This should remove the leftover grounds and oils from the inside and clean the brewer effectively.
Step 5: Pour out the soapy water from the carafe and replace it with clean water. Then, get the plunger going again. Using a soft brush or sponge, scrub around the carafe's interior. Do as many rounds of rinsing required for the water to run clear.
Step 6: Use a soft, clean cloth or paper towel to dry the inside of the carafe. Next, put aside your press. Your press is now primed for yet another day of coffee brewing.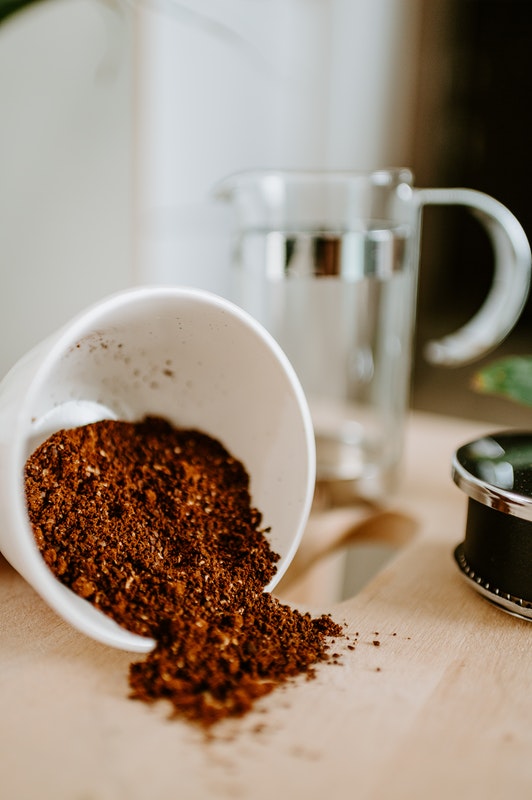 Washing Your French Press Weekly (Deep Cleaning)
Don't underestimate the importance of weekly cleaning; it's just as important for keeping your press in excellent condition.
There's nothing complicated about this process, either, as the four steps below will show you.
Step 1: After performing the regular daily washing of your press, take apart the components of your brewer and place them on the counter.
Step 2: Using a baking soda and water mixture, clean the pieces individually. Make sure to scrub each using a soft brush or sponge.
Step 3: Next, use a water and vinegar solution to rid your brewer of all hard water build-up. The solution should consist of equal parts water and vinegar.
Step 4: Air drying is key to the process. Use this method to dry all the parts of the coffee maker. Then, reassemble your press. You're now ready to make more delicious coffee!
French Press Do's and Don'ts
There's more to improving the lifespan of French presses than just cleaning them religiously.
You must also learn what to do and what not to do when using it.
We've compiled a list of do's and don'ts sure to help you take even better care of your French press.
Do's
1. Wash the Filter
This is something you should do after every use.
To do this, run water over the filter and use your hands to remove the stuck coffee grounds.
2. Make Sure to Soak Coffee Grounds Evenly
When water isn't distributed evenly between coffee grounds, the resulting brew will be unbalanced and subpar in terms of taste.
That's because some of the beans will undergo too much extraction, while the others will not be extracted enough.
During the initial filling of the French press, make sure the water is poured evenly.
Then, two minutes into brewing, push down those floating grounds so that they get extracted properly, as well.
3. Set a Timer
One thing's for sure: Coffee is not the only thing on our minds in the morning.
Just because you've started brewing a pot doesn't mean there's no way you won't forget about it.
And when you do forget about it, the consequences can be nasty.
That's why it's important to set a timer for your press—four minutes is usually all it takes.
Don'ts
1. Use a Metal Spoon
We've already touched on this a bit earlier, but it bears emphasizing.
You don't want to crack or break the glass of your gorgeous carafe, so stick to wooden or plastic spoons for stirring.
2. Press and Wait
If you let the grounds sit on the press after plunging, you are allowing the extraction process to continue on.
This means you could end up over-extracting your coffee, which doesn't make for a particularly fine flavor.
The best thing to do is decant right away with another container to halt the extraction while the coffee is still perfect.
Why Cleaning Your Press Is Important
Cleaning your French press using the methods mentioned earlier not only allows it to produce batch after batch of flavorful coffee; it also helps ensure that the coffee you take in isn't contaminated.
Seeing as cleaning your brewer is vital to your health, you want to ensure that it's done correctly.
You must also supplement the process by following the do's and avoiding the don'ts for handling your French press.
This should allow you many more years of use with your nifty device.