Christmas is almost here and unfortunately I am one of those people who sometimes waits to the last minute to go shopping. Every year I say to myself that I'm going to get it done early, but it never happens (and no I haven't finished shopping and Christmas is in 10 days!!). If you need some last minute toy ideas for the kids, below is a great list of some hot toys that kids will love to see under the tree. Happy Shopping!!!
My First Thomas & Friends™ Railway Pals™ Destination Discovery™
My First Thomas & Friends™ Railway Pals™ is geared toward children 12 month+ and is a great introduction for the younger train fan. The vehicles and Train Sets deliver fun-filled play that encourages development in toddlers through motor skills, thinking skills, academics and imagination. My First Thomas & Friends™ Railway Pals™ Destination Discovery™ features an interactive, expandable train set for toddlers that includes more than 50 sounds, songs and educational phrases as well as popular destinations including Knapford Station, McColl's Farm, and an electronic Tidmouth Sheds. Kids can roll Percy over track activation points to hear educational content that exposes toddlers to letters, numbers, directions (over/under and up/down), and colors. Toddlers can also press Percy's light-up bumper for additional music, sounds and phrases. Additional Railway Pals interactive train sets can also connect with Destination Discovery to build a talking, singing world of play! (Additional vehicles and train sets sold separately and subject to availability). The My First Thomas & Friends™ Railway Pals™ Destination Discovery™ retails for $49.99 and is available at www.toysrus.com.
Kids will love exploring the world with the Barbie® DreamCamper™. This awesome new camper easily transforms from a camping RV to a glamping play set with room for Barbie and all of her sisters to sleep (Dolls not included). The DreamCamper features a new button on top, which activates the magical pop-out feature in which the top pops up, the side pops out and the back expands to create a play space more than 2 feet long! We all know kids love playing with water, so they will really enjoy the next feature of the DreamCamper. The side opens to reveal a pool with a water slide and stairs that fold out to really make a splash! A bathroom fills the back of the camper with a toilet, sink and shower with curtain. Two hammocks add sleeping space in the middle. There's a surprise fold out dining table and the front cab seats come out for a fun dining experience on the camper floor. The camper also comes with other accessories such as a fire pit, marshmallows on sticks, camp stools, place settings, food and toothbrushes. Kids will be entertained with the Barbie DreamCamper for hours, so this makes a wonderful gift idea. The camper is available at stores nationwide including Target and Toys R US.
Monopoly Gamer Collector's Edition
Looking for a really cool game for a kid that's not attached to a screen? Look no further! This Monopoly Gamer Collector's Edition game has a new twist as it joins forces with the world of Nintendo video games. Battle against opponents on the gameboard while playing as one of your favorite Super Mario characters including Mario™, Bowser, Donkey Kong™, Princess PeachTM, and YoshiTM. It's not just about money in this game; players earn points by buying Properties, collecting Coins, and beating Bosses. This exclusive edition features a Bowser token and character card with unique Monopoly game abilities. The game guide is featured within a colorful character booklet that includes stickers, and a roster to show off which characters have been collected. The game comes in a premium box with a storage tray for additionally purchased Nintendo characters (each sold separately.) This is a great gift for gamer fans! The game retails for $39.99 at www.hasbrotoyshop.com.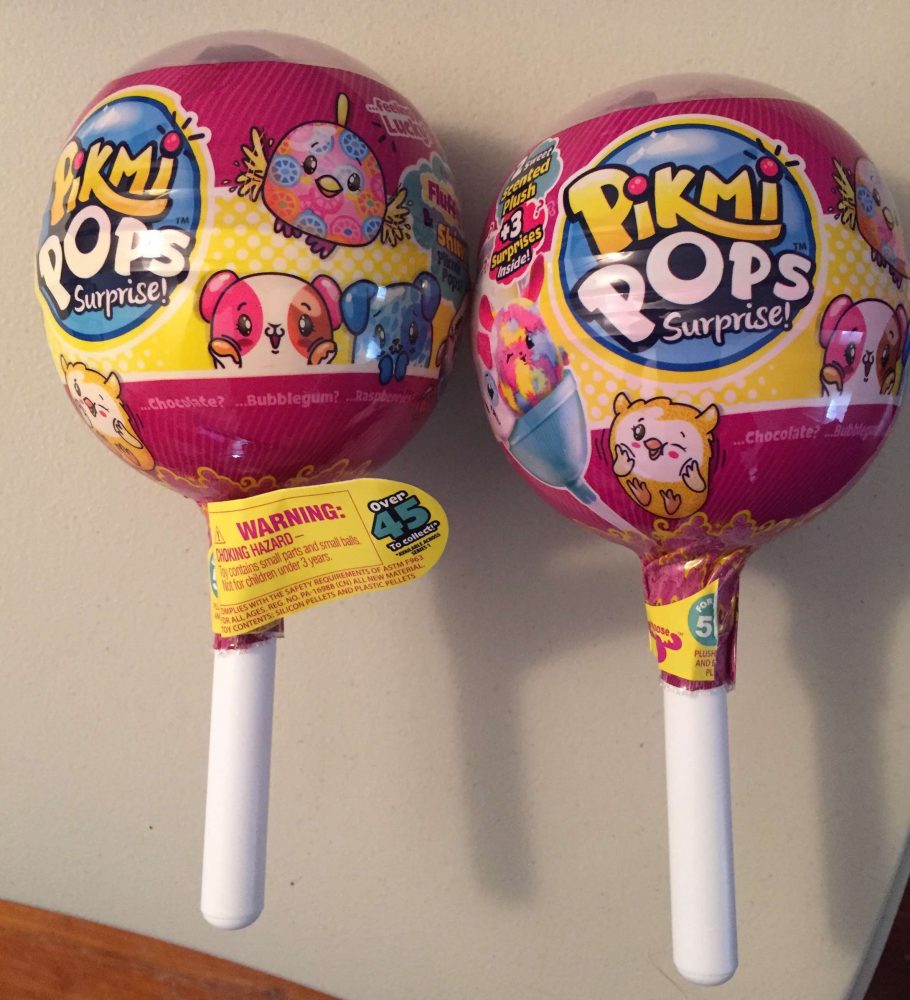 It's not a lollipop, it's a Pikmi Pops and it's the newest craze among kids. Blind bags and packs bring an element of surprise and Pikmi Pops brings an exciting and unique new way of doing it. Kids unwrap a Pikmi Pops to find a sweet scented miniature plushy that comes with surprises packaged inside an iconic lollipop vessel. There are over 45+ (forty five plus) super cute mini Pikmi plushies to collect, including Fluffy Ultra Rare and Shiny Limited Edition Pikmi's. The Pikmi plushies come in 12 yummy sweet scents including chocolate, bubblegum, watermelon and more. You can display your Pikmi plushies inside the lollipop or use the dangler strings provided to hang your favorite Pikmi on your bag, keys, phone, spiral note book, pencil case and more. Pikmi Pops range in price depending on the size (Single Pack, surprise Pack or Jumbo Plush). You can see large assortment available for purchase on www.amazon.com.
Hatchimals CollEGGtibles 12-pack Egg Carton
My daughter is obsessed with Hatchimals and has asked for the CollEGGtibles 12-pack Egg Carton for Christmas a gazillion times already. I bought it for a friend's daughter a few months ago and it really is adorable. Packaging is cool and the kids absolutely love it. It's not on every Hot Toy List this year for nothing! If you're not familiar with the product, one Hatchimal comes inside a small speckled eggs, which needs a child's touch to hatch. All you have to do is hold the egg, rub the heart, and when it changes color from purple to pink, it's ready to hatch. Gently crack the egg to discover the Hatchimal inside. Each one has a set of magical glittery wings. Typically the suggested price for the egg carton is $19.99, but they are selling out fast online at nationwide retailers such as Toys R Us, Walmart and Target. You can probably call the store to see if/when they are getting more in stock. With Christmas coming you might not want to wait, so I do see them on Amazon.com for $35.99.
With the PAW Patrol team, you never know if adventure will strike on sea or land, so be ready for both with the newest PAW Patrol Team vehicle- the Sea Patroller. With an amazing sea-to-land transformation, the Sea Patroller is prepared for whenever the rescue leads. The Sea Patroller transforms from ship to land vehicle in one smooth motion. Slide the bridge forward and wheels drop down, taking you from the high seas to the open road. With the bridge now located at the front of the vehicle, you and Ryder can steer straight to adventure. The Sea Patroller has a ton of features including lights and sounds, a working crane, a life-saver launcher and storage for basic vehicles. The Sea Patroller comes with an exclusive Ryder figure and his ATV, an exploration cage and a baby octopus. There's room for all PAW Patrol figures aboard the Sea Patroller, but additional figures sold separately. The Sea Patroller is available for $59.99 at www.toysrus.com
PAW Patrol Roll Patrol Rubble' s Mountain Rescue
With the Rubble's Mountain Rescue, you can build your very own Adventure Bay rescue to help Rubble save Baby Polar Bear. This eight-piece racetrack comes with cool features including a spiral ramp, zipline, a real working elevator, and an exclusive Rubble Paw Racer. With Baby Polar Bear hanging from the zipline, and Rubble on the ramp, who will make it to the bottom first? Race Rubble and Baby Polar Bear over and over again to recreate this daring rescue mission. This set also works with other Paw Racers and connects to other PAW Patrol Roll Patrol sets (additional racers and sets sold separately). The Rubble's Mountain Rescue can be purchased at www.amazon.com.
Shopkins Season 8 Wave 3: Americas
Shopkins, the cutest, most-collectable characters are back with their newest Season #8 which is all about world travel! After traveling through Europe and Asia, the Shopkins are finishing their World Vacation in the Americas! Some of the new sets include a fun food-themed Taco Time Collection. The set comes with 8 exclusive Shopkins and their food cart! It's the perfect size to play with your Shoppie Dolls too. Another new set is the Shopkins Season 8 Final Destination Americas World Vacation – 12-Pack. Each 12-Pack comes with a loft and balcony that you can connect together and build up a little city for you to display your Shopkins. Shopkins line ranges in price from $2.99 – $19.99 and is available at major retailers such as www.toysrus.com.
Cute Cars are adorable and definitely the cutest things on four wheels! When Shopkins go for a spin they ride in these charming tiny cars. Each Cutie Car comes with its own Mini Shopkins and their own personality. Each pack includes 3 Mini Shopkins and 3 Cutie Cars (one of them is an exclusive Cutie Car). There are 4 delicious packs kids can collect including Cutie Fruities, Cutie Cakes, Candy Cuties and Freezy Riders! Each Cutie Car also has a popoff top so you can place your Mini Shopkin inside for a ride. The Cutie Cars 3-Pack is available at www.kmart.com.
Shopkins Shoppies World Theme- Season 8 Wave 3 Americas: Donatina
It's Shoppie Doll Donatina and she came all the way from colorful Brazil. Kids are invited to grab their brightest costume and visit Donatina and her Shopkins friends, Pina-Apple Donut and Marianna Melon Donut, for Carnival joy. Whether its dancing samba on the beach, or sharing a coconut treat, the fun never stops with Donatina! This Shoppies doll comes with 2 exclusive Shopkins, suitcase, passport, luggage tag and a doll stand. Shoppies Doll Donatina is available at www.amazon.com.
Mickey and the Roadster Racers Racing Adventures Mickey Plush
Children love Mickey Mouse and they will fall in love with this new Mickey plush based on the new Disney Junior series, Mickey and the Roadster Racers. The Racing Adventures Mickey Plush sits in his car and moves his head side to side as if he's really driving. Mickey does 360° spins and also stands, waves his flag, moves his arms up and down, talks, sings and makes racing sounds with a touch to his light-up helmet. In addition, Mickey hosts a fun game of Race to the Flag where kids can race to grab the flag from Mickey's hand. The winner gets a special Mickey victory dance. The Mickey and the Roadster Racers Racing Adventures Feature Plush is available for purchase at www.target.com.
PJ Masks Rival Racers Track Playset
Based on the hit TV series, PJ Masks, favorite nighttime heroes Catboy, Owlette and Gekko kick the action into high gear with the new PJ Masks Rival Racers Track Playset. The heroes are in a race to save the Museum from Night Ninja and kids can play out the adventures seen in the show as they zoom through the raceway. Launch the vehicles into action using one of two built in mega launchers, then zoom through the loop and around the curves. Watch out for Luna Girl when she pops-up on the track, then cross under the city bridge and race past Romeo to the finish line! Playset includes a poseable Catboy figure, Cat-Car vehicle and Night Ninja Bus. The PJ Masks Rival Racers Track Playset can be purchased at www.target.com.
DreamWorks Spirit Riding Free Spirit & Lucky Deluxe Feeding Set
My daughter has me hooked on this new show from DreamWorks Animation Television on Netflix called Spirit Riding Free. The show follows the adventures of three best friends and the horses they love. Inspired by the bond between the girls and their horses, the new Spirit & Lucky Deluxe Feeding Set features beautiful and daring Lucky and her beloved wild mustang, Spirit, in the ultimate horse and doll play experience! The Lucky doll features poseable arms and legs and Spirit the horse features life-like movement and realistic horse sounds! Lucky can feed Spirit carrots, and Spirit will really eat them! Just press the button on the back of Spirit to activate realistic mouth and jaw movement. Spirit can dip his head down when it's time to eat or drink just like a real horse! Lucky can ride Spirit, and she comes dressed in her signature outfit and special boots from the show. The set is available at https://www.toysrus.com.