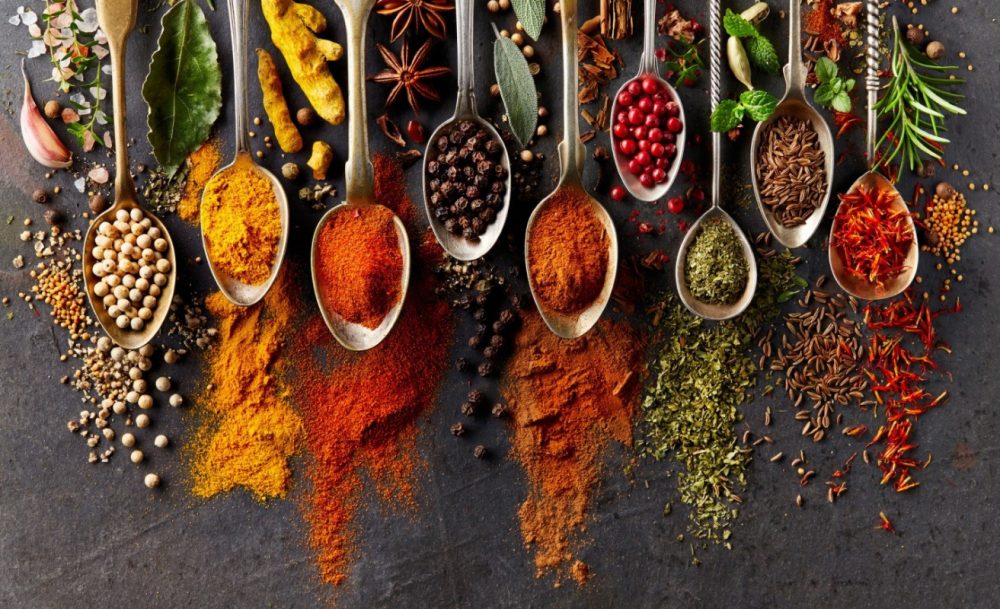 Are you quick to reach for the salt when your food needs a little zing?
Though it can turn a steak from bland to bold, too much sodium can raise your blood pressure and increase your risk of heart disease and stroke.
The next time you're at the supermarket, why not take a second look at the spice aisle? Herbs and nutrition often go hand-in-hand, and there are many that will enhance both your life and your meals.
Today, we're sharing five of our favorites to try tonight! Put down that salt shaker and let's dive in.
Sage
An excellent addition to almost any meat dish, sage is one of those healthy herbs that also packs a powerful punch in the flavor department.
In the Middle Ages, people reached for sage to help cure joint pain and headaches. Today, research shows that it's also known to improve cognitive function and memory retention.
In fact, a recent four-month study of Alzheimer's patients found that 60 drops per day of sage extract worked as a favorable disease treatment and also reduced patient agitation.
Rosemary
You know it tastes great stuffed in your favorite chicken around Thanksgiving, but did you know rosemary actually serves a health purpose?
When you cook meat at high temperature, you release carcinogens, which are cancer-causing substances. Medical studies show that tossing dried rosemary extract with the protein before cooking can help to lower those emissions.
How does this work? Rosemary contains two antioxidants, rosemarinic acid, and carnosol, that destroy the carcinogen produced during the meat-cooking process. So keep some on hand and sprinkle away!
Peppermint
It's more than a breath freshener. It's one of the best spices for health!
When you drink peppermint tea or add the leaves to your favorite salads and hearty grains, you're giving your body a major dose of the antioxidants it needs to ward off illness and chronic disease.
In addition, peppermint increases your bile flow, which can help prevent or calm constipation and irritable bowel syndrome. If you're queasy, ditch the medicine and nibble on some peppermint, instead! If your gastrointestinal discomfort is linked to parasites, you can try one of these powerful herbs, instead!
Cilantro
A bold and dynamic spice, cilantro is the secret weapon in any great Mexican dish. While its taste can be polarizing, if you love it, go ahead and pile it high.
In addition to being an excellent antioxidant, cilantro is also a fungicide and even an aphrodisiac. It's also high in vitamins A, C, and K, with traces of B.
The best part about this herb? As you digest it, it rids your body of heavy metals, including mercury and aluminum. It can also remove stores of mercury from your tissue if you eat it for long periods of time.
Holy Basil
Though it sounds the same, this herb is a little different from the normal sweet or Thai varieties you'll find at the store or grow in your garden.
Holy Basil comes from Southeast Asia, and its health benefits are known throughout the world. Though it's in the mint leaf family, it has a flavor profile similar to other basils, so feel free to use it as such.
Put it in your pesto, pasta, and smoothie to sneak in plenty of antioxidant, anti-fungal, and anti-inflammatory action.
Herbs and Nutrition Pair Well Together
As you plan your meals for the week ahead, think twice about going the traditional spice route. While anyone can sprinkle salt and pepper over their entree, why not shake up the routine and incorporate one of these healthy herbs, instead?
Herbs and nutrition often go hand-in-hand, and there are many that will enhance both your life and your meals, you can read into this more with articles featured on sites like https://www.supplementlexicon.com/.
Want more lifestyle advice? We've got plenty on our blog, so keep reading!