Stress in high doses isn't good for you. It'll quickly steal your joy and make you feel anxious all the time. Constantly worrying and feeling out of whack is no way to live. Know that you deserve to feel good and not be so wound up.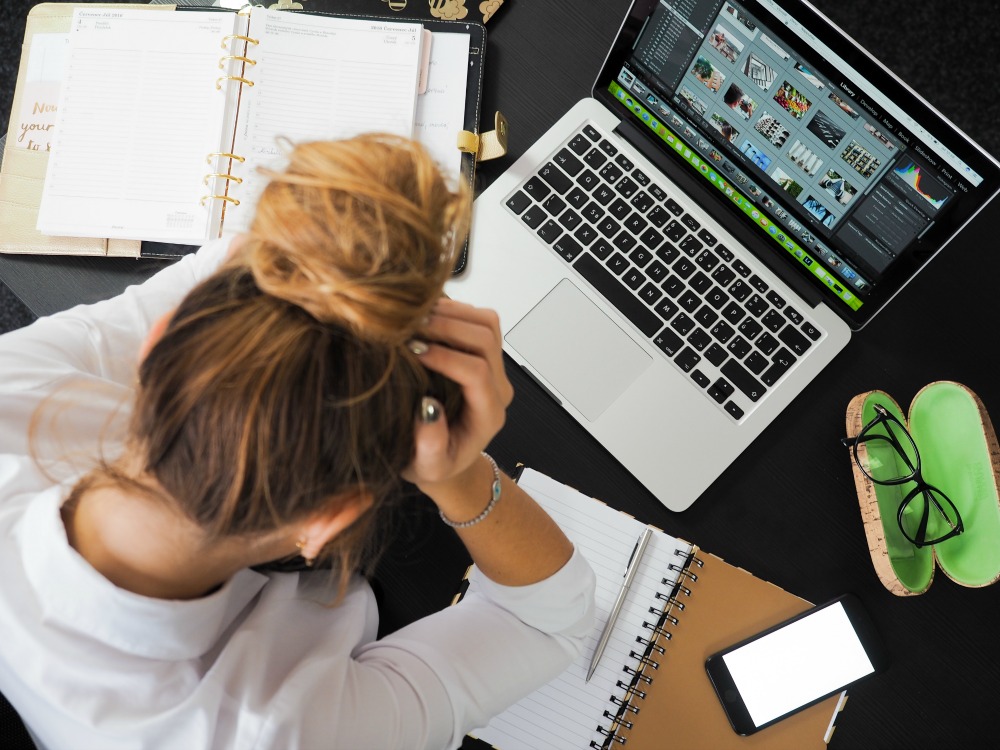 The good news is that you hold the power to make sure stress doesn't start to run your life by keeping it in check. Learn healthy ways to manage and reduce the tension you're feeling and get on with your life. Being proactive will allow you to avoid any negative side effects that constant distress will inevitably bring about.
Talk about your Problems
Get used to talking and opening up if you want to keep your stress in check. Bottling up your emotions and feelings is only hurting you. Talk about what's bothering you with your spouse, a trusted friend or see a professional therapist. There are plenty of people in your life who are there to support you and listen, but you have to be the one who reaches out. You'll feel like a weight has been lifted off your shoulders when you're vulnerable and honest about what's going through your mind.
Take the Pressure off you
Know that you don't have to do it all yourself or go at life all alone. There are resources and services that exist for a reason. For example, if you have a demanding job and are moving houses then hire Small Movers to help you get situated instead of trying to do it all yourself. The same goes for if you have kids and are finding that you need more assistance. Hire a nanny, join a carpool or ask your spouse to step up and put more effort into helping out around the house. Stop beating yourself up and pressuring yourself into doing more when your plate is already full.
Exercise & Eat Right
Physical activity is going to not only help you burn calories, but also reduce your stress. Sweat out all your toxins and anger by doing activities you love. Naturally, you'll start to lose weight and will feel more confident. Eating right will improve your workouts and also help you reduce unwanted stress in your life. These types of healthy behaviors will help your mind and body in the fight against constant worry. Exercise early in the morning, bring your lunch to work and get more steps in throughout your day to make this a reality.
Get your Sleep
Not sleeping well is only going to increase your stress levels. You'll have to drag yourself through the day and will likely be crabbier than usual because you're overtired. Strive to get the recommended number of hours of sleep each night and watch how quickly you get back your natural energy and are in a better mood. Do yourself a favor by spending less time on your devices when not working and practicing soothing behaviors before bedtime like drinking tea or taking a hot shower.
Meditate & Reflect
Figure out what's truly bothering you by getting deep inside your own head. Slow racing thoughts and manage your stress levels by meditating and reflecting. You can do this using an app on your phone or going for long walks in nature. Soon enough, you'll get to the bottom of what's on your mind and can start to problem solve and work through your issues to find a brighter tomorrow. Make a regular habit of this activity if you want to truly keep your stress in check on a regular basis.
Seek out the Right job for you
While jobs are naturally stressful, they shouldn't wreak havoc on your health. If you're miserable in your current position and career, it may be time for a change. Your stress is only going to keep rising if you stay in a bad environment and do nothing about it. Help yourself by finding a new job that is satisfying and rewarding for you. Be picky and make sure the role is right for you, that you like the people and the office is a healthy environment to be in each day. Finding your passion will allow you to thrive and not harbor so much anxiety and stress.
Find Balance & Learn how to Relax
Life truly is all about finding the right balance for what you can realistically handle. When you take on too much or have too little responsibility, then that's when problems start to arise. Set boundaries at work and home and get comfortable learning how to relax. Constantly being on the go and rushing around from one place to another leaves you feeling empty inside and lost when you finally take a minute to slow down. Get to know yourself and what you want out of life by resting once in a while and taking in your surroundings. Find balance by saying no to what you don't care to do and yes to what makes you happy.
Be Kind to yourself
If there's one action you take to reduce stress it should be that you're kind and compassionate toward yourself. The demands you put on yourself are only contributing to increasing your stress levels. Instead, set attainable goals and focus on meeting them one at a time. Leave room for self-care activities and don't always fill your schedule up to its maximum capacity. Forgive yourself for your mistakes and stop the negative self-talk. Be on your own side and notice how quickly you start to feel more at peace with yourself.
Conclusion
Small amounts of stress are good for you and keep you motivated. It's when your worries start to consume you that you should be concerned and immediately take action. Keep your stress in check by practicing healthy behaviors and not letting the small mishaps get you down. First and foremost, be good to yourself and do whatever it takes to keep you on the right track to good health and everlasting happiness.