A common holiday stocking gift is jewelry. I have some gorgeous hand made jewelry to show you. The women on your list are going to love them too!
Hand Made Jewelry for Her Stocking
Have you ever heard of the Bluebird of Happiness? If so, then this jewelry line is perfect. Bluebird Designs are hand made and designed jewelry. Each piece is inspired by nature. Every piece is artfully designed, delicate and is sure to make her smile.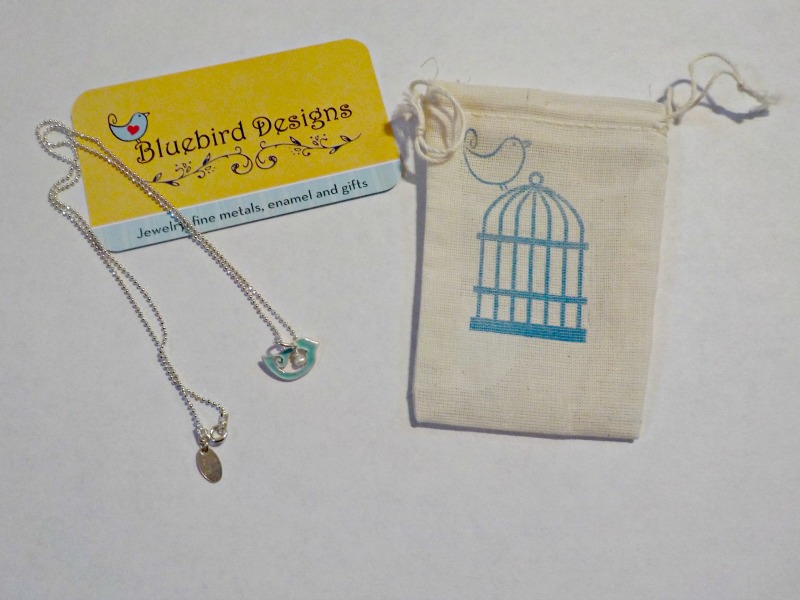 Baby Bird Necklace
If your recipient is a mama then Bluebird Designs Baby Bird Necklace is a fantastic choice. It features a sterling silver and enamel bird, with a gorgeous freshwater pearl in the center. With nine colors to choose from, you're sure to find the perfect one for her. I got one for my mama in Aquamarine. Since I'm a March baby and she loves birds, I knew she was going to love it. I wasn't wrong either. I gave it to her last night and made her day!
For the outdoor enthusiast
If the woman on your list happens to love the outdoors, I suggest their Silver Branch Necklace. It's absolutely gorgeous and really looks like a real branch. (Which is because it was casted from a REAL twig!) The perfect, delicate reminder to make her think of her outdoor adventures every day! Made of sterling silver it will last her for years to come.
Initial Necklace
This is a perfect gift idea for every woman. Get her initials, her kids, grand kids, and more. You can choose from one, two, or three initials. They're made of sterling silver and enamel and are absolutely perfect!
So many choices!
Bluebird Designs has so many jewelry options you can shop for every woman on your list. She has necklaces, earrings, and bracelets, with all sorts of nature inspired charms. I love the alligator because it reminds me of my son's fascination with them. I also adore the lucky clover. My husband is Irish and so all things Ireland related remind me of him. To see all of these beautiful pieces and more, head to Bluebird Designs.
Be sure to follow via Facebook, Twitter, and Instagram.