Chocolate is just one of those things that taste delicious no matter how it is served. Around the holidays you see so many wonderful gifts that include chocolate. Who doesn't want to receive chocolate for Christmas or any other time of the year? Where can you find the best holiday chocolate to gift this year? Read on to find the answer.
Ethel M Chocolates
Ethel M Chocolates is a gourmet small batch confectionery company specializing in preservative-free chocolates. They are located in Henderson Nevada. This year they have an exciting holiday line up as they are featuring a hot chocolate tin which is made up of a perfect blend of dark and milk chocolate shavings so that you can make the perfect cup of gourmet hot chocolate. They also have more wonderful treats for everyone in your family.
Holiday Chocolates
I received their Holiday 16pc Classic Tin, Holiday Stocking Stuffer – DC Espresso, and Holiday Cheer Double Hot Chocolate Tin. First, their packaging is phenomenal and really gets you in the holiday spirit with the red and green Christmas colors. I am excited that the tins are something I can keep forever. We all have those tins we keep in our home.
The Holiday Cheer Double Hot Chocolate Tin was very delicious. Most hot chocolates are powders, but not this one. The whole tin is dark and milk chocolate shavings. All you need is 1 cup of milk and ¼ cup of the chocolate shavings, heat in the microwave or stove top, and you are ready to enjoy some of the best hot chocolate you have ever tasted. It is not too sweet and has just the right amount of chocolate for a rich flavor to make you feel all warm and cozy.
The Holiday Stocking Stuffer DC Espresso is just divine. They are not bitter. The taste of coffee is not overly strong. I am excited about sharing these with my family for the holidays.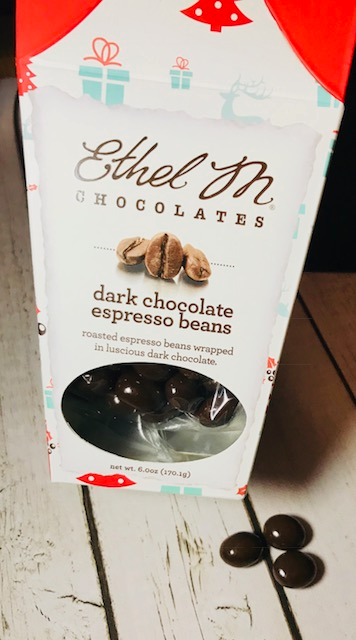 The Holiday 16 piece Classic Tin is just a delight. I enjoyed tasting each chocolate piece as they were all special. The fillings inside were fantastic. The Almond Butter Krisp Milk Chocolate was my favorite.
As you start wrapping up your holiday shopping, think about gifting Ethel M Chocolate or maybe treating yourself. They have many wonderful treats that your family and friends will be sure to enjoy.
Connect with Ethel M Chocolates: Site | Facebook | Twitter | Instagram | Pinterest.