Nothing makes a greater gift than jewelry especially for women on Valentine's Day. Although diamonds are always a great idea, sometimes getting a jewelry piece that is unique and specially crafted can also make a great gift. Cartameb II has beautiful, luxurious jewelry pieces that celebrate uniqueness and individuality.
An Eco-Conscious Brand
Cartameb II was founded by Designer Tamara Lipscomb in 2016. It is a brand that is eco-conscious. Each piece is made with natural fibers, minimizes the use of heavy metals and are made with plant-based dyes, only. Tamara is inspired by nature and her mother's design's eye. She sources her materials responsibly using eco-friendly practices. This makes her jewelry pieces perfect for anyone that is sensitive to certain types of metals.
Magnetic Closure on Rope Necklace
Cartameb II Jewelry Features:
Moonlit Sky – Tassel Necklace: This long, surprisingly lightweight statement necklace is made from heather grey rope and natural fibers of 100% cotton, with the tassel enclosed by a bell shaped copper pendant.
Sun Kissed Sky Necklace: A soft, statement necklace featuring heather grey colored rope, madder root powder and touches of ombre. Available soon!
Smile Curve Necklace: A long statement necklace, also made from natural fibers of 100% cotton. The petite rope cording is a light heather grey and also hand dyed with madder root to create a soft sunrise orange color.
Rope Necklace
I received the rope statement necklace in an ombre mixture of gray, orange, and a very light yellow. As you can see this is a gorgeous necklace. I love the way they blend various colors together. It makes it easy to pair with an outfit. Although the necklace may look heavy, it is lightweight. It is easy to put on and take off by myself thanks to the magnetic closure. The colors in the necklace are neutral and will match almost anything. The Rope Necklace is a unique jewelry piece that I absolutely love.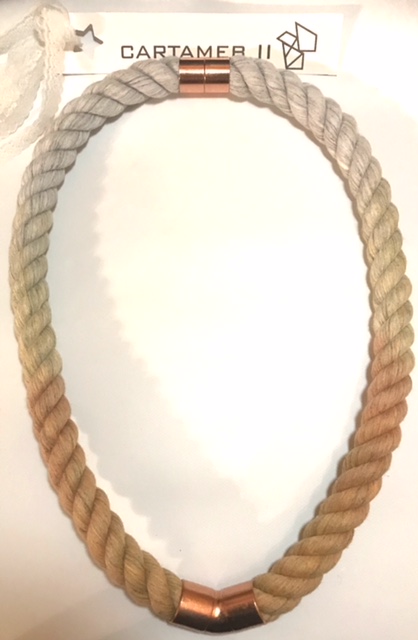 Give the gift of luxury this Valentine's Day with one of Cartameb II jewelry pieces. Cartameb jewelry ranges from subtle to bold, make a statement with your jewelry this Valentine's Day and beyond.
Connect with Cartameb II: Site | Instagram | Pinterest