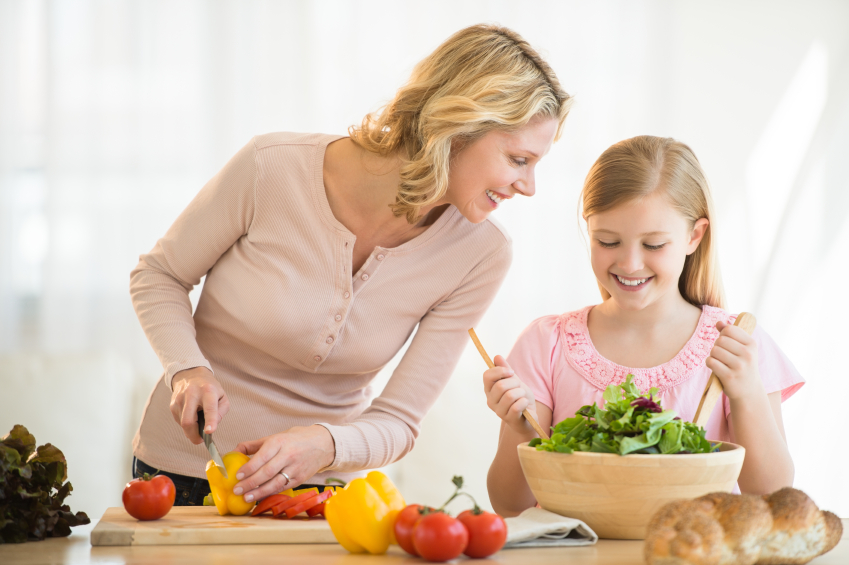 Every parent has this idea that their kids will only eat healthy foods. The dream of having a child who loves broccoli goes crazy for fruit and will eat any balanced meal you place in front of them is a dream that doesn't always come true. In fact, quite the opposite! There comes a time when even the best eaters become picky. They stop eating that broccoli, refuse any new food and opt to only eat snacks and sugar. Now what?
As a parent, you may need to find creative ways to help your kids eat healthy. You may even need a whole bunch of tricks in order to achieve your healthy eating goals. These ideas will help you get started!
#1 Trash the Trash
When you have unhealthy foods in your home like chips, candy or any other "junk food", it is easy to toss your kid a quick snack to appease their hunger. However, this can quickly become a habit and turn into the only thing your kids want to eat. The easiest solution, eliminate unhealthy foods. When you purge your house of junk food, you will not have the option of giving it to your kids. No unhealthy foods available means no unhealthy foods period.
#2 Get Them Involved
When your kids help prepare the food they will be eating, they are much more likely to eat it. Let your kids help you in the kitchen as you toss a salad, roll out dough or mix ingredients together for a healthy lasagna. Getting involved in making the food will get them excited to eat. It also exposes them to the healthy ingredients you are cooking with and teaches them what healthy choices are.
#3 Praise Good Nutrition
When your child does eat something healthy, be sure to let them know they did a great job. If that bowl of carrot sticks gets gobbled up or your kids eat all of their fruit salad, praise them! Children thrive on positive attention and letting them know that you see the good food choices they make will lead them to make the same healthy choices in the future.
#4 Eat Together
If your whole family is able to sit down and eat together, it will promote healthy eating when you lead by example. If mom, dad, brother and sister are all served the same food, your kids will see everyone eating the same healthy options and be apt to do the same. Research has also proven that families who sit down to meals together have better overall nutrition later on in life.
#5 Give Options
Kids love to be in control and while this can sometimes be a tricky situation, letting your kids choose what they eat is an almost guaranteed way to ensure they will eat something healthy. The trick is to only offer health options. Would your kid like the carrots or broccoli with dinner? Do they want to have an apple or celery sticks for a snack? Would grilled chicken or steamed flounder be tastier for dinner? Give them a choice and then honor that choice- no matter which they choose, it will be healthy!
#6 Hide the Nutrition
If you have a super picky eater, they may be averse to numerous healthy foods which means you have to get even more creative in what you try. Blend vegetables into a smoothie or milkshake, puree vegetables into their pasta sauce and add some flax seeds into their yogurt. Hiding the nutrition in a food they already like ensures that they will eat it. However, you always want to tell them afterward so that they learn to like healthy food. If you blend spinach into a smoothie and your kids drank it up, tell them after that there was spinach in it so they must love spinach! You can then make the transition from being hidden in a smoothie to being cooked on their plate a dinner.
#7 Cheese and Dip
We all know that most foods taste better when paired with something. Some foods just need a tasty dip to make them really delicious! Give your kids a side of ketchup (opt for one with no corn-starch or added sugars!) or sprinkle some cheese on top of their green beans. Adding a little flavor boost in order to get your children to eat a healthy meal is a small sacrifice to make in order to promote good nutrition.
#8 Meal planning
Take turns choosing dinners as a family. This means one-night mom picks the meal, the next night is dad and then each kid also gets the chance to choose what is for dinner. Everyone eats the meal that is chosen, regardless of what it is. Involving your kids in the meal planning not only lets them know what to expect when they sit down at dinner (it's no surprise that they have chicken on their plate when they were told it was coming!), but it also, once again, gives them a little control.
Getting kids to eat healthy is an incredible challenge that every parent faces. However, it is not something you should ever give up on. Try these tricks to help your kid have a healthy diet and see what works best for you and your family. When kids start eating healthy early in life, they are likely to continue this throughout adulthood so start them off on the right foot while they are young!
Nicolas is a passionate writer for Lima-France. A world leader in Developing innovative food manufacturing machines. To find out further information please visit their website.