Getting glowing nourished skin is something that every woman wants. We like for our skin to be supple, smooth, and to smell good. Sometimes it takes a while to find the right products that will give you exactly what you want. I have found a beauty brand, Body Velvet, that will give you the glowing skin that you have always wanted. Plus, they smell divine!
Body Velvet's Skincare Line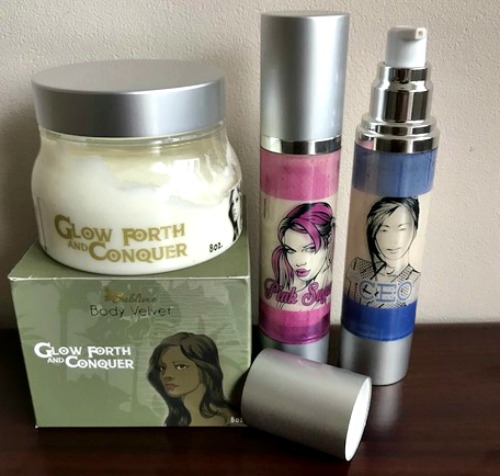 Each one of our Body Velvet's has an inspiring persona behind it. We are a company that believe in empowering women of all backgrounds and that they are the most beautiful when they are themselves and they should express themselves. Their skincare line has beautiful blends of ingredients that they decided that these meticulous enchantments needed some worthy names. So they have "The CEO," for the women who goes out and takes care of business, and the "Black Widow," for those with a dark side or "Glow Forth & Conquer," for those who slay the minute they walk into a room.
Their Body Butters are anything but vanilla–although we do offer an upgrade on that too. They are bold, fun, sassy and every body butter is handmade from start to finish. This is something that I can attest to. Their body butters are thick, so a little goes a long way. The body butters go on smooth, leaving your skin very soft. The scents are noticeable and linger throughout the day, but are not overpowering.
About Body Velvet
Their founder is a "mixologist" of sorts and makes all our products with TLC in Portland, Oregon. She incorporates Brazilian nut butter for dry skin in some, avocado butter to reduce dark marks and wrinkles in others, but they all have hydrosols to leave your skin hydrated and smooth. It's the perfect cocktail for glowing, velvety skin — one without phthalates, parabens, petroleum or SLS and is GMO free.
They have been selling locally to our friends and regulars for quite a while now, and we're looking to expand. We know that if you try this, you won't be able to hold back the results from your friends and regulars.
Connect with Body Velvet: Site | Facebook | Twitter | Instagram | Pinterest