With the first week of June behind us, many of us still have to get plans in motion. Mainly becuase Father's Day is closing in faster than we think.
Remember this is a special celebration that we just can't forget.
It's going to be dad's special day so you want to be prepared to show him how much you love him.
Of course, getting him a gift is going to be just one of the priorities to take care of.
You always want to get him something that you know he'll like. Which means you are going to need options to pick and choose from. It helps to have as many options as possible to pick and choose from in case you are thinking about multiple.
With that being said, below you'll find a number of ideas that could work for you.
Canope
We are all ready to get outdoors and enjoy the spring season, gift a Canope to your favorite outdoorsman.
That brings with it the need for both sun and rain protection. Canope has you covered, literally! Wear it, don't hold it!
Canope is the world's first patented, hands-free, wind-resistant new weather protection device/umbrella.
It is a 21st-century backpack style worn covering for all weather protection; rain, wind, and sun all in one.
It is impossible to invert with it's smart aerodynamic design where wind flows over, through and around. Genius! Let's face it.
We live in a technology-driven society where you need your hands-free so much of the time whether doing your favorite recreational activities like; walking the dog, hiking, taking photos/videos or in the workplace using tablets etc.
nomadiQ Portable Grill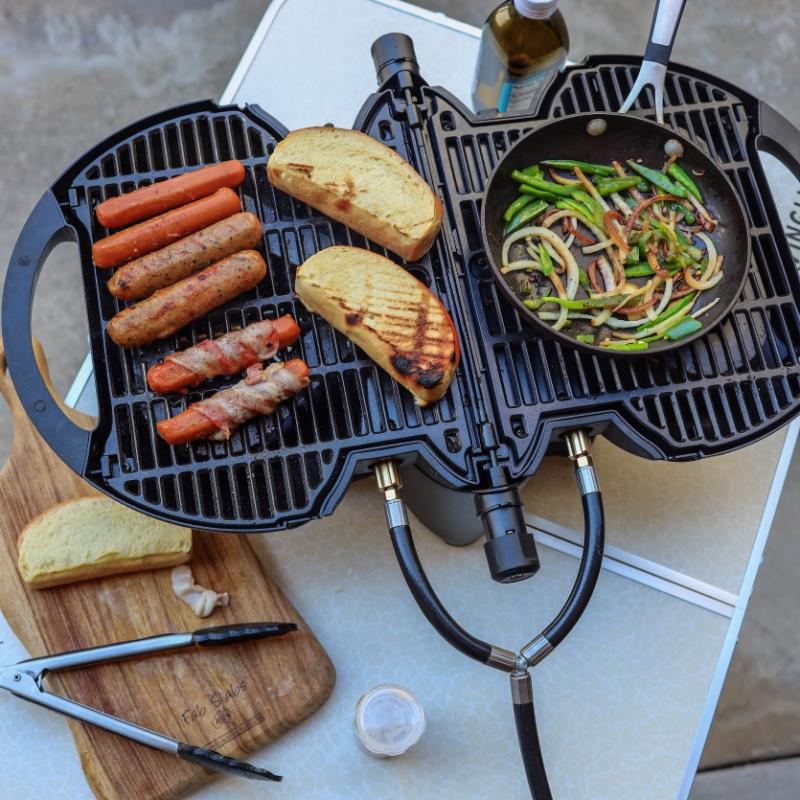 nomadiQ is reinventing the idea of portable grills. No more lugging around a large, bulky grill or bags of charcoal.
This lightweight portable grill weighs ONLY 12 POUNDS while providing all the features of a full-size grill. And when the grill is folded, it is super-sleek and is sure to catch everyone's attention.
The nomadiQ Grill is the perfect grill to take anywhere, including picnics, beach, hiking, road trips, mountain climbing, fishing, hunting, boating, camping, biking, and more.
It is perfect for small patios and decks, or for your RV. Its compact design will fit anywhere, so you can take it anywhere.
AquaSonic Pulse with Charcoal Whitening Bristles
The Pulse features an ultra-powerful 33,000 vibration per minute sonic motor, lithium-ion battery that lasts 45 days without needing a charge.
It offers 3 unique oral care modes including clean, sensitive and massage, activated!
Plus it features charcoal brush heads for enhanced teeth whitening, and built-in smart timers and sensors.
This is all packed in a sleek IPX7 waterproof shell that weighs just 48 grams and is less than 1″ wide.
Bad Ace Charcoal Scrub and Moisturizer
This is the ACE up dad's sleeve for a clean fresh start!
The face wash is a multi-purpose creamy wash that leaves the skin feeling clean without any film or dryness.
It's a high-quality charcoal powder and natural walnut shell scrubs to remove any dirt, oils, dead skin cells, blackheads, or impurities from the skin.
The moisturizer is an everyday formula with charcoal that helps the skin fight against irritants and give off a healthy complexion.
Antioxidants from the black hoof mushroom help protect against sunlight and skin damage.
Zeno Gym
Putting together the perfect workout setup at home, and not everyone has time to go to the gym.
So how about a solution that will allow you to workout at home.
Bring the gym experience home with an all-in-one resistance incline bench. You can replace heavy dumbbells and bulky workout equipment with one bench.
It features 5 levels of incline to hit every angle possible. Not to mention you can perform over 100+ workouts.
Whether you are new to fitness or an advanced body builder, this bench will help achieve any goal.