During the holidays we pull out all the GAMES! Family time is critical, so we try at least two to three times a month to have a family game night. Kids love spending time with their parents playing games and let's be honest so do parents. Make it a whole night, start with a meal everyone loves, grab the games and then HAVE FUN!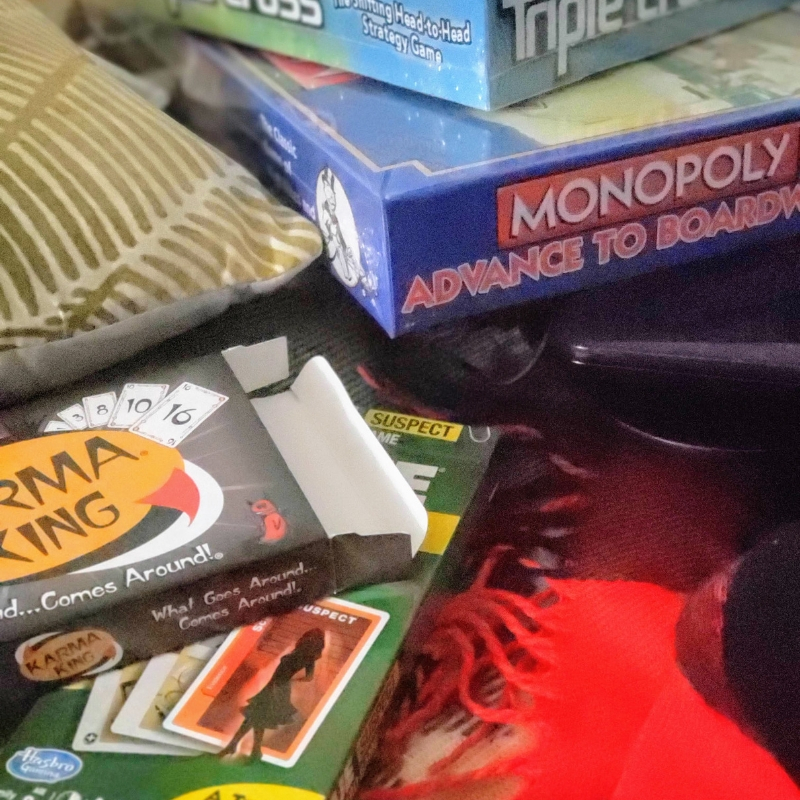 We want to share with you a few of our favorite games in hopes you might like them too!
Games To Play
1. Karma King- which is available exclusively at Target.

You that saying…What Goes Around…Comes Around, but in Karma King, there are eight new ways karma can come and go. One of the new Karma Cards (Create Your Karma) can even change from game to game. In this game, there are multiple winners. You never really know who's going to lose until the very last card -the dramatic ending calls for an instant rematch!
We even have a VIDEO to show how Karma King is played:
https://www.youtube.com/watch?v=iwAUZa25PNk&t=1s
Karma King inspires an intrinsic motivation and desire to "play." The repetition of playing, again and again, reinforces the skills that lead to success. During gameplay, players must use logic and reason to help predict what actions other players may take during the game. Karma King also requires that players determine the most advantageous way to use any of the Karma cards a player may possess. Some Karma cards help the one playing them, like the Clear the Pile card, which allows the player to remove the discard pile from play and
then play again. Other Karma cards can affect specific players at the table, like the 7 to 11 card, which requires the next player to play a card higher than 7 but lower than 11. The Pass to the Right card needs all players to pass their Hand Cards to the player to their right. Some cards can be used to affect the player of your choice. The Give a Card card, allows a player to give away one hand card to a player of their choice.
Karma King Strengthens
Cognitive Skills
Interpersonal Skills
Intrapersonal Skills
Physical Development
Academic Connections
Download SET® for your iPad or iPhone
Play SET® daily puzzles at www.setgame.com and www.nytimes.com/set
---
WINNING MOVES GAMES
2. Monopoly® Advance To Boardwalk™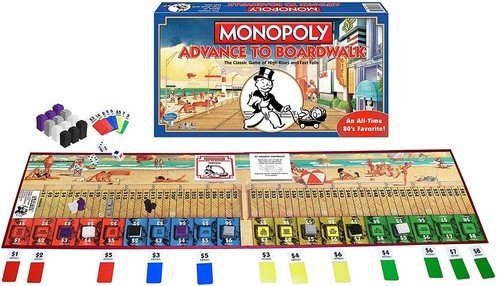 Originally introduced in 1985 as the first-ever Monopoly "spin-off!" Players compete to build multi-level, high rise hotels along the historic seaside boardwalk. The player with the most valuable property portfolio wins! This is a fun game that is different from the original Monopoly game.
This is a strategically playing game. You buy, build, and broaden your base, which you want to hold on to hotels and take over others. You want to become the top builder and take over the boardwalk domination. Spend an afternoon with the kids, make popcorn and play games. Great bonding time with the kids.
The games include: bi-fold game board, 80 hotel units, 2 standard dice, 1 color die, 20 property cards, 28 fortune cards, 4 plastic tokens and illustrated instructions. Ages: 8+ (2-4 players)
3. Clue® Suspect Card Game
Use your hand of cards to determine the suspect, weapon and location of the crime. Was it Colonel Mustard in the Dining Room with the Knife? A true Clue experience is "in the cards!" Clue has always been a favorite family game so to have it in card version is fun too! We can take on road trips and play in the car. This was far easily to play than the board game.
Ages:8 and up
Players:3 or 4
Contents:2 Decks of Cards, 1 Confidential Envelope, and Illustrated Instructions.
4. Triple Cross™
Players engage in head-to-head strategic battle by placing discs in the innovative Triple Cross tower. You aim to have more vertical and diagonal "3-in-a-rows" than your opponent. It may look like you're all lined up for a win, but your opponent's next move could knock a key piece out of the tower. Utilize special "blockers" to lock in a row and guard your position. Be the boss of Triple Cross!
This game is so much fun! We laughed so much and hated when we got blocked. I have teens, and they loved this game, even play with their friends on sleepovers. Perfect family game.
Ages:

6 and up

Players:

2

Contents:

1 Plastic Triple Cross Tower Unit with Base, 2 Sets of Plastic Colored Discs )12 orange, 12 Green), 8 Plastic Blockers (4 Orange, 4 Green) and illustrated instructions.
Winning Moves has all the GAMES and when I say all the games, you will find all the old favorites and some new games to introduce to the family. Remember the holidays are coming up so its time to get GAMES for your family and as gifts.
Follow on Facebook– Twitter– YouTube-Instagram-Pinterest