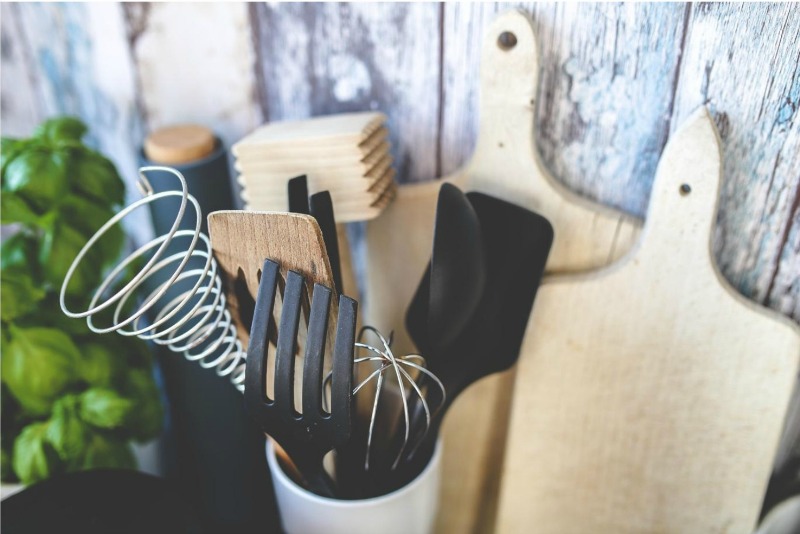 Photo by Kaboompics .com from Pexels
We spend a significant amount of time in the kitchen, prepping, cooking, and cleaning. Some people love to spend a lazy day chopping, sautéing and grilling to create a feast but let's face it: most days who has the time? When you are struggling to juggle a busy lifestyle with work, socializing and family, gadgets that can save you time and have dinner on the table more efficiently are worth every penny. We have rounded up five of the best gizmos to assist you in the kitchen:
Induction Non-Slip Rubber Cooking Mat
Keeping your stovetop clean from grease, baked on gunk and marks can be time-consuming and frustrating. Induction stove owners now have a simple solution – a Non-Slip Rubber Cooking Mat. You slip it over the element before use, and it holds your pan in place, keeps your cooktop spotless and protects both the stove and your precious induction cookware. The cooking mat will rinse off quickly with some dish soap, and you will be able to give your cooktop a quick wipe to have it shining like new.
Food Processor
Did you know that most simple cakes can be made by throwing all the ingredients in a food processor and pressing the on button? They aren't just handy for cakes. You can use them to grind meat, chop nuts, whip up homemade sauces and make your own breadcrumbs. Look for a food processor with a blade attachment that can slice vegetables like carrots, onions, and peppers for extra time-saving points.
Air Fryer
The air fryer is so useful that you may wonder how you cooked without one. It can fry, grill, bake, and roast at the press of a button so you can spend your time prepping a salad, setting the table or helping with homework. It cooks food quickly without needing to be preheated, and you can pop it in the dishwasher for easy clean-up. Best of all, for most cooking, it requires little or no oil at all. This means that your meals will be both healthy and delicious.
Juicer
Now you might have an old-fashioned hand-held juicer in your second drawer, but you should seriously consider an electric juicer. It will be far superior in its ability to extract all the juice from your lemons, limes, and oranges without fear of seeds slipping in. And they allow you to juice fruits and vegetables that just aren't compatible with your traditional hand-held juicer. Investing in an electric juicer will bring Sunday's breakfasts at home up a notch and have the whole family enjoying freshly squeezed fruit and vegetables.
Slow Cooker
It might be less of a gadget and more of a solid performer, but the slow cooker is a classic that proves its value time after time. The freedom to be able to pop in your ingredients and set a timer before you head off to work is unbeatable. There is nothing better than being greeted at the door by the tantalizing smells of a casserole or stew that has been bubbling away slowly throughout the day. But don't limit yourself to stews. Many people don't realize that you can cook almost anything in a slow cooker – from cheesecake to tangy barbeque wings to a hash brown and egg brunch dish.
It might be time to do a kitchen appliance refresh. What are your pet frustrations in the kitchen? There is sure to be a gadget or gizmo to help you out. These kitchen appliances will make getting a delicious dinner on the table each night efficient and stress-free.