The end of summer is closing in slowly and school has kicked off for some. Regardless of the matter, these two factors are signs that fall is closing in.
Your young ones are going to need to be prepared for the arrival of the fall season.
Now, the main question here is, where do you even begin.
Below you'll find a number of incredible products that could be the answer to your fall season prayers.
You are bound to find something that could work for you and the kids.
Boppy ComfyHug
Know your baby is secure from day one with the ComfyHug Hybrid Newborn Carrier.
Created by NICU experts and parents of preemie babies, the ComfyHug will securely and comfortably carry your baby.
A hug from day one. The Boppy® ComfyHug Hybrid Newborn Carrier is for comfort and connection.
With a hardware-free design, yoga-inspired wraps, and a soft structured center panel for babies, the ComfyHug can securely and comfortably carry babies as small as 5lbs.
The size-inclusive design conforms to you and your baby's changing bodies.
Caregivers from plus-sized to petite will be comfortable.
Lunii, My Fabulous Storyteller
Back to school is the perfect time to discover the world of Lunii and witness how eager it makes kids want to read, learn and explore.
With My Fabulous Storyteller children create their own audio stories by choosing a hero, an object, a location, and more.
Then a fun and engaging adventure begins!
This magical little box is a great alternative to screens and tablets.
It empowers children to become storytellers, develops their creativity and, thanks to its curated content, helps them learn new languages, develop social-emotional skills, and more.
It's so fun even Jimmy Fallon recommends it!
Boppy Newborn Lounger
Whether you are making a meal, doing chores around the house or working from home this fall, keep baby close with Boppy's Newborn Lounger.
The lightweight design and uniquely recessed design will gently cradle baby during supervised awake time.
The Newborn Lounger satisfies your baby's curiosity while you are hand-free to complete the unending to-do list.
Made in a variety of styles with a breathable fabric, no zippers or buttons, the lounger can easily be washed and wiped down whenever life's little messes occur.
Bibado
The Coverall Weaning Bib from Bibado is so simple, yet so genius!
Featuring new easy wipe 100% waterproof material in six fantastic new designs, it makes cleaning up a breeze.
Its clever design features also make sure your little one can enjoy their mealtime adventure in comfort – while their clothes remain clean, dry, and stain-free.
Available as a long-sleeve bib and as a short-sleeve bib, both of which are compatible with their new Handi Cutlery!
Every detail and function of these bibs have been thoughtfully designed and expertly executed…
Straps to your highchair or stroller – keeping clothes spotlessly clean and dry through the messiest of mealtimes.
Easy-wipe clean material for speedy cleaning – saves customers 30mins on average per day. And that's with just one baby!
Mabel's Labels
Get back to basics this year with the Ultimate Back-to-School Combo Label Pack from Mabel's Labels!
This classic set includes all the durable, waterproof labels needed to keep your child's things out of the lost and found.
With new, on-trend designs for children of all ages, Mabel's Labels make it simple to identify belonging, from backpacks and lunchboxes to clothing, school supplies, and more!
MyWish4U Notes From Me!
Pack your child's lunch with love and include Lunch Notes from MyWish4U.
It will give your school-aged child reminders of love, thoughtfulness, and support during their school day.
Starting this sweet tradition is easy – simply tear off and slip a note into your kid's lunchbox, container, or backpack!
Positive notes, riddles, facts, jokes, and more, your child will be thrilled to find Lunch Box Notes each day.
Sending Lunch Notes From Me!® can be a particularly heartwarming practice with immediate and long-lasting benefits.
Handzies Soap + Water Wipes
Get a 'soap and water clean' anytime, anywhere!
Individually packaged and perfect for on-the-go, Handzies Soap + Water Wipes give you fresh, clean hands using only natural castile soap, water, and essential oils.
Say goodbye to harsh hand sanitizers, Handzies do not contain alcohol, BZK, triclosan, artificial perfumes, or dyes.
Gentle for use by the entire family! Ideal for keeping in backpacks, lunchboxes, or desks.
Starling Skincare All-Natural Kid's Deodorants
Perfect for summer fun, back-to-school sports, and more, allergen-free and chemical-free children's deodorants from Starling Skincare keep children smelling fresh all day!
Gentle enough for tweens and teens, each deodorant is made without aluminum or synthetic fragrances, so it is safe to use and non-irritating for kids.
Three varieties are available, including Force Field, Birthday Cake, and Birthday Cake Sensitive.
Without a Trace Foods
Healthy, allergy-friendly snacks to pack in your kid's backpack or lunchbox that are free from the top 8 allergens!
Developed by a mom whose children have severe food allergies, Without a Trace offers a mouthwatering variety of plant-based, gluten-free Chewy Granola Bars, Power Bites, and Cookies.
Perfect for tucking in lunchboxes or as a grab-n-go snack for everyone in the family.
Their Rad Raspberry Power Bites & Strawberry Surprise Chewy Granola Bars are truly phenomenal.
Undercover Snacks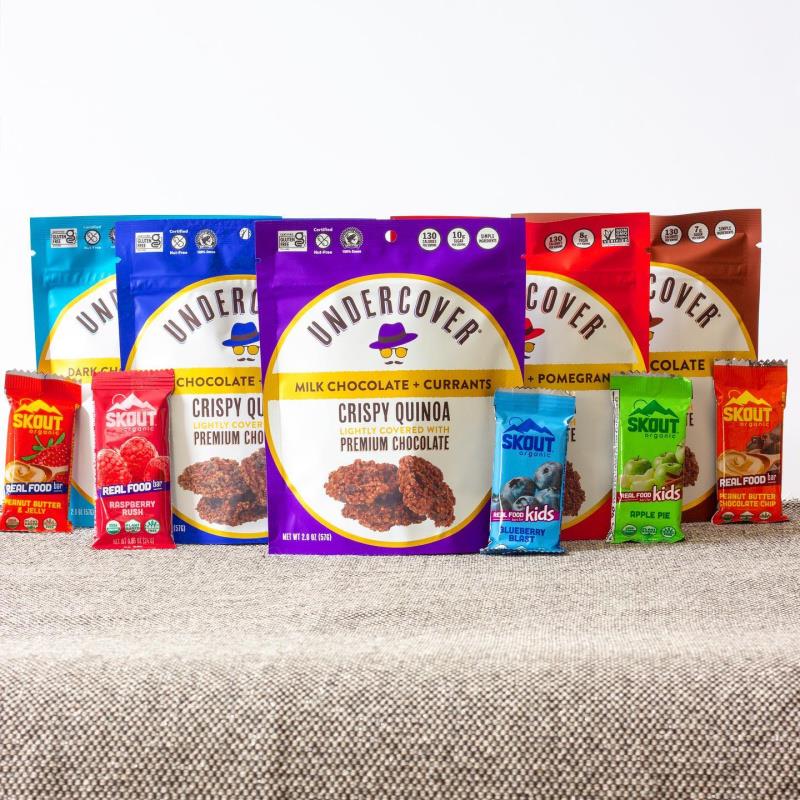 Healthy ingredients… in disguise!
Developed by a mom whose two daughters were diagnosed with celiac disease.
All Undercover Snacks are made with carefully sourced all-natural, gluten-free, non-GMO, simple ingredients, and Rain Forest Alliance Certified chocolate.
Undercover Snacks are made with crispy quinoa, which is naturally gluten-free, packed with protein, fiber, and nutrients, and has an incredible crunchy texture.
Made in a dedicated facility that is free of the top ten food allergens. Certified Nut-Free, Certified Gluten-Free, and Kosher.
Comes in 8 decadent varieties. For lunchboxes, tuck one of their single-serve packs in as a treat!