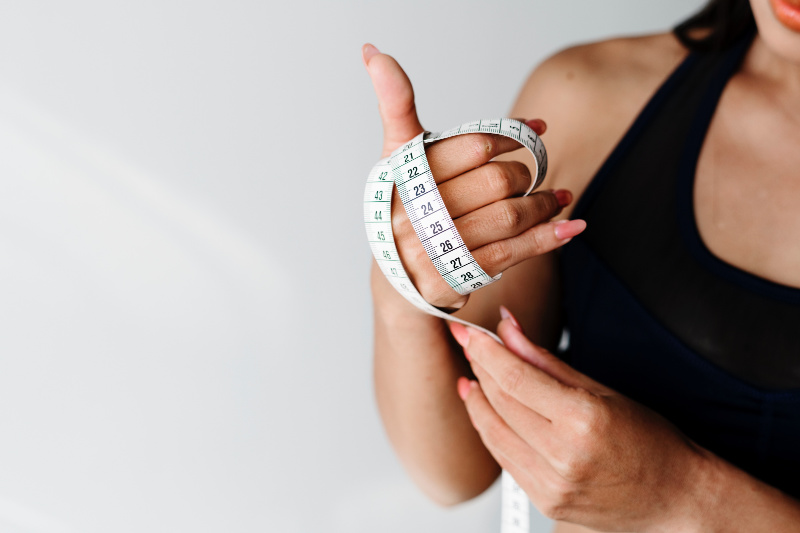 If you are carrying a few extra, unwanted pounds, then you might be looking for the best ways to lose some weight quickly. Losing weight isn't just great for your figure; there are many benefits of being a healthy weight including increased fitness and stamina, a lower risk of serious diseases such as heart disease, stroke and cancer, improved self-esteem and less aches and pains. But, while you might want to get to your desired weight as quickly as possible, losing weight too fast can actually be bad for you.
So, it's always best to steer away from fad diets or 'get slim quick' schemes, as these aren't great for your body. Instead, improving your lifestyle and sticking to the changes that you make will ensure that you lose fat at a healthy pace and be more likely to keep it off, too. Here are some of the best ways to lose weight at a healthy rate.
#1. Eat Less Carbs:
Consuming too many carbohydrates in your diet can quickly cause you to pile extra weight on, especially if you are not doing enough exercise to burn it all off. When they're not burned off through exercise, starchy carbs such as pasta, bread and potatoes are turned into sugar in your body, so be mindful of the amount of carbohydrates that you are eating. Instead, consider lower-carb alternatives such as carrot mash instead of potatoes and zucchini spaghetti.
#2. Include Healthy Fats in Your Diet:
The 'low fat' diet isn't actually as good for losing weight as many people believe. While it's a wise idea to cut down on the amount of unhealthy animal fats that you get in your diet, there are a range of healthy fats that you should include in order to get the best results from weight loss. Vegetable fats such as avocado, olive and nut oils, and many nuts and seeds are extremely good for your health and will actually help you lose weight. This is because eating healthy fats helps you to feel fuller for longer, suppressing your appetite and curbing the need to snack. So, don't worry too much if something isn't 'low fat'. If it contains healthy fats, include it in your diet!
#3. Take Dietary Supplements:
When it comes to losing weight, you're always going to get better results if your body has all the nutrients that it needs. If you're unable to get certain nutrients from the foods that you eat, then it's a great idea to make up for this in the form of dietary supplements. Multivitamins, zinc, and omega-3 tablets will help your body stay in good health and support healthy weight loss. You may also want to try certain supplements designed for weight loss support. For example, Lipobiotol from Immunocorp is designed to block the absorption of dietary fat. Their patented probiotic formula is designed to survive stomach acid, so it can effectively restore and balance essential, beneficial gut bacteria. It's especially helpful for getting rid of tough, unwanted stomach fat.
#4. Get Enough Exercise:
It goes without saying that in order to lose weight at a rate that you're happy with, you'll need to make sure that you are physically active along with getting the right nutrients in your diet. Whether you take up walking, join a gym, go swimming or do exercise DVDs at home, there's no right or wrong way to be more active – just move more in a way that you enjoy. And, you don't have to go hard at first – starting off at a gentle pace that you're comfortable with, and doing more as your fitness increases, will help you ease yourself into your new lifestyle and be kinder on your body. If you're concerned about toning your body as you lose weight, lifting weights is a great idea – start with some weights at home, or if you want even better results, go to your local gym and enlist the help of a personal trainer who'll be able to give you tailored advice for reaching your health and fitness goals.
#5. Stay Hydrated:
Did you know that most times you feel hungry, it's actually your body telling you that you are thirsty? If you're not drinking enough water and getting dehydrated, you could mistake your thirst for hunger and end up consuming more food than you actually need. Or, if you tend to quench your thirst with juice or soda, you're putting sugar – and 'empty' calories – into your body. Although it might do the trick for refreshing you, soda or juice will never be as effective as plain water for keeping you hydrated and feeling full. If you don't like the taste of plain water, why not try infusing your water with fruit, or drinking it warm with a slice of lemon? Ideally you should aim to drink around two liters, which amounts to around six to eight standard glasses full of water each day. Not only will this improve your weight loss results, it'll also help to keep your skin, hair and nails in the best condition too.
#6. Switch Snacks for Healthy Options:
Of course, no matter how much healthy fat you eat, and water you drink, there's always going to be times when you feel like snacking. Whether you snack out of boredom or because you don't have the time to sit and have a full plate of food at mealtimes, trying to lose weight doesn't mean that you should deprive yourself of snacks altogether. Instead, avoid snacking on unhealthy options such as chips or candy that you can quickly overeat on without even realizing. Fruit, raw veggies, nuts and seeds, and protein shakes or bars are all great healthy snack ideas that will help to curb your cravings without doing any damage to your waistline.
There's no healthy way to lose lots of weight in a short amount of time. Instead, keep these tips in mind to lose weight at a healthy rate and keep it off!