We all know how difficult it is to take a nice picture of yourself, especially when you urgently need one. Whether it is for your resume, Instagram feed or a dating app, taking a perfect shot, highlighting all your advantages and hiding the rest is very challenging. If you are looking for a quick fix, which will also be efficient and affordable, you are on the right page. PhotoDiva is a portrait editor that will turn your regular pictures into professional photographs. In this article, you will find out how to create amazing photos in only a few steps.
One-Click Fixes
First of all, select a picture you want to enhance and open it in the program. Apply the Auto Retouch tool and you will see an immediate result. Highlight your lips, remove face shine, or even whiten your teeth with only one click. If you want to make more thorough adjustments, go to Custom Settings and correct the skin tone, lips color, and eyebrows sharpness. With these portrait editing techniques, you will get an instant result.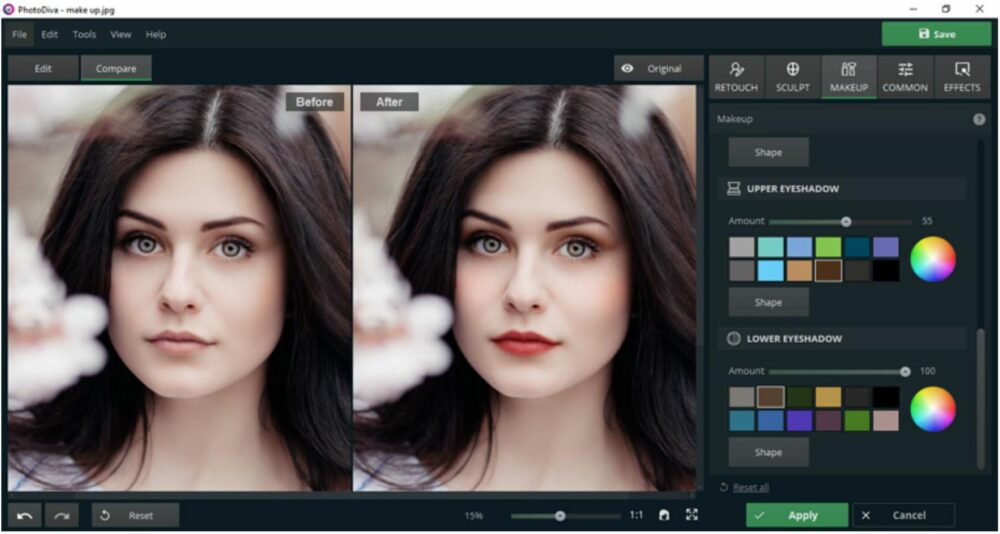 Make Your Skin Look Flawless
To improve your skin tone, use the Healing Brush to remove all skin roughness and make it look silky perfect. If your background looks fuzzy, you can also use the brush to smooth it out. With the Red Eye Removal tool, you can get rid of red eyes in no time. Additionally, the Clone Stamp will help you to make adjustments on the areas with big cracks and hide unnecessary décor on the walls. This portrait photo editor gives a wide range of useful and simple tools to enhance the quality of your picture very quickly.
Resculpt Yourself
Let's be honest – everyone can name at least one imperfection of the face they would like to change, whether it is a nose, lips or eyes. With Sculpt tool you can slim down your face, make your eyes bigger, nose smaller, and your lips – full and sensible. Also, you can work on your eyebrows and chin to turn your great features into perfection.
Beauty Is in the Eye of the Makeup Artist
Does your makeup look undone? Or maybe you are not wearing any makeup? Don't worry, it's no need to reshot a photo, simply go to the Makeup tab and add makeup to photo. Apply lipstick from a rich palette of tones, accentuate your cheekbones with a highlighter and bronzer and choose a perfect eyeshadow. This could also be helpful for women looking for a new look: play with different shadows, tones, and makeup techniques and then bring them to real life. This way there is no need to buy new makeup for experiments – free portrait editor will save you a lot of money and time.
Last Touches
We are almost done but let's make some last-minute touches: the Lighting & Color module will rapidly increase the overall quality of your work, use the Sharpness tool to remove blurriness and Vignetting will make your image lighter or darker. In addition to that, you can change your background and apply the built-in filters to make your photo Instagram-ready.
All in all, PhotoDiva is an easy-to-use tool to enhance your photo promptly. You don't have to be a Photoshop guru anymore to create professional and excellent pictures. Make a skillful portfolio and impress your friends with your new know-how.