Where Do I Find Forever 21 Promo Codes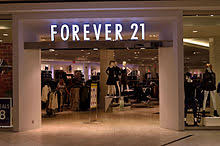 I love shopping online, but I love saving money more! Now, I don't have money like that to be buying stuff I don't need but sometimes it's easier and cheaper to buy online so why not! We all know it's Back To School time and my daughter has been on me about going to a Forever 21 store, well we don't live by one at all, so we need to shop online. When I shop online, I always try to find a promo code for whatever store I'm shopping on. I never want to leave that Promo Box Empty. I don't care if it's 10% I still save money. Being a mom and wife, I take on the responsibility of saving money, and promo codes help me do just that!
I do have a FAVORITE COUPON SITE, but I'm going to show you how other sites work and then I'm going to tell you what site you need to be looking at before you do any of your shopping! So let's start out with what a lot of people do…GOOGLE IT! So like I said I'm looking for "Forever 21 Promo Codes" so let's ask Google!
Here is what came up in Google Search for Forever 21 Promo Codes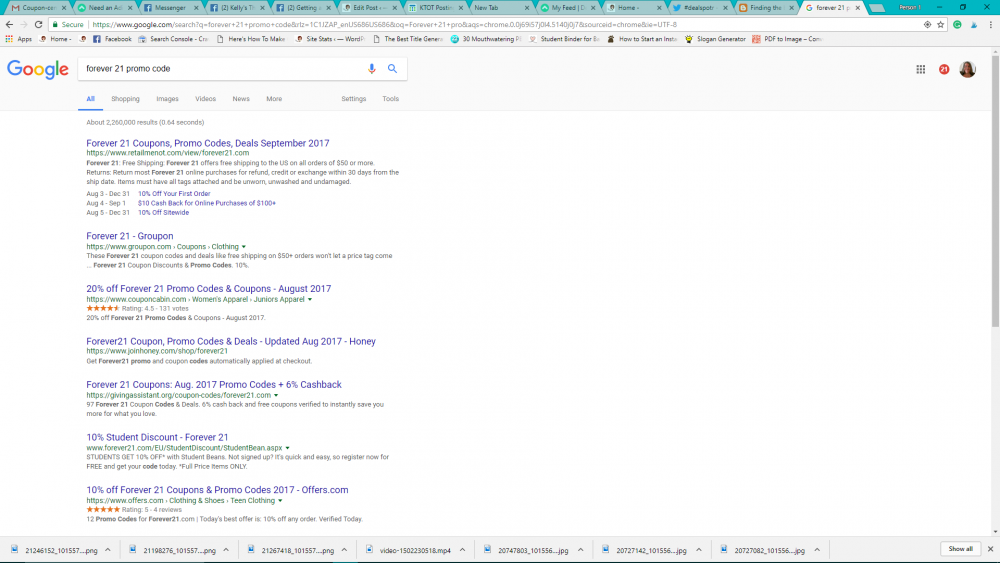 As you can see RetailMeNot comes up first, now I used this site a lot but not anymore, my favorite site saves me more money plus other incentives but let's look what is on there:
RetailMeNot Forever 21 Promo Codes:
It does have coupon codes and all some other sale coupons.

Now let's try Coupon.com:
Coupon.com has deals but no Forever 21 Promo Codes, now it has a click through to sale, but that is not what I'm looking for so on to the next site.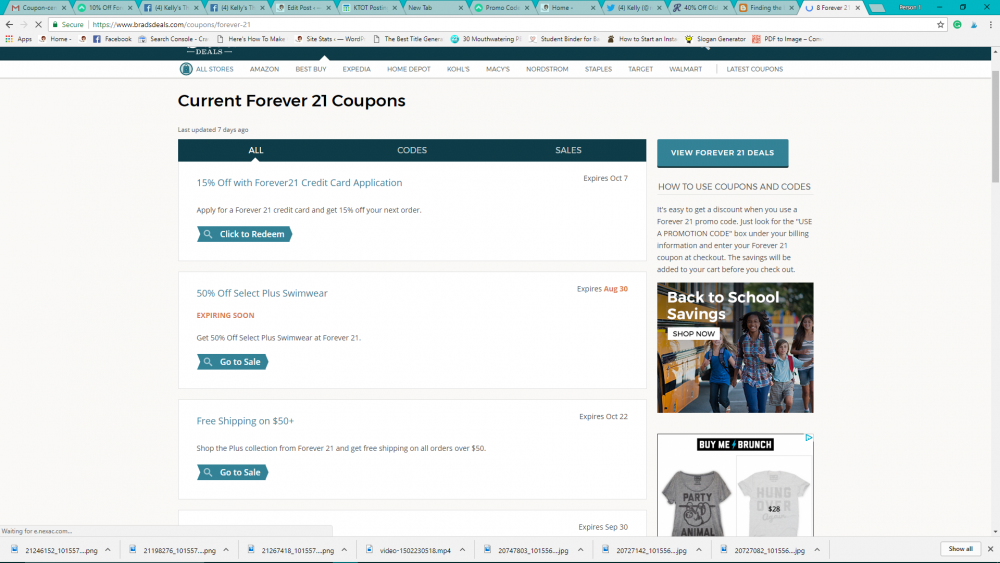 Let's see what Brads Deals is working with:
Brads Deals has NO Forever 21 Promo Codes, just click here to go to sale or fill out credit card application. Well see what I'm saying finding Forever 21 Promo Codes can be hard to find.
Okay so as you can see it is a hit and miss with Forever 21 Promo Codes, well it is a store that doesn't share codes that much but if you are a couponer (like myself) you will find them. I will let you know where to go to find all kinds of codes for so many shops! Dealspotr is my FAVORITE COUPON SITE, hands down! I feel that all these coupon sites pretty much has the same coupon codes, which is fine but what if I'm looking for that SINGLE USE code that I might need for a particular item for my kids! I also want to make sure the code works, and I'm not wasting my time. Time is essential for moms; we don't like to waste our time.
So I did a search for Dealspotr Forever 21 Promo Codes- and bam look I have some now!
Dealspotr has the Single Use Codes plus more- I can even do a filter search by these terms:
Promo Codes
Single Use Codes
Sitewide
Sales
Product Deals
Third Party
That helps narrow down the search plus I know the codes/sales are user validated, which means they have tested the codes and it works. Dealspoter Users can add, use, and comment on deals every day. Plus earn points by doing adding deals, check out my post on how Dealspotr Works…Make Money And Save Money With Dealspotr
Okay, so I found a 10% code that works (been verified) for a Forever 21 Promo Code, I copied the code and went over to Forever 21 website and started looking for an item my daughter wanted. Found it, and pasted the code in the PROMO CODE box and bam it took the 10% off. Saved me some money and not much but I only bought one item, so what if I bought more..more money saved.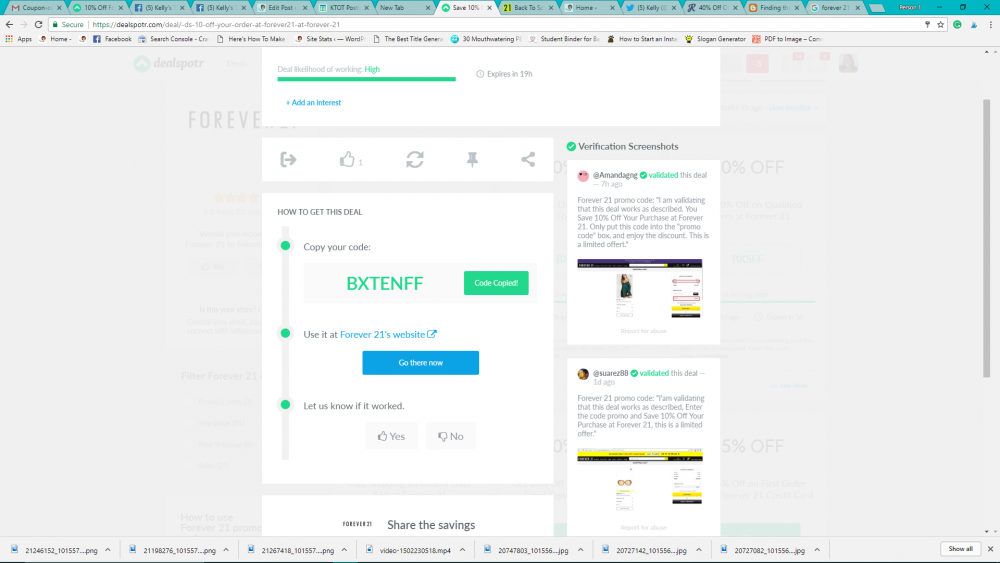 I don't ever leave a PROMO CODE BOX empty now, I head over to Dealspotr and grab whatever codes I need. I search, use and add codes all the time in Dealspotr all the time, I have got a couple of Amazon Gift Card for doing all that too. Oh if you want to start earning points with Dealspotr too, then SIGN UP HERE, and you will get 2000 points. Save that up for your Amazon Card.
Couple other ways I get my hands on Forever 21 Promo Codes is I signed up for their Forever 21 NEWSLETTER, and when I entered my email, they automatically sent me a code to use for my first time shopping.
Plus I follow my favorite stores on Facebook, Twitter, and Instagram and I will check their pages for codes. Now if I want to make money I will post all the codes I find in my email and on my social media outlets on Dealspotr. I'm on my way to my 3rd AMAZON card!
Remember to sign up today for Dealspotr and start earning points for adding codes and saving money by using the codes added!