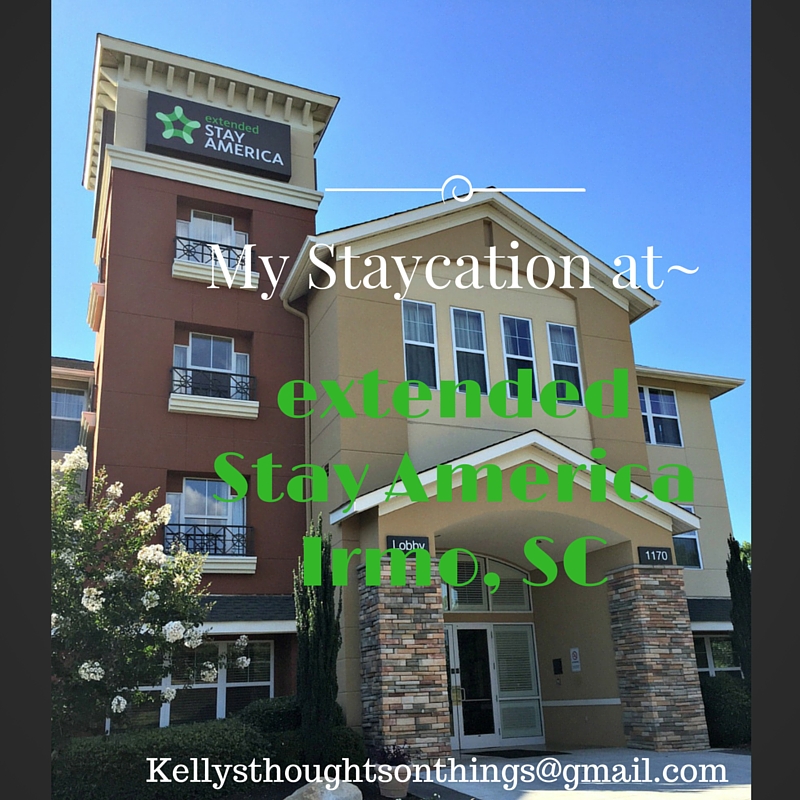 Living with all my pets and family members sometimes I just need to get away with my husband for a few days. So we head to Irmo, SC and stay at the Extended Stay America Hotel because first of all, its like home away from home BUT it's not HOME. Hope that made sense.
It has a nice comfortable soft bed that is so stylish, and I just want to lay in it all day. Plus they have a desk for me to work at if I need to, usually I do so I like that too.
Then there is a kitchen that has a full fridge, stovetop, dishwasher, sink, microwave and a lot of storage. So we bring groceries so we can cook our meals there which saves us money and I like to cook instead of eating out all the time!
There is plenty of space to hang up clothes and extra items we might need during our stay.
The bathroom has shower and bathtub so I love that, I'm able to soak in the tub before bed every night.
Look at that beautiful sunlight coming through our room, and it was so relaxing. We enjoyed our peaceful staycation away from our house.
My husband and I both enjoyed the couch at night by reading books, oh yes BOOKS. Something we don't get to do at home. This is a vacation we needed. We decided we need to travel more often like this.
We stayed a lot of our time at the table eating, playing cards, reading the paper, or just talking. Our room was perfect in size and the location of this hotel was also amazing. Close by was a Mall, Hospital, Banks, and all kinds of food options. I love the variety, and this location offered just that to us!
Now if we got hungry we just went down the hall for all theses goodies!
Then the next morning we went here to work off those munchies!
Yes, I washed all our clothes before we went home, one less chore I had to do when we got back home. I wanted to spend that time with family.
Pool time!
We have a special offer to our READERS- you can get 20% OFF- good for one reservation booked on ExtendedStayAmerica.com by 7/31/16
Code: MG6KT
Offer: 20% off 1-14 nights
Book dates: 7/1-7/31
Check out: 1/31/17
Offer details:
20% off 1-14 nights offer good for one reservation booked on ExtendedStayAmerica.com by 7/31/16, with a check-out date on or before 1/31/17. Discount applied at the hotel upon check-out. Reservations based on availability. Offer cannot be combined with any other offer or negotiated or special rate, including but not limited to Advanced Purchase. Valid only on original reservations. Discounts do not apply to extensions/modifications. Cannot be applied to reservations already booked. Only one promotion discount per thirty days can be used by the same guest at the same hotel location. Offer valid only at Extended Stay America hotels.
More Info About Extended Stay America
Whether you're staying for a day, a week, or longer, Extended Stay America offers you the best value with great nightly rates and discounts for extended stays. Hardly an ordinary hotel, every Extended Stay America features spacious rooms with fully equipped kitchens, free grab-and-go breakfast, free in-room Wi-Fi, and on premise guest laundry. Bring your four-legged friends along, as they offer pet-friendly rooms at every location. Select locations also offer additional amenities such as on-site fitness centers, pools, meeting rooms and airport shuttles. They are also proud to offer their free Extended Perks rewards program, where you can save up to $2,500 annually! So whether you're taking a vacation or traveling for business, if you want a hotel that serves your needs at an affordable price, Extended Stay America is your best choice.
Please let us know where your next STAYCATION will be?