Looking for a new novel for your middle grade kids? If so, then I can't wait to tell you about this new book called Evil Speaks, by S. Woffington.
Evil Speaks Saga 1
Benny is a fifteen year old kid. His father disappeared when he was just three years old, so he really has no memory of it. He only has a recurring dream of a firestorm and a dragon. His mother has had him on the run ever since. Benny actually refers to each new town as "a life," and he's had seven so far. He is a loner and plans to run away from his paranoid mother. Things come to a boil and he has a huge fight with his mother. Deciding enough is enough, he packs his bags to leave and the house explodes. This explosion catapults Benny into a new world he didn't know even existed. He then finds himself on a strange trail that leads him to an odd building. In that building are six other teens that Benny vaguely remembers.
Amir is blind, and Kami is deaf. Chaz is in a wheelchair, and Zuma is overweight. The last two teens are Layla and Raj. Layla is beautiful but very lazy, and Raj is very angry with a dagger shaped birthmark that runs down the side of her face. They all lost their mothers on the same day that Benny lost his father. They have only one clue to this mystery and it happens to be Benny's mysterious, yet dangerous grandfather, Domenico H. Adez.
Be prepared to be engrossed!
Between the awesome fight scenes, in-depth characters, and all the creatures, your son or daughter won't want to put this book down! In all honesty, I haven't been able to put it down since I started it. S. Woffington does a remarkable job entwining Greek Mythology, Greek History, and these modern-day teenage misfits.
As a special needs parent, I think my favorite part is that the author incorporates characters with different abilities. She helps to break down stereotypes that often plague special children. S. Woffington also encourages inclusion of people from all walks of life, which is a lesson that I personally feel needs to be engraved into ALL children.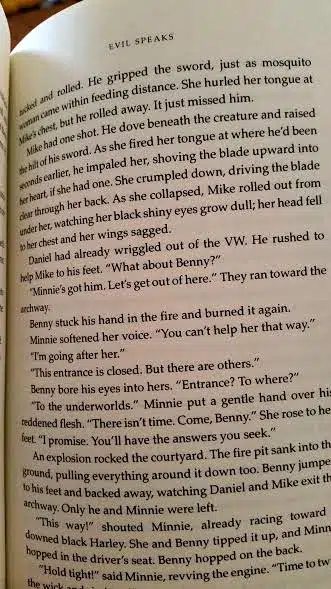 Where to buy
So if you're looking for a great book for your children ages nine to eighteen, then Evil Speaks is the perfect fit! You can get your copy on Amazon. You can also connect with the author on her website. Be sure to connect with her on Facebook, Twitter, and Google+ too!