Dubai has the best cuisine, amazing architecture, glamour, glitter, music, and luxury all in one place. This marvel is a global favorite when it comes to trips and destinations.
However, away from this glamour and nightlife lie Dubai's beautiful deserts.
These deserts, carrying the heritage and culture, are an entirely different experience in and of themselves. They have so much to offer with the most mystic vibe ever.
If you are wondering about what all Dubai has to offer, take your cues from us.
Two Kinds of Desert Safaris
Dubai is known for its beautiful Arabian night and magical desert safaris. However, Dubai desert safaris during the day and night are two different experiences.
They offer different activities and experiences to the tourists.
Your choice can also vary according to your budget. However, if money is not a problem, you can have the benefits of both worlds by taking an overnight package.
Desert Safari During The Day
We have seen the sun rising from behind the mountains and seas in movies. However, there is nothing more magical than the beautiful orange and yellow sunrays decorating the skies rising from the sands.
If you also want to experience this magical moment, then a morning desert safari is the right choice for you.
I do not think it is wrong to say that it is one of those few moments when life feels unreal.
It is usually a 45-minute long camel ride that lets you witness the lonesome beauty of the vast deserts. After all, what is a desert safari without a camel ride?
Get on the camel hump and enjoy the scenery at its best. You can also pose with a falcon on your arm and make your Instagram pictures more groovy.
Camel rides are available both during the day and in the evening when the sun begins to set. However, most tourists vote for daytime camel rides when the surroundings are well lit and everything can be seen easily with their naked eyes.
Dune bashing is the perfect desert experience in Dubai for every Tom Cruise fan.
It is a 30-45 minute jeep ride through the wide desert sands, cruising your way in between the flying sand.
It is where every tourist feels like a part of a high-budget action film.
Away from the tall and fancy skyscrapers and dazzling skyline, it is a thrilling experience that brings out the essence of Dubai.
It is another thrilling, Hollywood-like experience that Dubai offers.
Quad biking is going up and down on the vast dunes of the Dubai desert on a four-wheeled motorcycle.
Even if you do not know about desert bikes, you do not need to worry. You have teachers who equip you with safety gear and give you the basics of biking.
As a result, you just need to worry about how you can make the best of this time instead of your safety.
The charm and the magic of hot air balloons require no explanation.
This experience in the Dubai Desert lets you fly over 4000 feet around the Hajar mountains.
With a 360-degree view of the majestic Dubai desert and a beautiful sky, the experience feels unreal.
It feels like you are flying like a cloud with everything below you. It is one of the most refreshing experiences in the Dubai desert.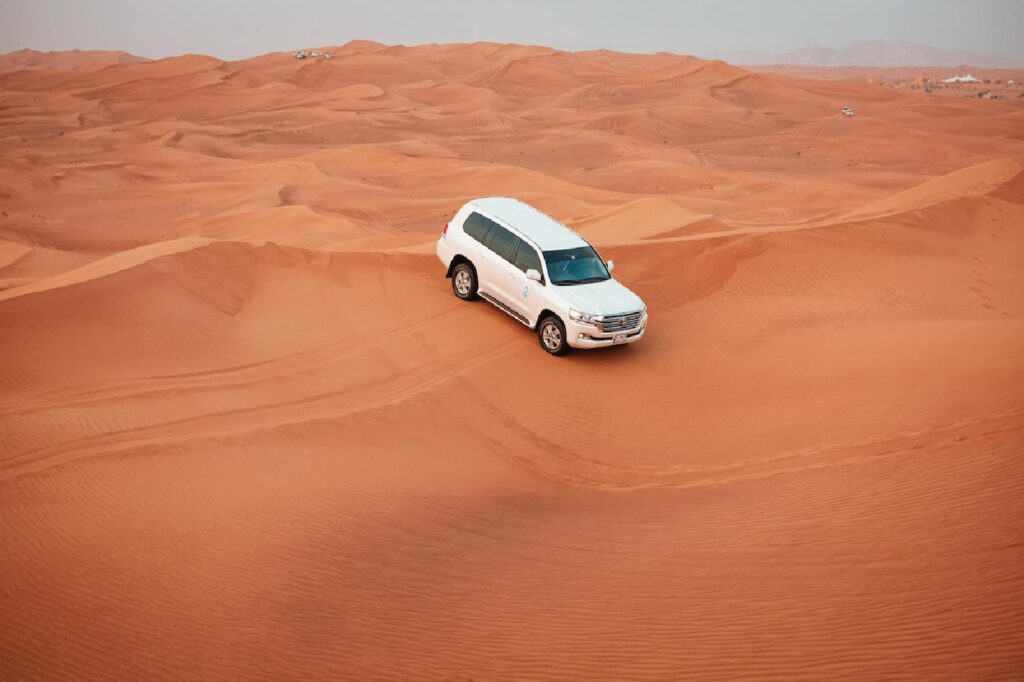 Desert Safari During The Night
There is absolutely nothing that can compare to a sunset in the desert. When it is time, and the sun begins to go down, it colors the sky orange and red with its light.
This incredible experience at Dubai Desert is not one to be missed.
The air becomes cool, and everything around you begins to turn pink. In those few minutes, it feels like a fairytale.
It is also every couple's must-visit spot.
What could be better than cool sand beneath your feet and a beautifully lit sky above your eyes? What could be better than stargazing right in the middle of the desert with a bonfire?
Away from the hustle and bustle of the city, it is a surreal experience.
It is better to book their services in advance, park your car in a convenient location, and forget about your worries while floating through the sky.
Dubai knows the beauty and magic of its deserts. As a result, to make your nights even more beautiful, you have the perfect nights arranged for you.
With beautiful and well-lit tents across the place, you have the tastiest local cuisine, the most amazing drinks, soulful music, and dopamine-infusion dance.
Conclusion
If you were curious about your Dubai Desert Safari or had any doubts, I hope our article might have now made it easier for you to decide.
Dubai is a one-stop destination for food, music, luxury, adventure, and fine dining. It is worth the hype and every penny here.
The best time in Dubai is from November to April. During his time, Dubai provided the clearest skies and most breathtaking scenery.