Have you taken a trip to any of the islands with your friends, or for a nice family vacation?
Taking a trip like that is something people often overlook, mainly because they aren't sure what the best course of action is.
Sure you want to plan the perfect vacation, but you want to make sure the experience isn't dull.
Let's be honest, a dull island experience would be terrible.
Well, what if I told you that there is a chance for you to embrace the beauty of an island vacation filled with the experience you'll always remember!
More like an island-hopping adventure so to speak.
The Finch Bay Galapagos Hotel (on Santa Cruz Island) has joined forces with Scalesia Galapagos Lodge (on Isabela Island) to offer a NEW week-long program in the Galapagos.
This could be just the right thing for you and your family to give a shot.
An Island-Hopping Adventure Awaits
Now, this brand-new week-long program in the Galapagos would make the perfect vacation.
During this week you'll get the chance to experience a number of things that will appeal to everyone. Like inter-island flights, day trips aboard Yacht Sea Lion, and "glamping" in luxury tents up in the highlands of Isabela Island.
But wait, it doesn't stop just yet.
There will also be visits to mysterious and remote places as well.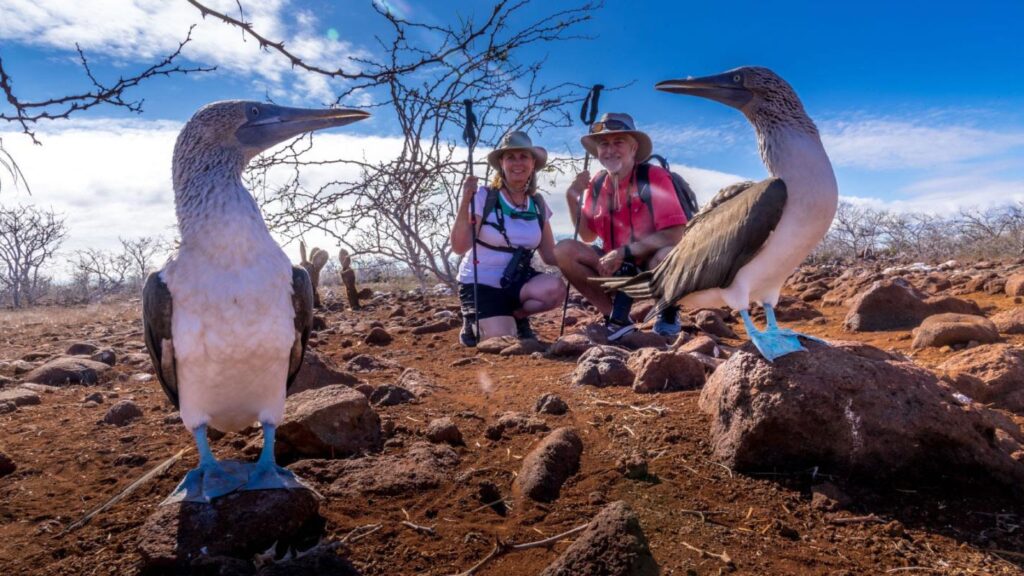 Here's a look at what your schedule will consist of during your week in the Galapagos:
Day 1 – Private transfer to a luxurious boutique hotel in the main square of Quito's Old City. Casa Gangotena is a restored Renaissance-inspired mansion, with ornate neo-classical furnishings and spacious rooms. Relax in the terrace bar or the quaint patio garden, sample delicious food in the small restaurant and enjoy the complimentary cultural activities on offer.
Day 2 – Journey to Isabela Island on a twin engine light aircraft. Enveloped in wild forests, the Scalesia Galapagos Lodge features an ultra-contemporary glass-fronted main building housing the restaurant and lounge areas. Stay in one of the 16 safari camp-style tents, fully-equipped with a king-sized bed and modern facilities. Soak in the easy-going atmosphere and choose from an astounding range of excursions and activities on offer, including hikes, volcano visits and snorkeling trips as well as wildlife-spotting.
Day 3/4 – Choose from a wide range of excursions on offer at Scalesia Lodge, with different activities scheduled each day. Visit the white tip reef sharks and penguins of islet Tontoreras, or the thriving mangroves, natural pools and solitary beaches of Los Humedales, frequented by magenta-hued flamingos. One of the best snorkeling destinations is Los Tuneles, a marine paradise where lava flows have produced many arches and tunnels both under and above water.
Day 5 – Transfer across the Itabaca channel to Santa Cruz, the most populated island in the Galápagos. Drive up into the rugged highland forests to reach the twin volcanic craters Los Gemelos. At 600m above sea level, these volcanic sinkholes are home to many Darwin's finches. Finch Bay overlooks the lush greenery and glittering waters of Punta Estrada.
Day 6 – Join highly-qualified naturalist guides for a day of exploring nearby islands on Finch Bay's own motor yacht. The island you visit will depend on the day of the week. In the evening you have the option to dine al fresco, enjoying a 3-course meal set up especially for you on the beach.
Day 7 – Divine Bay is a tranquil haven for wildlife, protected from ocean swells by natural volcanic reefs on one side and a gallery of mangrove trees on the other. Hundreds of herons cross the bay each morning and return at sunset, while noddy terns and blue-footed boobies perch along the cliffs. Snorkel in the inviting waters of the cove, where sea turtles graze on seaweed, hundreds of reef fish species swim about the lava crevices, and young reef sharks and rays employ the brackish streams as havens from large predators while they mature.
Day 8 – Head home
There are many highlights that will come from this incredible experience, not a single dull moment in sight.
Head on over to Scalesia Galapagos Lodge for all of the extra information that you need.